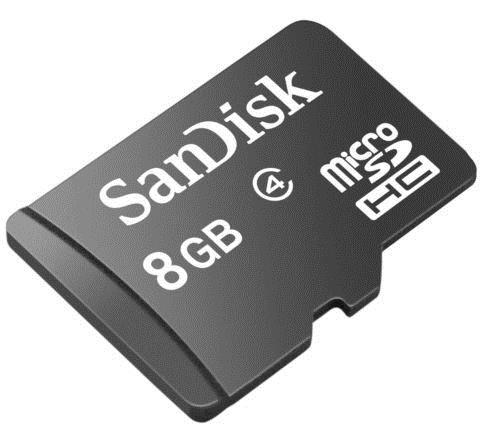 SD (Secure Digital) cards are a special brand of data storage that have two main purposes, to store data and to transfer data between devices. SD cards are popular in devices that are too small to have dedicated hard drive storage space, such as mobile phones, GPS units, digital cameras and many other electronic devices. Data that is stored on SD cards can be read by all these electronic devices, and can also be read by PCs and laptops that have card adapters. This makes transferring data between mobile devices or digital cameras and laptops/PC simple and convenient, and users won't have to worry about losing their data.
1. Basic Variations
SD cards started out simply as SD cards, but as the technology has expanded so has the range and choice of SD cards. Some SD cards may not be compatible with certain devices, both in terms of size and the format of data storage used on the SD card. Knowing which card to buy can be intimidating, but in general there are only three considerations that should be kept in mind when looking for an SD card: the physical size of the card, the storage space and format of the card and the class rating of the card.
2. SD Card Sizes
SD cards come in three physical sizes: SD, miniSD and microSD. Normal SD cards are the largest, miniSD cards are smaller and finally, microSD cards are the smallest, being the approximate size of a fingernail. The physical size of the card doesn't affect the capacity and storage space of the SD card, with microSD cards being able to store up to 32GB or even 64GB of data. SD cards are larger than microSD cards.
2a. Size in Conjunction with Usability
SD card sizes become an issue when examining which devices they will be used in conjunction with. MiniSD cards have mostly fallen out of favour, and apart from older devices and some digital cameras, miniSD cards are not used anymore. Full-sized SD cards are usually found in use with digital cameras, laptops, and desktops. The smallest cards, microSD cards have found massive popularity as the cards of choice for mobile phones and many of the latest electronic devices. Luckily, for those concerned about incompatibility and the inability to use the same microSD card to transfer data between their mobile device and their laptop or PC, many microSD cards come with adapters which turn the tiny card into a normal-sized SD card, which can then be used in conjunction with a laptop or PC.
3. SD, SDHC, and SDXC
Apart from physical size, another consideration when choosing a SD card is the storage space of the card. SD cards have come a long way in terms of storage space, with cards that can store up to 64GB or larger being available.
SD Cards
SD cards were the first cards on the market, and can only store up to 2GB of data. It should be noted that microSD cards that have the same format can also store only 2GB of data, as physical size doesn't have an impact on the amount of storage space.
SDHC Cards
2GB is a tiny amount of data storage, which is why the developers and manufacturers of SD cards came up with an additional storage format known as SDHC, which stands for Secure Digital High Capacity. These cards can store between 4GB and 32GB, but can only be used in devices compatible with the SDHC format. The SDHC format is also reverse compatible, meaning that devices that can read SDHC cards can also read SD cards, but devices that can only read SD formats cannot use cards that have the SDHC format.
SDXC Cards
SDXC (Secure Digital eXtended Capacity) cards are the latest SD cards available and their storage sizes range between 64GB and 2TB. There are very few devices at the moment that can use SDXC, but these will most likely increase in popularity as data needs of users increase even more. Knowing how much space is needed can be a tricky thing, as it's difficult to predict in advance how the device will be used and the type of data that will be stored. Below is a chart showing average values that can help give an idea of how much data certain media applications can use. It should be noted that these are estimates only, as file sizes can dramatically vary depending on the settings used.
| | | | | | |
| --- | --- | --- | --- | --- | --- |
| | 2GB | 4GB | 8GB | 16GB | 32GB |
| | 20 minutes | 40 minutes | 80 minutes | 160 minutes | 320 minutes |
| 10MP Photos | 770 photos | 1540 photos | 3080 photos | 6160 photos | 12,320 photos |
| ACC/MP3 Music (128Kbps) | 34 hours | 68 hours | 136 hours | 272 hours | 545 hours |
4. Class Rating
Apart from card size and storage space, there is a further important difference to take into consideration when choosing a microSD card, and that is the class rating. Simply put, some microSD cards can read and write information faster than others. Having a slow write and read speed can dramatically impact the performance of a device, as it has to spend a longer time writing or reading the data on the card. This is particularly noticeable while watching HD video on a mobile phone, where slow microSD card speeds can cause jittery playback and impact the performance of the video.
5. Class Rating and Speed
Most SD cards now come with a class rating that gives an indication of how fast the card is. The class rating represents the speed at which the card reads and writes data in MB/s. So a card with a class rating of 2 will have a minimum read/write speed of 2MB/s, while a card with a class rating of 10 will have a minimum read/write speed of 10MB/s. It should be noted that the class rating lists the minimum speed that the manufacturer can guarantee, meaning that even class 2 cards can read/write data faster in some instances, and can even give speeds of 4MB/s. However, the trend is clear and higher classed cards will perform better than lower classed cards. In general, a higher class rating is recommended, especially if one is planning on watching HD movies or writing/reading a lot of data off the card. Many cheaper cards have lower class ratings, which mean that they may be cheaper than other SD cards, but will be much slower and will most likely affect the performance of the device that the card is used in conjunction with.
Buying microSDHC cards on eBay
From the main eBay website go to the Electronics category. From there, theCamera & Photo andMobile Phones & Communication subcategories will both lead to theMemory Cards and Memory Card Readers & Adapters categories which will show all the SD cards available. The results displayed can be refined by choosing the criteria in the boxes in the left panel. Criteria for SD cards include format, brand, capacity and condition, making finding the ideal item much easier. The results for the search can also be organised in various ways, from cheapest to most expensive or by listing date. If the buyer wants a specific product, the search bar at the top of every eBay page can be used to search for that specific product, and the results displayed will be from the entire website. This search can then be refined by selecting the criteria as described above.
Conclusion
The differences between SD, SDHC, and microSDHC are dependent on size and on the type of storage format of the card in question. The most important thing to keep in mind is that physical size and storage size aren't correlated, and it is possible to get microSDHC or even microSDXC cards that can store vast amounts of data even though the card is no larger than a fingernail. Knowing which card to choose is dependent on the device that the card will be used with as this will determine whether it is SDHC compliant or not and whether the card will be a normal sized SD card, a miniSD card or a microSD card.