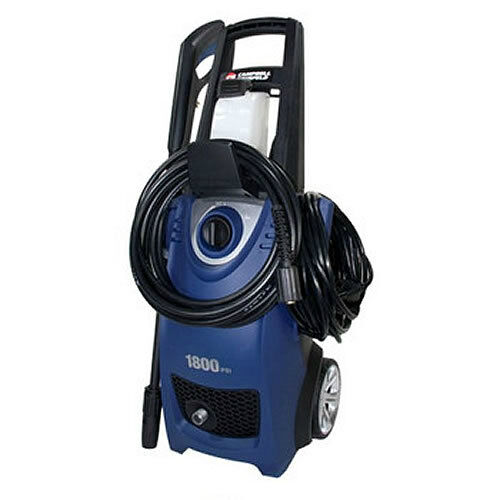 Cleaning can be a chore for many people, especially when it involves a big area. Although one can use garden hoses to get the job done, it can take a long time to complete the work. For those who want an effective machine, which has high performance and can ease cleaning jobs, a domestic pressure washer is a great choice. A high quality pressure washer is capable of effectively getting rid of any dirt and stains outside the house, for example on the patio or the garden furniture, so any cleaning job can be competed with a minimum of effort.
Domestic pressure washers come in various types, which are suitable for many kinds of cleaning jobs. The main factor users should consider when buying a pressure washer is the size of the area they want to clean. Besides that, it is also useful for buyers to know how the equipment works and how powerful a pressure washer should they get. Buying a pressure washer online is easy as one can look at more choices in a short time, compared to visiting brick and mortar shops.
What is a Domestic Pressure Washer?
There are three main types of pressure washers, namely the domestic, commercial, and industrial pressure washers. As can be guessed from its name, a domestic pressure washer is suitable for domestic use at home, to clean the car, or clean small premises. Compared to the other two types of pressure washers, the domestic pressure washer is generally the least powerful and the cheapest. People can use it to clean their vehicles, driveway, patio, and also garden furniture. Since there are many types of domestic pressure washers on the market, buyers should know how the equipment works and what factors influence this tool's performance.
How a Domestic Pressure Washer Works
Buying a pressure washer is a wise investment since it is a very efficient machine. It uses up only a small amount of water to produce a high pressure water jet. This powerful water jet is very efficient at cleaning almost any surface or object. Before setting out to purchase a domestic pressure washer, consumers must first know how it works. When using it to clean a surface, users must connect it to a water source such as the main water supply or a water tank. Users can then turn the pressure washer on and the high powered motor drives a pump, which pushes the water out through a hose to get the job done.
Buying a Domestic Pressure Washer
The two main options buyers can choose from are the electric and petrol powered pressure washers. To choose the right type of machine, consumers must first consider their budget, the surface they want to clean with the machine, as well as how often they plan to use it. It is important to get the right balance between price and performance if one wants to get the most out of their pressure washer.
Electric vs. Petrol Powered Domestic Pressure Washer
Users must connect an electric powered pressure washer to an electrical outlet in order for the tool to function. This causes electric pressure washers to be less portable than petrol powered ones as the power cable has a limited length. For those who need to go around and clean a big area, it is easier to use a petrol pressure washer. However, electric pressure washers are usually lighter and more compact than petrol powered ones. The cleaning power of a pressure washer is measured in bar and litres per minute (LPM). Bar is the unit of measurement of the water pressure generated, whereas LPM is the volume of the water output.
| Pressure Washer Type | Bar and LPM | Use |
| --- | --- | --- |
| Domestic Electric Powered | Usually up to 120 bar and 6 LPM | For light jobs in a small area, such as cleaning the lawn or the car |
| Domestic Petrol Powered | Around 2000 bar and 12 LPM | For heavy-duty jobs and in large areas, such as swimming pools |
| Industrial Petrol Powered | Can be more than 300 bar and 20 LPM | For very frequent tough cleaning, such as pavement or industrial machines |
Striking differences between electric and petrol powered pressure washers are the water pressure and volume output that they can produce. For home use, a domestic electric pressure washer is often more than enough. However, it still comes down to the area that users plan to clean. To know how powerful a pressure washer is, users can look at its pressure rating, expressed in bar. The water output volume on the other hand, determines how fast and effectively the machine can wash away debris.
Features to Look Out For in a Domestic Pressure Washer
Domestic pressure washers nowadays come with various features. Although one might feel tempted to get a pressure washer with as many features as possible, it is important to choose only features that are necessary. After all, extra features usually come with an extra cost.
Hose or Cable Length
One basic thing buyers should look at is the length of the hose. A longer hose makes it easier for users to clean an area without dragging the machine along. In the case of an electric pressure washer, buyers should also check the length of its power supply cable. Another thing that helps with mobility when cleaning is getting a smaller pressure washer. High-powered pressure washers tend to be heavy and have low portability.
Accessories and Attachments
Most domestic pressure washers are perfectly capable of cleaning any surface. However, buyers can choose to get a pressure washer with some accessories that can make their work easier. One common accessory is the car wash brush, which users can attach to the end of the pressure washer hose. Users can also find extension wands if they wish to clean a high area, or a special high pressure nozzle attachment to increase the water pressure and thus, cleaning power.
Many pressure washers have quick connector attachments to make it easy for users to connect other accessories to the machines. If their machine does not have the attachment, users can also buy the quick connector attachment separately. Since many cleaning works require chemical cleaning agents or detergents, users can also easily find a pressure washer with a detachable detergent bottle. Users can fill the bottle with a detergent and the machine will release some amount of it with the water. Almost all detergents can be used with a pressure washer, but not all surfaces can be cleaned with any detergent. In any case, buyers should remember to check the instructions for the machine regarding detergents that can be used.
Other Features
Users who plan to utilise their pressure washer frequently can look for one that has electronic fuel injection (EFI). With this feature, their pressure washer will be easier to start and will consume less fuel. Many pressure washers come with a variable pressure setting for various kinds of cleaning work. Unless buyers are on a very tight budget, they should definitely get this feature on their machine. When looking at an electric pressure washer, buyers should make sure that the power supply cable is well insulated and in good condition. This is necessary to ensure that the pressure washer is safe to operate.
Purchasing a Domestic Pressure Washer on eBay
eBay has a good variety of pressure washers to choose from and all you need to do to find the right one is to use the search bar on the eBay home page. Just lookup any relevant keywords such as 'pressure washer&', 'domestic pressure washer&', or '120 bar pressure washer&'. You can also search for a pressure washer with a specific accessory. When you are at the product listings page, make sure you read the item description, price, and postage fee.
On the product page, you can view all available information about your chosen pressure washer. You might want to read all details since buying such machine is usually a big investment. Look at the product specifications, including the maximum pressure output and weight of the pressure washer. You should also read other information such as the return policy, estimated delivery time, and so on. If you require more information before purchasing the item, you can contact the seller who should be able to answer your questions.
Conclusion
A domestic pressure washer can be a very helpful equipment piece when cleaning the area around the house such as the driveway, swimming pool, or even the car, motorbike, or boat. There are electric and petrol powered pressure washers. Compared to a petrol pressure washer, an electric one is often lighter, more compact, and cheaper. However, petrol washers tend to be more powerful and are capable of more heavy-duty jobs. Although petrol powered pressure washers are often more powerful than electric ones, buyers should look at a machine's bar and LPM rating when determining its performance.
Some features to consider when buying a domestic pressure washer are the length of its hose and the accessories it has. Common accessories are a car wash brush, high pressure nozzle, and cleaning agent bottle. For users who plan to do a lot of cleaning with their pressure washer, getting one with EFI is a wise choice as it increases the fuel efficiency of their machine. Since eBay has numerous domestic pressure washers for sale, buyers should not have a hard time finding the right one on the online store.