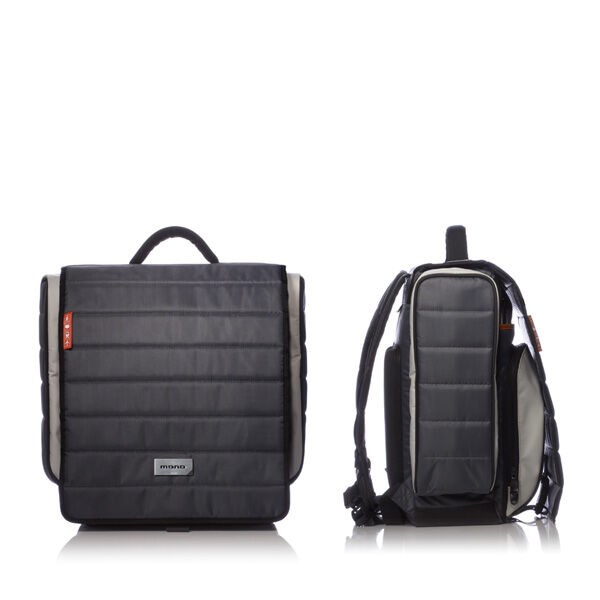 It is common knowledge that a DJ's equipment is expensive and, for this reason, it needs to be maintained properly. Specialised DJ bags and carry cases are perfect for preserving the equipment and protect it when being transported. Many DJs need to carry their equipment around all the time and this can cause damage to it if it is not packaged properly. The life of DJ equipment depends to a great extent on how one takes care of it, so buyers should take their time when it comes to protecting their sensitive electronic devices and tools.
DJ bags and cases come in a wide range of shapes, sizes, and designs, being suitable for any kind of equipment. They can be produced either by the same company that produced the equipment or by other manufacturers. Learning more about different types of DJ bags can help buyers make the right purchase and reduce the chances of damaging their equipment.
Tips for Choosing DJ Bags and Carrying Cases
Any DJ knows that it is very important to keep the equipment secure and safe all the time, because even the slightest damage may irremediably destroy a piece of expensive equipment. One of the most common reasons for protecting the equipment is travelling, whether it is by plane, train, or car. In order to be able to protect the equipment correctly, DJs may opt for flight cases for any kind of transport. DJ flight cases are especially designed to protect the equipment from knocks and bangs, thus extending its life.
Considering the Shape of the DJ Equipment
When shopping for DJ flight cases or bags, buyers should make sure they take into account the size of the equipment as well as its shape. Different cases are designed for different pieces of equipment, so it is worth checking whether everything would fit perfectly before actually purchasing the cases.
Most DJ flight cases feature a shielding coating of foam on the inside and in many situations they offer much more protection than regular carry cases. In addition to that, most models are lightweight and thus users can avoid having to pay too much when it comes to transporting them by plane.
DJ Bags and Cases Features
Some DJ bags and carry cases only have a few basic features, while others come with amenities such as a hygrometer and dehumidifier. Buyers should consider whether they need these things when shopping for a new carry case for their equipment. In most cases, these features are intended for expensive pieces of equipment. Water-resistant carry cases are a good choice for those who live in areas with frequent weather changes. DJs who commute on a frequent basis should look for bags that feature handy end straps.
The interior and exterior compartments of a bag or carry are also an important factor to consider. This also depends on a buyer's personal needs, but cases generally have between one and four compartments as well as multiple extra smaller pockets for storing items that are used frequently. Some cases feature detachable exterior pockets or outer pockets for extra storage. When shopping for a new DJ bag, one should also pay attention to the way the bags can be closed securely. Some models features zippers, others snaps or Velcro and buyers should choose the one that works best for them.
Customised DJ Bags and Carry Cases
Customised DJ bags and carry cases are available from many manufacturers and buyers can consider them if possible. By choosing a carry case that was specifically designed for a particular instrument, users can make sure their precious equipment remains as tight as possible for the entire duration of the trip. DJ equipment can get damaged when the case it is stored in is shaken too much, because this leads to the pieces hitting on the sides of the cases. Buyers should also choose bags or carry cases with a thick protective coat for better protection of the electronic devices.
In order to store one's DJ equipment safely, one can choose to buy a DJ case made by the same company that produced the equipment. For example, manufacturers such as Roland, Yamaha, Korg, Pioneer, and more sell their own range of DJ bags and cases. If possible, buyers should opt for such a bag for a certain piece of equipment, mostly because it guarantees the instrument fits well in it and does not move during transport.
Types of DJ Bags and Carry Cases
Different pieces of DJ equipment require different types of bags or carry cases and buyers should make sure they approximate the volume of their equipment accurately before making a purchase. When shopping for bags and carry cases suitable for DJ equipment, one can choose one according to the type of bag or the type of equipment they are trying to fit in it. Some of the most common items that are transported by DJs are headphones,, speakers, vinyl records, CDs and DVDs, stands and supports,, and amplifiers.. For each of these items there is a suitable type of bag available online or in music equipment stores. The types of the bags vary as well, with the most popular of them being carry cases, carry bags, flight cases, trolleys,, and shoulder bags..
Buying DJ Bags and Carry Cases in the Right Size
When it comes to choosing the size of a DJ bag or carry case, one should take several things into account. The first and perhaps most important of them is the size of the equipment. It does not make sense to buy a big carry case for a CD or vinyl collection and carry it around half empty. On the other hand, a bag that is too small may lead to equipment damage when it is too full. In order to avoid these problems, buyers should set aside the equipment they use to carry around and choose a bag that fits everything comfortable, with a little extra space for several future pieces.
The size of DJ bags and carry cases is also essential when it comes to airplane flights. Some companies do not allow oversized bags in the cabin, so if one does not want to have their equipment checked in, they should consider a bag that is approved by airlines as hand luggage. If this is not possible because of the volume of the equipment, DJs should make sure the bags they buy feature enough protection in order to avoid any kind of damage when they are checked-in.
How to Find DJ Bags and Carry Cases on eBay
With DJ bags and carry cases available in various styles, sizes, and brands, finding the right one for a certain type of equipment may look like a daunting task. If you are not sure what kind of bag or carry case is suitable for transporting your sensitive DJ equipment, you should try browsing through a large number of styles until you find the right product for you. One of the easiest ways to do this is to browse the selection available on eBay.. Here you can find a wealth of styles in all sizes and colours and you can browse everything without any hassle.
To start searching for DJ bags and carry cases on eBay, you can either browse through the categories of the website until you reach the DJ equipment section or perform a quick search by simply typing the words "DJ bag&" or "DJ carry case&" into the search bar located on every page of the website. You can then browse easily through the results you get and choose the best option for you. Many people consider that the number of the results they get when searching for a certain type of products on eBay is overwhelming and, if you are one of them, you should try narrowing them down according to your preferences, such as type of bag, purpose, colour, size, or price. Read the product description carefully and contact the seller if you need more details.
Conclusion
DJ bags and carry cases are essential for keeping one's DJ equipment safe on a daily basis and especially when travelling. From simple bags for storing a CD and DVD collection to large carry cases intended for more sophisticated equipment, there are plenty of styles to choose from and buyers should always consider their personal needs when shopping for DJ bags and carry cases. The looks and size of the bags are not the only things to take into account, as the interior is important as well and buyers should always put the safety of their equipment on the first place.
When it comes to shopping for DJ bags and carry cases, buyers should try to have a look at as many styles as possible before making a purchase. eBay is a good place to start searching for DJ bags and carry cases, as it offers a large selection of products as well as a user-friendly interface that makes shopping a pleasure.