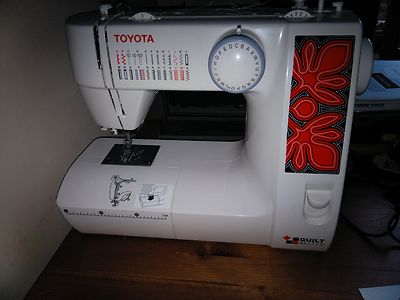 Well, if your reading this you would like to know a sewing machine that has a simple to use machine but still a good machine that does everything you want a good sewing machine to do.

So I started to sew again 3 years ago and needed something that was simple to set up and work out. I started on places like Amazon to find sewing machine reviews and prices. I found one that matched what I was looking for and so the search began on eBay. I was looking for the Toyota Quilt Master. It also had a pretty flower on the front lol. It had extra foots to do button holes and a zip foot which always comes in handy. I got it for £145 which is a great price for the machine you get. It has numbers to show you where the cotton needs to go first and then it has a light on as well to make threading the cotton to the needle more easy. It's also easy to get the bobbin sorted and connected to the main cotton at the top. It uses plastic bobbins as well so they are cheaper to buy. Its a good heavy duty machine that also does Jeans and I've made curtains with it. You can buy an extra extension table to make making quilts more easy. 26 stitch programmes including 4 step buttonhole and 5 dedicated to Patchwork so if making Quilts is your thing then this is also fab for that.

https://www.ebay.co.uk/itm/TOYOTA-QUILT-226-SEWING-MACHINE-NEW-6-Patchwork-Accessories-3-Year-Warranty-/181494476795?pt=UK_CraftsCollect_SewingMachines_RL&hash=item2a41e9effb

Got Free P&P as a promotion.