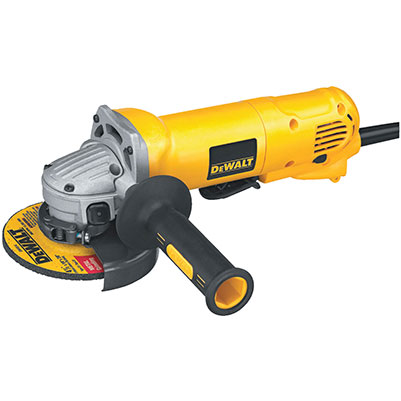 When a handyman needs to do some grinding, cutting, or polishing, he often turns to an angle grinder. This handheld power tool, also known as a side or disc grinder, is powered in one of three ways: a petrol engine, an electric motor, or compressed air. Common angle grinder components include a geared head, abrasive disc, adjustable guard, and side handle. Mounted at a right angle, the geared head holds a disc or wheel that cuts, sands, polishes, and grinds a range of materials.
Angle grinders make frequent appearances in auto garages, construction sites, and metalworking shops, where they smooth or remove excess or unwanted material, or make cuts or notches, as needed. Different angle grinder discs, used for various activities and materials, include abrasive grinding discs, cut-off discs, grinding stones, polishing pads, sanding discs, and wire brush wheels. Knowing the ins and outs of angle grinders, including matching the right power tool to a given project, enables buyers to make smart shopping decisions on eBay.
Angle Grinder Uses
Although their name suggests a single purpose, angle grinders can be used for a number of tasks. Most common, of course, is grinding or sanding away protruding or excess stone, metal, or mortar. Construction workers often put these tools to use when making notches and cuts, working with metal, and shaping stone and other rock-based materials. Beyond these standard functions, angle grinders perform other convenient tasks too.
Blade Sharpening
Beyond mere cutting and polishing, angle grinders are also used to sharpen home and garden tools. Some of the more common household implements whose edges need refreshing include not only hatchets, axes, and lawn mower blades, but also shovels, hoes, and ice scrapers. When performing these tasks, blades should be clamped tightly to a worktable before any sharpening is attempted. Failure to properly secure these tools can be extremely dangerous.
Mortar Removal
It is impossible to imagine performing the task of tuckpointing without the aid of an angle grinder. With the use of a diamond tuckpointing wheel, the power tool operator can easily clear old and loose mortar without damaging the adjacent brick, thus avoiding the hard labour involved in chisel and hammer use.
Angle Grinder Operation
This handheld power tool functions via electricity-powered spinning discs. For the tool to function, the user must depress a switch; should they let go, the grinder turns itself off. This "dead man switch" feature is meant to protect against injury. Tool operators grip the side handle when in use, thus stabilising the grinder to accomplish the task at hand. It is common for an angle grinder to be adjustable for left-handed operation, as well.
The angle grinder is intended to cut metal, stone, tile, pavers, stucco, and other hard materials. It accomplishes this via a spinning wheel of varying levels of abrasion. Angle grinder wheels may be composed of a variety of materials, each of which is better suited for specific project types.
| Wheel Type | Recommended Uses |
| --- | --- |
| Aluminium Oxide | Woodworking |
| Buffing | Buffing and polishing |
| Cut-off | Cutting bolts, rods, and bars |
| Diamond | Cutting concrete, stone, and tile |
| Fibre | Removing rust and burrs from metal |
| Flapper | Sharpening tools |
| Grinding | Restoring edges |
| Sanding | Sanding, sharpening, surface prepping |
| Silicone Carbide | Sharpening, rounding, and cleaning metal |
| Tuckpointing | Removing mortar |
| Wire or Brush | Cleaning metal; removing paint and rust |
While the wheel may be crafted from a number of materials, in general, a diamond disc allows for the greatest degree of precision and polish. Angle grinder discs are available in a range of abrasion levels, or grit, with higher abrasion functionality necessary for rougher polishing surfaces.
The positioning of the body is another important consideration. Operators should always stand behind the angle grinder, with the disc facing away from them. Prior to depressing the operating switch, they must ensure a firm grip on the handles.
Angle Grinder Considerations
Because of the wide variety of angle grinder makes and models available on the internet, many home repair buffs and construction workers head online to sites like eBay make a purchase. Although the temptation to buy an inexpensive model may be high, unless the own plans to use the grinder only infrequently and on small projects, such a tendency is worth resisting. Thus, the performance, power, and safety of the tool may be worth a bit of extra cash.
The same angle grinder is not appropriate for all situations. As such, it is important to ascertain one's needs before making a purchase. Two major factors to consider are the power of the motor and the disc size; other variables include the source of power, arbour size, and revolutions per minute, or rpm.
Disc Size
In general, the greater the size of the angle grinder's disc, the more power its motor has. Angle grinder disc sizes vary greatly, with the most popular sizes being 115 millimetres, or 4.5 inches, and 230 millimetres, or 9 inches. In some instances, a handyman may instead reach for a pneumatic grinder; with their smaller disc sizes, these handheld power tools allow for more precision on smaller jobs than would a standard angle grinder.
Motor Power
Voltage, wattage, and amp ratings can vary in angle grinders. With regard to current, tool buyers have a choice between 110 and 230 volts AC, and amongst wattage ranges from 500 to 2,500 watts. Another consideration is the unit's amp rating; ranging from 4 to 15, these numbers directly correlate to the power of the motor. Although a lower rating is sufficient for household tasks, heavy-duty professional projects call for an angle grinder with more amps.
Speed Ratings
The power contained in a hand-held angle grinder is incredible. During operation, the unit's disc makes anywhere between 5,000 and 10,000 revolutions per minute. While this means the hard-working power tool optimally performs any number of grinding, sanding, or cutting tasks, it also translates into a high risk of injury if the powerful grinder is not handled properly.
Comfort
Two things that directly affect the comfort of using a tool are its size and weight. With angle grinders, the two go hand in hand. Unless a buyer intends to use the power tool for large construction or industrial jobs, perhaps a smaller unit would be more comfortable. Not only are more compact units easier to hold for long periods of time, but angle grinders with anti-vibration handles take operational comfort even further.
Wheels and Accessories
Angle grinders are remarkably versatile tools. Not only can their discs be interchanged, but users can install different wheels and accessories, as desired. With the wide variety of wheel and brush attachment styles available, the handyman should read packaging and usage guides to ensure purchasing the right tool for their job.
Angle Grinder Safety
Despite its handheld operation, the angle grinder is a serious power tool. The incidence of injury with this implement is higher than with many other power tools; therefore, potential users should fully familiarise themselves with the angle grinder's capabilities and safety precautions before putting it to use.
Angle grinder operators should also get into the habit of unplugging the tool when they are changing wheels. Once a new disc is attached, it should first be tested in a protected area to ensure that it is fully functional. While the angle grinder is in operation, the safety guard should be put to use whenever possible.
As with most power tools, angle grinder operation should not be performed without a face mask, eye protection, long sleeves, and thick leather work gloves; anyone in the immediate area should take precautions, as well. Users should prepare themselves for kickback, perhaps the angle grinder's biggest danger, as the tools exert a great amount of power. Upon task completion, unplug and store the angle grinder in a safe place, away from children.
How to Buy an Angle Grinder on eBay
By now, you are familiar with the many functions of angle grinders, including not just grinding but also cutting, polishing, and sharpening, amongst others. You are aware of the variations in these tools, from just the size and composition of the disc, to differences in power as represented by rpm, wattage, and amp ratings. Having assessed your construction and home repair needs, you have a good idea of the type of angle grinder you want to purchase. You are now ready to visit eBay and start shopping.
eBay is a handyman's paradise, with a tremendous inventory of power tools to meet nearly every need. There, nestled amongst the grinders, sanders, and drills are the angle grinders. On eBay, you can quickly peruse the products, review photographs and descriptions, and compare prices. To start searching, enter keywords, such as "angle grinder", into the search bar. Any relevant items are displayed in the search results. Clicking on an individual listing returns additional information, including the seller's quality rating and shipping terms. Armed with this information, you are ready to buy an angle grinder that can satisfy your needs for years to come.
Conclusion
Many a do-it-yourselfer has an angle grinder in his arsenal of power tools. Likewise, those performing construction, tuckpointing, and metalworking tasks frequently turn to the angle grinder for polishing, grinding, cutting, or sharpening. Angle grinders come in a range of sizes; as such, their power, disc speed, wheel diameter, and wattage may vary greatly. When considering the purchase of an angle grinder, it is important to first have a list of projects at hand; this way, buyers can find a grinder that meets their specific job needs.
eBay is the ideal place to shop for angle grinders. Not only does the popular Internet marketplace have a huge inventory of these power tools for sale, but buyers can also find any desired accessories, including not just additional discs and wheels but also safety equipment, such as thick work gloves, face masks, and eye protection. Upon receipt of their purchases, buyers are ready to put them into use and enjoy their new angle grinders safely and satisfactorily, from one project to another.