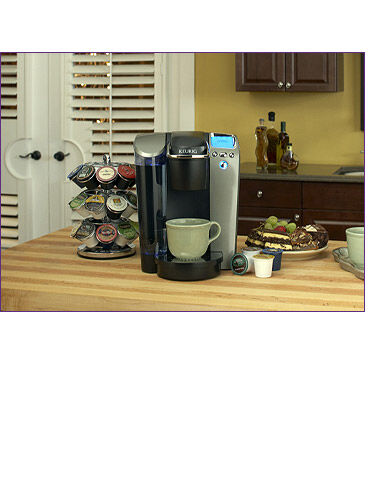 Most working professionals, and those who are consistently on the go, enjoy a bit of caffeine before starting their day. Those who entertain might serve espresso, coffee, or tea to their guests after a meal. Anyone who enjoys a solid cup of espresso, or espresso related beverage, knows how much of a difference the type of coffee and type of machine can make in the quality of the beverage. Buying an espresso machine takes time, but is worth the end result.
Researching the types of espresso coffee machines available on the market is the first step, but so is determining the quantity of espresso made, and how frequently it is used. Price is another factor consumers ought to consider while shopping as well, since prices can vary greatly. Lastly, whether purchasing an espresso coffee machine from a local high street shop or on a website such as eBay, consumers should be sure they have the best value for their money.
History
The first patent for an espresso machine dates back to 1884 in Turin, Italy. In 1901 a mechanic patented improvements he made to the machine, again in Italy. Throughout the decades, multiple machine designs have been created to produce espresso. Varying the fineness of the grind, amount of pressure used to tamp the grinds, and the pressure of water can all alter the taste of the beverage. Some early baristas discovered the flavour profile changed if the freshly brewed espresso was put into a warmed cup or one that was room temperature. As the machine evolved drinkers around the world could enjoy the various flavours coffee had to provide.
The evolution of coffee from an unknown crop to a daily must-have can help most consumers appreciate the process of bringing the flavour out of such a small bean. Additionally, each culture appreciates coffee differently. For example, Turkish and Greek coffees are known to be muddy with the coffee grinds loosely sunk at the bottom of the mugs. Italian and French coffee drinkers prefer it black with the smallest amount of sugar to cut the bitterness. The way coffee is served helps consumers determine the kind of machine, and also has a story to tell.
Types of Espresso Coffee Machines
As with any appliance or technology, there are always several iterations, none of which are the absolute correct versions. An espresso machine may have a steam want to froth liquids and make a cappuccino, macchiato, or latte. Consumers should educate themselves on how the coffee goes from bean form to liquid form in their cups. Lastly, buyers should consider any ancillary accoutrements of the machine before purchasing, since it may make their espresso-making process more difficult or less difficult.
Steam-Driven Espresso Coffee Machines
Water is forced through the coffee by means of steam or steam pressure in a steam-driven unit. The first steam-driven espresso coffee machine was in this category. A common broiler was piped to four heads so that multiple types of coffee could be made at one time. This rudimentary design is still used today in several low-cost, consumer-based machines. Further, this type of machine has no moving parts.
Piston-Driven Espresso Coffee Machines
The lever, or piston-driven machine, was developed in 1945 by the man who founded the Gaggia espresso manufacturing company. The design uses a lever, pumped by the operator or barista, to pressurise hot water and send it through the coffee grinds with pressure. When the barista "pulls a shot" he or she is quite literally pulling a long lever handle to release the water. There are two different types of lever machines available to consumers today.
| | |
| --- | --- |
| Manual Piston Machine | The operator directly pushes the water through the grounds |
| Spring Piston Design | The operator works to tension a spring, which then delivers the pressure for the espresso (usually 8 to 10 bar; 116 to 145 psi) |
The term "psi" stands for pounds-per-square-inch of pressure. The higher the psi the more pressure is released. If the pressure is too high, the barista runs the risk of burning the coffee, or evading the true flavour depending on how packed the cradle is.
Pump-Driven Espresso Coffee Machines
In 1961 the piston machine was refined and has since become the most popular design in commercial espresso bars. Instead of using manual force, a motor-driven pump provides the force necessary for espresso brewing. Commercial or some high-end home machines are often attached directly to the plumbing of the site. Common household items have in-built water reservoirs in the pump-driven espresso coffee machine..
Four variants exist in home machines, depending on how brew water and steam are boiled. Commonly used in acronym form, the four types vary in multiple degrees of complexity.
Single Boiler (SB)
A single boiler, or SB espresso coffee machine, can only brew but not steam with its single broiler. This type of machine is relatively uncommon because of its lack of function. However, some models of SB machines offer steam wands as a simple addition valued amongst baristas.
Single Boiler, Dual Use (SB/DU)
A home pump espresso coffee machine uses a single chamber both to heat water to brewing temperature and to boil water for steaming milk. The temperature for brewing is always less than the temperature used to create steam. Because of this difference, the machine takes a bit longer to create any froth for the beverage. Froth is necessary to make an accurate latte, cappuccino, and even macchiato.
Heat Exchanger (HX)
Some espresso coffee machines use a single boiler which is kept at steaming temperature. However, water for brewing is passed through a heat exchanger, taking some heat from the steam without rising to the same temperature. This design is commonly found in many mid-range machines. There is some controversy as to the temperature stability of the brewing water, since it is indirectly converted from steaming temperature to brewing temperature, rather than kept at a brewing temperature.
Dual Boiler (DB)
Finally, in some espresso coffee machines for commercial or home use, water for brewing is heated in a separate chamber, which requires two separate boilers. Typically found in higher end machines, it has recently become available in mid-range options as well. The phrase "dual boiler" is narrowly used for machines with two individual boilers, and broadly used for "dual heater" (DH) machines. Dual heater machines feature one boiler for brewing and a separate thermoblock (TB) for heating the water intended for brewing to a steaming temperature, which is the opposite of HX machines.
In theory TB machines yield a more stable brew temperature at the expense of steaming output and speed. Alternatively, HX machines offer better steaming at the expense of stable brew temperatures. TB machines are the most expensive option because of their stability in temperature control.
Air Pump-Driven Espresso Coffee Machines
In recent years air pump-driven espresso machines have become a popular option amongst consumers. Using compressed air, the machines force hot water through the coffee grinds. The hot water is added via a thermo flask or kettle. Compressed air comes from either a hand-pump or N20 or CO2 cartridges. An advantage of air pump-driven machines is their compact size and the fact that they are less heavy compared to their electric machine counterpart. Often, air pump-driven espresso coffee machines are handheld and even portable.
How to Buy Espresso Coffee Machines on eBay
Choosing an espresso machine to purchase may seem arduous, but purchasing it on eBay is not. Simply type in your parameters for an espresso coffee machine and review the results. If you choose a very specific item, you may not receive many, or any, results. However, if you are too generic in your search, the items returned for viewing can be endless. To help you sift through the results, eBay offers filters so you can specify price, condition of the item, geography of the seller, and even brand. If you prefer a Delhongi product, Tassimo, or a Nespresso item, simply input your search terms in the search bar on any eBay web page. Alternatively you could browse the Miele coffee machines on their ebay page.
Seller Feedback
After each transaction eBay suggests that buyers leave feedback regarding their experiences. This feedback can help you determine what seller to purchase your espresso coffee machine from, or not. Also, when your transaction is done you can return the favour to future buyers and leave feedback accordingly. Those with outstanding customer service and products should be acknowledged for their work.
Conclusion
Whether purchasing a brand new unit or a gently used item, purchasing an espresso machine requires education and patience. Although the term espresso means "quickly" it does not mean you should go about your purchase quickly. Be sure you know how to care for the machine, and that the machine is truly what you want in your home or flat. If you entertain on occasion, a professional grade machine might not be a practical option. However, if you enjoy a morning brew, a high-quality, single-serve espresso machine could be just the right fit.
Be sure to ask the seller or merchant all of your questions before purchasing the machine. For instance, determine if it has an in-built coffee grinder, or if this is a supplementary item you should purchase. Lastly, you should try to have coffee beans or grinds that suit your tastes so you can fully appreciate what the machine can offer you in terms of a quality beverage.