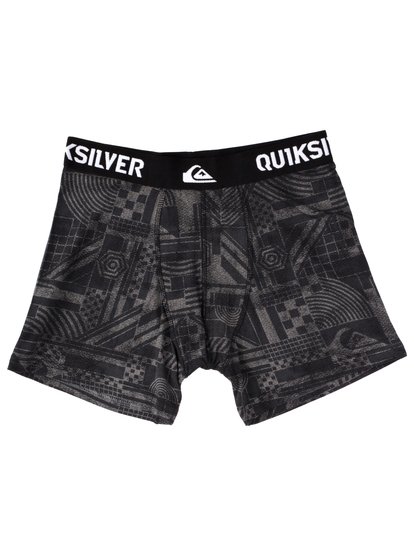 Underwear is the most intimate piece of clothing a guy owns. No garment gets closer to the body than underwear, so it is important when shopping for new underwear that a guy consider his choices very carefully. Shopping for underpants used to be fairly straightforward. The choice came down to boxers or briefs. Today, guys have hybrid underpants to choose from and more exotoc varieties, including the boxer trunks bikini briefs, and the most terrifying underpants of all, the thong.
Once upon a time, cotton briefs were all a person could find in men's underwear drawers. Contemporary guys are now wearing silk underwear and underpants made of stretchy Lycra. The choices may be many, but if a man knows when and where he plans to wear his underpants, the field can be narrowed down to a few good candidates. If a guy's underpants have seen better days, it is time to shop for a new pair or three. The largest selection of comfortable underwear can be found online, on eBay.
Types of Men's Underwear
Each style of men's underwear offers differing levels of support and coverage. The choice really comes down to each guy's personal preferences. If a guy is not too sure what style to buy, he should consider buying a single pair of each style to get a feel of how comfortable each style is. Once a guy has found a style that he is comfortable with, he can go ahead and buy several pairs in that style for everyday wear.
Briefs
A classic underwear choice, briefs are a tight-fitting and a very short type of men's underwear. Briefs feature an elastic waistband and elastic leg holes that run across the very tops of the legs and through the crotch area. Most briefs feature a fly hole in the front for easy access when the wearer visit the men's room. Briefs offer the most support to a man. Since they are quite tight-fitting, the wearer can feel warmer wearing them when compared to other types of underwear.
Loose Boxers
Loose boxers are a loose fitting and have longer legs. They resemble a small and lightweight pair of shorts. Boxers feature an elastic waistband, but unlike briefs, they do not have elasticised leg holes. Most styles of boxers feature a fly that is closed and opened using a fastening like a button. Boxers can vary in length and in how loose they are on a man's body. Boxers offer little support to almost no support, but they are cool to wear in warm weather and are comfortable to sleep in.
Boxer Trunks
Boxer trunks, also known as boxer briefs, are a combination of the two styles of underwear: briefs and boxers. They are long in the leg area, like boxers, but also feature the more supportive tight fit that is characteristic of briefs. Boxer trunks also feature a fly. They are often heralded as the most comfortable style of men's underwear, since this style incorporate the best elements of both boxers and briefs.
Bikinis
Guy's bikini underwear is similar to briefs, but the hip line of the underwear is much higher, so that the waistband on the hip sides is only 7-11 centimeters wide. Bikini underwear is relatively small but it provide a decent amount of support. Due to its smaller size, bikini underwear does not always feature the fly that is common to most styles of underwear.
Thongs
One of the more exotic underwear styles for guys is the men's thong. The front of a men's thong resembles bikini underwear, however, the sling supports the crotch area and connects at the rear waistband, while leaving almost the entirety of the bum uncovered. Traditionally, men are less comfortable wearing thong underwear, and this particular fit only appeals to smaller subset of men who have the confidence to wear this type of revealing underwear.
Common Men's Underwear Materials
Once a guy has settled on a style that best meets their needs, he needs to consider the various fabric types. As with the type of underwear, the choice of fabric is a personal one. Each fabric comes with advantages and limitations. A guy should not be afraid to consider new styles and fabric when he shops for underwear. Today's variety of brands and designs, means a guy can easily switch styles to find that pair of underwear that offers him the right level of support and comfort.
Cotton
Cotton is one of the most common fabrics used for men's underwear, and most briefs and boxer trunks are made of cotton weaves or cotton blends. Many cotton blend briefs and boxer trunks include elastic qualities to ensure a closer, yet comfortable fit. Cotton is great for absorbing perspiration, and as a lightweight fabric does a very good job at being breathable and keeping the wearer cool.
Spandex or Nylon
Spandex and nylon are synthetic choices that are stretchy yet also very supportive. These synthetic materials are often used to make underwear to be worn for athletic activities. They are perfect for wicking sweat away from the body, as they do little to actually absorb moisture. Since spandex and nylon are synthetic, these fabrics lack the softness that is characteristic of silk and cotton underwear. Therefore, most guys choose to wear them for specific physical activities, but not as all-day, everyday underwear.
Silk
Silk is extremely smooth, soft, and lightweight. It dries fast, and has an overall luxurious look and feel. It is rare to find briefs and boxer trunks made from silk, as it lacks the natural elasticity that these styles of underwear require. Instead buyers can find briefs and boxer trunks made of silk blends. In the past, silk underwear was not considered a particularly 'manly' choice. However,silk's luxurious feel and the popularity of designer underwear for men has seen a mainstream crossover for silk underwear.
Tips for Buying Guy's Underwear
Once a guy has zeroed in on a style that offers the right degree of comfort, and selected a fabric that keeps him cool, it is time to consider a few best practices for shopping and wearing underwear. The following list outlines some of tips and tricks for maximising comfort and confidence.
Avoid Threadbare Underwear
Everyone knows what it is like to have an article of clothing that is loved so much that it is worn until it is worn, ragged, and beyond. Underwear is no exception, but when underwear has been worn down too much, holes begin to form and the underwear starts to lose support. A guy should consider purchasing new underwear roughly every six months. He should not feel bad about throwing away underwear and getting new pairs whenever necessary.
Don't Wear Cotton to Play Sports
Cotton is good at absorbing sweat, but when a guy is playing football or working out at the gym, cotton underwear can absorb a significant amount of sweat, causing the underwear to become waterlogged and uncomfortable. For sweaty activities, a guy should consider underwear that wicks sweat away from the body when working out, so that he stays comfortable.
Stay Away from Certain Styles
Some guys are willing to try thongs and bikinis, but most agree that those styles are not the most comfortable underwear choices for the average guy. They offer less support and less coverage than other styles.
Don't Be Afraid of Something New
Many men wear the style and brand of underwear they wear on a daily basis simply because they have worn the style for long, they would not consider wearing anything else. While sticking with what is familiar may seem ideal, a guy should not be afraid to give a different style of underwear or a familiar style in a new fabric a try. He might be pleasantly surprised.
Wear What Is Appropriate For the Occasion
Many guys choose to have a few different styles of underwear in their underwear drawers for different activities and occasions. When wearing a suit with tighter dress pants, a guy might want to wear a pair of briefs, as boxers can bunch up and show lines through a suit. For a game of football, a guy should wear a pair of spandex boxer trunks that are both supportive and good for wicking away perspiration. For a relaxed day of lounging around, a guy should consider a pair of regular boxers. A guy should try to match his style of underwear to his level of activity. This way, a guy ensures that he is comfortable through the day.
How to Find Men's Underwear on eBay
No matter what style of underwear you are after, you are certain to find a wide variety of options to choose from when you shop online using eBay. On every page on eBay you can see a search bar where you can insert keywords to look for specific types and brands of underwear. For instance, typing in 'black silk boxer trunks' returns a results page with only listings with that search term in the title. You can sort the underwear listings you see by style, fabric, price, brand, colour, and more. Read the item descriptions carefully. If you buy a few pairs of underwear and they are all in the wrong size, you may have a difficult time returning them to the seller. Many sellers do not exchange underwear for hygiene reasons. If you cannot find mention of the sizes in the item description, contact the seller through their profile page by clicking on the contact link.
Conclusion
The choice of comfortable underwear is a very personal one. With different fabrics, styles, and levels of support, there is a variety of underwater options to choose from. When shopping for comfortable underwear, a guy should consider buying and trying out a single pair of underwear of every style, from briefs to boxers, and even bikinis, and for the more adventurous, the thong. Once a guy finds a style that offer the right degree of both support and comfort, he can buy more of that style to stock his underwear drawer. A designer label on a pair of underpants does not ensure a guy's comfort. If he finds a pair of designer underwear at a low price, but the underpants are two sizes too small, he should rather go with the generic underpants that fit, than the designer undies that do not. Whatever his preferences, a guy is bound to find the right underwear for everyday use as well as specialty varieties on eBay.