When you think of the words logmaker the first thing you will probably think of is the traditional brick logmaker. A fairy hefty piece of equipment with two opposing handles which produces brick sized compressed newspaper logs. Although the logs do burn well they are very time consuming and messy to make. The newspapers have to be soaked, compressed and then left to dry - which in the Winter months can take up to 3 weeks!!
Now the good news - The New Green Logmaker has arrived.
This version takes all the hassle out of producing burnable logs for your open fire, wood burning stove, chiminea, barbeque or camp fire. It consists of a tube with a plunger inside and measures 14.5" high x 3.5" in diameter: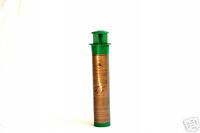 How it Works
You simply wrap a sheet of newspaper, tabloid sized or fold in half if you are using a broad sheet, around the tube using the guide line for positiong. Now tuck the ends into the bottom and stand down on a firm surface. Take the plunger and push down inside the tube to make the tucked in ends form a seal. Now remove the plunger and start to fill with your burnable waste items, compressing as you go. When you reach one of the fill levels, marked on the plunger, eject the newspaper log by holding the newspaper and using the plunger to force it away from the tube. Now twist the ends together or tuck them in. Your log is ready to burn straight away, no wetting or waiting.
The newspaper logs are simple and fun to make. Primary school age children can produce logs easily and, as minimal effort is required the New Green Logmaker is also suitable for the elderly and disabled.
Burning Contents
The New Green Logmaker doesn't just take newspaper. You can burn a lot of your household and garden waste in the New Logmaker - in fact around 30% of the average household bin can be recycled as burnable waste, here are some examples of waste that can be burnt effectively using the New Green Logmaker:
shredded paper
ripped up junk mail - not heavily coated, glossy mailings

ripped cardboard such as: cereal packets, eggboxes, toilet roll tubes (rip into small pieces first)
teabags (dried or slightly damp)
olive stones
nut shells
wood shavings and sawdust
coal dust
dried leaves and twigs
small pieces of wood
So as well as being simple and fun to use, the New Green Logmaker also helps you to recycle your waste and produce Free Fuel. Keep a separate bin for all your burnable waste and start making your newspaper logs now in readiness for the Winter.
Burning Time
The logs will burn for up to 1 hour depending on the contents. Paper only filled logs work well as firelighters - great for the barbeque.
Environmentally Friendly
The New Green Logmaker is made in the UK, so less carbon emissions are produced in transportation. It is made from recyclable polypropylene, an approved 'green' plastic.
Want to Buy One?


Just click on the link:
New Green Logmaker