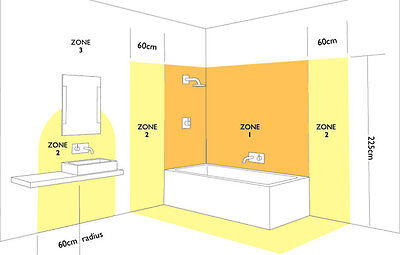 Add a caption
IP zones - Copyright to: electricalrevision.yolasite
Are you redesigning your bathroom?
The standard bathroom furniture – the bath, toilet, sink and shower – are all relatively easy to source. You just need to select a style and ensure the size matches your physical space.

However, choosing lighting for your bathroom always appears to be so complicated. Did someone say something about IP rating? You might ask yourselves what the heck that means. But do not worry. We are here to demystify bathroom light selection.

Consider your bathroom in the terms of zones. We have found you this helpful diagram to explain the zones to you. Where are you considering putting lights? Select the relevant zone and then you can see which IP rating you need.

Because of the high chance that the lights will be exposed to moisture, you should only put lights in your bathroom that have been designed for it. Also, to ensure you are not at risk, always ensure a qualified electrician installs your bathroom lights.


Your guide to IP Ratings
For bathroom lights, the second digit of the IP ratings is the most important when selecting your lighting. The IP ratings refer to the degree of risk of electric shock.
The X represents another digit. However, this is not important in relevance to the lights bathroom suitability.

The scale:
IPX0 – No protection
IPX1 – Drip proof
IPX3 – Rain proof
IPX4 – Splash proof (suitable for zone 1/2)
IPX5 – Water jet proof (suitable for zone 1/2)
IPX6 - Powerful water jet proof
IPX7 – Watertight (immersible) = Suitable for Zone 0
IPX8 – Pressure watertight


Zone 0 – Inside the bath, shower or wet room
All lights within a bath or shower cubicle or wet room need to have an IP rating of at least IP67 and have a low voltage (max 12V).

The lights for zone 0 are usually spot lights and recessed. They are available in a variety of lamp colours.



Zone 1 – 2.25m above the floor around the bath or shower
All lights within this zone need an IP rating of at least IP44 – although if you clean with water jets an IP rating of IPX5 will be needed).

Usually this area will only include wall space. So we have selected a range of wall lights to show you the choice you have in bathroom wall lights.

These lights will usually be on the wall around the sides of your bath. There is a range of bathroom lighting available in traditional and contemporary styles. You have a choice between either traditional wall lights or spot lights. The perk of spot lights is that you can aim them at the book you are reading in the bath. It's also worth considering picking a light with a pull cord which will help if you do not want the light on all of the time.



Zone 2 – 0.6m outside parameter of the bath, shower or sink + the space above 2.25m-3m above the bath or shower
In recent years, lighting manufacturers have been making a real effort to create bathroom suitable ceiling lights that look decorative as well. You do not just have to select boring and functional lights anymore. Have as much enjoyment picking out your bathroom lights as any other room in the house.

All lights in this zone need to have an IP rating of a minimum of IPX4 (IPX5 where jets of water are used for cleaning).

With your ceiling lights, you need to consider a fitting that provides lighting to your space. Think in terms of lighting levels. The ceiling lights need to create an overall light for normal bathroom use. However, you can combine them with wall lights (and candles) to provide a low level lighting when you just was to relax.


Outside of the these zones
If you are fortunate enough to have a very large bathroom, you will have areas that fall outside the stated zones. These areas do not have a minimum IP rating requirement. However, we would recommend only using specified bathroom lighting. When you are mixing water and electricity, it is always better to be safe than sorry.

Any socket outlets you need – either for shavers, ply sockets or rechargeable toothbrushes - need to be in this zone. Every outlets should be a minimum distance 3m outside zone 1. In addition, the circuit must be provided with a 30ma RCD protection. These additional protections are another important reason as to why you need an electrician involved in the project.

We hope this guide has helped you understand the process of adding lighting to your bathroom. If you have any further questions please do not hesitate to contact us on 01202 601846. We are more than happy to help you find the perfect light for your new bathroom.
Have fun!