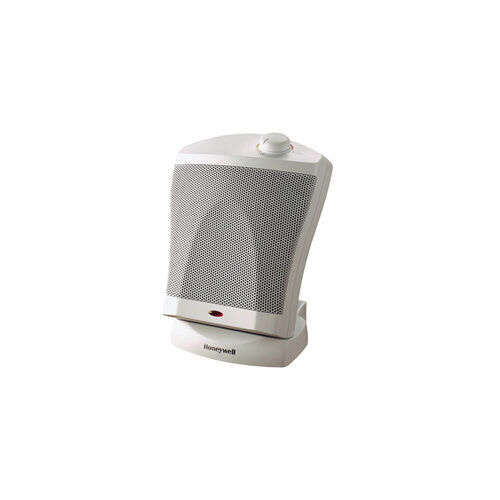 We all enjoy a little extra heat in the winter, and for many people, the easiest way to accomplish that is by using portableheaters. A ceramic heater instantly provides extra heat for the bedroom or office without needing to heat the entire house. Used properly, they are an efficient way to balance heating needs against any budget. The only question is which heater to buy, given the vast number of options available. There are so many good choices at a buyer's disposal, it is easy to get lost in the choosing. All it takes is a little time and research to find the right ceramic heater, and once that is done, one can simply plug it in and enjoy the warmth.
Benefits of Ceramic Heaters
Ceramic heaters work like any other electric resistance heater, by passing a current through a wire so that it heats up. The big difference with a ceramic heater is that the wire runs through a ceramic plate, rather than being exposed directly to the air. This has the advantage of both protecting the heating element, and providing a larger radiating surface for better heating efficiency. Ceramic heaters, thus, both last longer and provide more usable heat than many less-expensive models. They also heat up quickly, so owners do not have to shiver while waiting for the heater to kick in.
Choosing a Ceramic Heater
There are a number of factors to consider when buying a new ceramic heater. One of the most important is space, both the amount of space the heater requires, and the amount of space that needs heating. Buyers should also remember that the size of a heater has nothing to do with the amount of electricity it uses, and therefore how much it costs to run. Handing a teenager a small ceramic heater for their bedroom does not imply a small electric bill. The two factors that matter when it comes to the cost of running a ceramic heater are how much current it draws, and how long it runs. This is why a thermostat is so helpful, as it automatically turns the heating element off at a certain temperature, rather than letting the heater run indefinitely.
Buyers should pay attention to the size of the room. A heater can easily use 2400 watts per hour at full blast, and even that may not fully heat a large open area. Ceramic heaters really come into their own when heating small areas for relatively short periods of time, rather than heating the whole house all winter. They are, in fact, a form of convection heater, in that they heat the air that passes through them. This means that they make the room feel warm so long as the warm air is contained. This is why they work best in an insulated room.
Ceramic Tower Heaters
Ceramic tower heaters like the Delonghi Tower are easily recognised by their upright cylindrical shape. Most of these heaters oscillate spreading the heat across a wide area, making them particularly suited for larger rooms. Some companies, such as Kambrook, even offer models with remote controls. Features to look out for in a ceramic tower include noise ratings and power usage. A good tower is not only quiet, but also has a thermostat and multiple power settings to keep the user in control of both the heat and their electric bill. Tip over protection is also important, as is an insulated handle in case the heater has to be moved before it has had time to cool down.
Compact Ceramic Heaters
One of the most common kinds of ceramic heater is the small portable model that is easily placed under a desk for added warmth. These fan heaters work very well in confined areas, quickly providing heat where it is needed. The one concern for many buyers is that the small size are deceptive. Because the power usage depends on the rating, a small heater uses no less electricity than a much larger one of the same rating. Companies likeSunbeam and Everdure commonly make small ceramic heaters. Many of these small heaters come with safety features such as tip over protection, and automatic shut-off to prevent overheating.
Ceramic Wall Heaters
Wall heaters are designed for people who want the benefits of a permanently installed heating system with the convenience of a ceramic heater. One huge advantage to using these heaters is that they do not take up any floor space, keeping them out of the way. This also helps with safety, as the heater is permanently affixed to the wall, so owners have no need to worry about it tipping over in use. Prima makes a fine example of this kind of heater with a remote, up to 2400 watts of heating power and a fan-only mode to keep warm air circulating. It even comes with a timer for automatic shut-off to help control how much electricity it uses.
How to Buy
Buying the right ceramic heater for any usage is a simple matter of employing eBay. eBay puts you in control of the buying process, with filters and tools that let you not only find the heater you want, but also keep control of your budget. You can rely on eBay's top sellers for excellent customer service with all the benefits of buying one-on-one, combined with those provided by a worldwide marketplace. Finding the right heater is just as easy as buying it. It is simply a matter of figuring out what you want to heat, and where you want to put the heater. Put those two things together and you can find the right ceramic heater in no time.