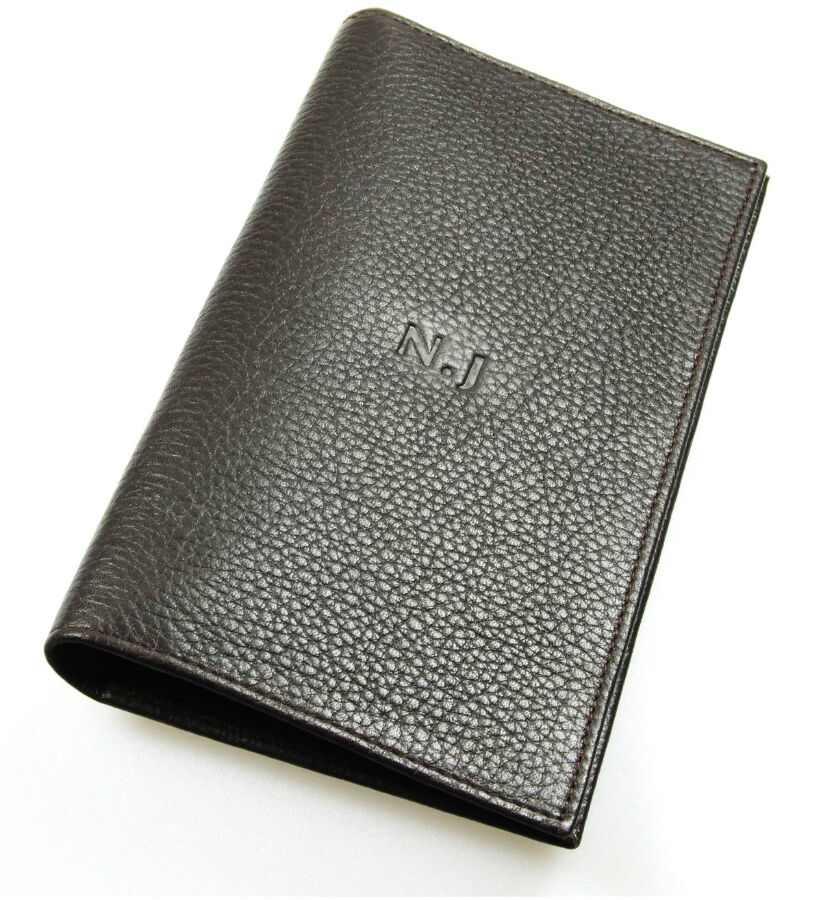 Cheques are a paper form of payment. They are pre-printed with a user's bank account information and left blank in places so that details such as the payment amounts can be filled in. They are a traditional and classic payment that are still used by many despite the recent movement to plastic cards. Due to their fragile nature as paper, they need a cover to protect them from getting bent, wet, or dirty. The cover can also help prevent the chequebook from getting lost and may also be used to keep other things organised such as credit cards, I.D.s and notes.
Chequebook covers truly come in nearly unlimited varieties with different features, functions, and materials. They are often overlooked but they can be quite useful to the average man. Unlike bulky wallets and bags, chequebook covers can store and organise everyday items in a more compact way. The process of selecting and purchasing one is simple and will be outlined over the following sections.
Types of Chequebook Covers
Thankfully, shopping for chequebook covers is more fun than tedious, because what to get is based solely on personal preferences. Chequebooks can be unique and represent their owner's personality, sleek and functional, or both. The first step in selecting one is to decide what type is needed. Consider what the cover will be used for. If it only has to serve its purpose as a cover and nothing else, then a simple one will do. However, others may prefer to accessorise and get a cover that they enjoy. Functionality can be important too and many people do not realise that chequebook covers can actually be useful in keeping everything they need on a daily basis more organised and accessible. Consider these ten types of chequebook covers.
| Type of Chequebook Cover | Description |
| --- | --- |
| Coordinated | Cheques can sometimes be ordered with customized pictures, designs, or logos on them. Often times banks offer these services for an extra cost, or shoppers can go to other companies to get custom cheques printed. Sometimes it is possible to go a step further and get a chequebook that matches the theme of the cheques themselves |
| Handmade | Many local and foreign people handcraft things such as chequebook covers. This is a great way to get a completely unique look while also supporting the hard work of individuals |
| Leather | Leather chequebook covers are professional as well as functional. They have a sleek look, are easy to clean, and can withstand a lot of wear and tear |
| Personalised | Personalised chequebook covers have names, quotes, or business information inscribed on them |
| Plastic | Plastic chequebook covers are inexpensive and can be found in many different colours or with patterns or pictures printed on them. They are also durable and should last a long time |
| Recycled | Chequebook covers that are made with recycled materials are environmentally friendly as well as unique. Another form of purchasing recycled chequebook covers is to find pre-owned ones rather than books that are reconstructed with used materials |
| Simple | Simple chequebook covers are comprised of a pocket for the chequebook and a flap to cover it |
| Themed | Themed chequebook covers have pictures of nature, cartoon characters, logos, or nearly anything else imaginable on them |
| Vinyl | Vinyl covers are very inexpensive, but do not last very long. They come in different colours and may also be found with pictures and patterns on them |
| Wallet | Rather than carrying a wallet as well as a separate chequebook, there are chequebook covers that double as the wallet as well as the cover. They have slots for credit cards, I.D.s, notes, and may have other features as well |
For those who are looking for chequebooks that are fun and unique, it can be overwhelming finding something that matches their personality and interests. Men can start out by considering all the things they enjoy or are proud of such as their hobbies and achievements. Nearly any cover can be found with pictures of things like military ranking, golfing, camouflage patterns, or memorabilia.
Features of Chequebook Covers
The next step is to figure out what features to include in the cover, if any. The following chart lists the optional features of chequebook covers for those who want more than just a simple cover flap.
| chequebook Cover Feature | Description |
| --- | --- |
| Calculator | Since the chequebook cover's main purpose is to organise payment methods, some covers come with small calculators on the inside to assist with payment accuracy |
| Card Holder | The wallet chequebook covers can come with several slots to hold credit cards. Be sure to find a cover that has enough slots for all the cards plus a few additional ones for future cards |
| Coin Pouch | Coin pouches inside the covers are usually small and zip closed to hold the change inside. Be sure to understand that the loose change can make the cover more bulky and difficult to fit in clothing pockets |
| Hook and Loop Security | These covers secure closed with a hook and loop system that is easy and quick to operate. Their only downfall is that they do not stay closed anymore once they get worn out |
| I.D. Holder | This is a clear, plastic slot that holds identification cards without hiding them from view. Sometimes this allows user to show people their I.D.s without taking the card out of the chequebook wallet |
| Note Holder | This is a large pocket designed to hold notes. Usually the pocket is large enough that the notes do not have to be folded in half in order to fit |
| Picture Holder | Picture holders are clear plastic inserts that hold wallet sized photos. The inserts can be easily removed if necessary |
| Snap Security | These chequebook covers are secured closed with snaps which are simple to operate. Typically they do not get worn out |
| Stickers | Although the covers will not come with stickers, an option for customizing the plain and simple covers is to put stickers on the outside. Typically people choose stickers that represent something they are interested in |
| Unsecured | Unsecured chequebook covers just have a flap that is easily opened and closed. Many wallets are like this as well |
| Zipper Security | Covers that zip closed offer the maximum protection against small items falling out |
One way to determine which features to look for is to lay out all the items that need to be kept in the chequebook cover, then select a cover that can hold them all.
Where to Shop for Chequebook Covers
It is not very common to find chequebook covers at local shops. Usually the only ones found in shops are the wallet versions that are made with plain leather or synthetic materials. This is only helpful for the men who want professional checkbook covers. Simple covers can often be ordered from local banks but they only come in vinyl or plastic and are limited to a few, solid colours. For handmade covers, local world markets or craft fairs are a good place to look. But for those that want more variety, they will have to shop online at websites like eBay where they can find everything in one place and browse through a much wider variety of covers. Shopping in this way allows men to get a better feel for what is available before making any purchases. An additional bonus to online shopping is that people save time and money by not having to drive or take buses around town in search of a cover.
Where to Purchase Chequebook Covers
There are several ways to shop for covers on eBay. To begin, you can start at the eBay Homepage and type what you are looking for into the search bar. For example, enter "chequebook cover", or just "chequebook". Many sellers have multiple colours and varieties offered in one listing so be sure to browse through all their pictures. To narrow the search down, enter in your price range, whether or not you want new or used covers, and then sort the listings by their price. This will allow you to bargain shop by starting with the lowest prices first, or skip to the name brand products by starting with the highest prices first.
Before ordering anything, read through the product descriptions carefully to make sure that you fully understand what you are purchasing. Check the shipping charges, look through all the photos, and read through the seller's feedback to see if others have been satisfied with their products and services.
Conclusion
Whether protecting chequebooks from damage, keeping items organised, or looking for a fun and unique way to showcase a personality, chequebook covers are an essential accessory for every man. They are a part of everyone's day to day routine and therefore should be selected with care. Shopping for them is easy once men understand what types of covers are available, what features they can select from, and how to shop for them without ever leaving home. By using the information provided in this guide, men can look through hundreds of chequebook cover options, find what will best suit their needs, and purchase it with very little hassle, money, or time wasted.