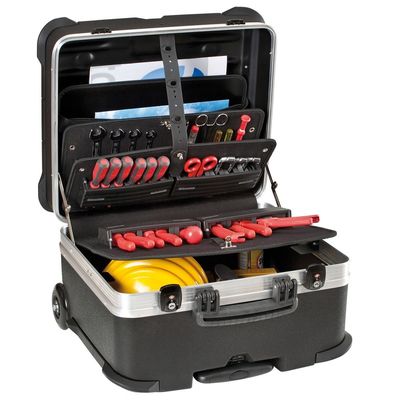 There are many considerations to make prior to purchasing a tool case/ tool bag for transporting your tools when travelling.
Considerations you should make when purchasing a
tool case.
Weight
As you will be carrying your tools then the weight of the tools will determine the size and amount of hand tools you can carry. The weight of the actual tool case should also be taken into consideration.
Size
This will be limited and the more compact the tool case/ tool bag the better.
Style
There are so many styles of tool case on the market that this is often due to personal taste, however when travelling around security should be a top priority with fully closable options with either a zip or clasp to prevent spillage of contents or theft. Lockable tool cases are an advantage if travelling via public transport for extra security. Tool cases with multi pockets and compartments are a must for organising your tools whilst also preventing them moving around at the risk of getting damaged.
Wheels
Wheeled tool cases are a good option for air travel and other forms of public transport such as the train or bus, though obviously not suitable for rough, uneven surfaces. The wheeled tool cases make light work of transporting your tools from place to place and usually come with removable pallets and compartments for storing your tools.
Hard Case
Tool cases with a hard case are preferred by many for transporting tools, due to their protection they offer and also are often made from a lightweight, durable construction. GT lines range includes tool cases that are suitable for international air travel, they are lightweight and resistant to shock and extremes of temperature. These tool cases also come with TSA approved locks.
Material
Lightweight anti-tug polyester material
Injection moulded high thickness polypropylene that is lightweight but has excellent resistant to shock and extremes
Resin construction that is shockproof, crushproof, corrosion proof, sand proof and dustproof
Lightweight ABS construction
Mode of Transport
Public transport, own transport or air travel?