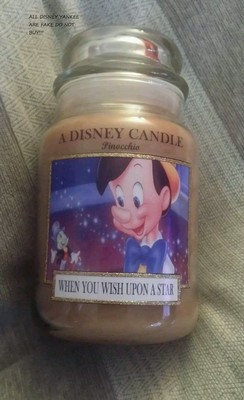 WARNING THIS IS A SCAM
I work with an authorised Yankee candle retailer, and have been made aware of these fakes flooding ebay and facebook.
Disney and Yankee candles have never gone into partnership and licensed these to be produced.
These are not worth the money, the labels attached are NOT GENUINE!!!
Please do not part with your hard earned cash for these rip offs, as that's exactly what they are.
The sellers are hoping that with the addition of a 20p label they will triple the value of a yankee candle, and even then, some are using the cheaper Yankee range found in supermarkets, not the more exclusive ones found in Yankee outlets.
If you have already fallen foul of this scam in the UK please contact your local trading standards, and contact EBAY to report the seller.
It is a CRIMINAL OFFENCE to sell counterfeit goods in the UK, and any sellers doing so may find trading standards and the police knocking on their door soon.
If you feel you can't goto trading standards, please goto ebay resolution centre to report the fake items.

These are copycat goods — often priced almost as high as the original, so as not to arouse suspicion — and replicas of everyday brands popular with middle England, rather than copies of designer goods.

Other mid-market labels now on the counterfeiters' hit list include Cath Kidston, Hunter wellies, Links Of London, ghd hair products and top make-up brands. A Which? survey concludes that one in ten shoppers have unwittingly bought a fake, with 7 per cent of goods sold in the UK are said to be counterfeit.

Shopping online is a particular minefield. In April, a specialist police unit shut down more than 2,500 websites selling counterfeit goods to British customers that were believed to be worth tens of millions of pounds. But with an estimated 72 million web links to infringing material this year alone, this is a drop in the ocean.

With Christmas fast approaching, shoppers are trawling the internet for last-minute bargains — and you can be sure criminals are on the prowl to get some of this money.

'Behind many of these websites lies an organised crime gang funnelling off the money spent by unsuspecting customers on what they think are quality products,' says Detective Chief Inspector Andy Fyfe, head of the Police Intellectual Property Crime Unit.

'Consumers also need to be aware that by accessing websites like this they are running the risk of their personal details being compromised and being used for other fraudulent scams, as well as exposing their computer to viruses.'
Please don't fall foul of these crooks.