Escort Mk2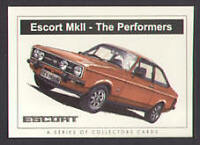 This is one of many illustrated classic car guides I've created for the eBay community. I hope you enjoy it. If you would like to find out more about the classic Escort Mk2 car art featured in this guide please click here.
This guide features several classic Escort Mk2 cars.
Escort 1600 Sport 1975-1980
Sometimes described as the poor-man's RS, the 1600 Sport was produced in two- and four-door form (the four-door model was only made between January 1975 and July 1976), and used the famous 84bhp 1,598cc Kent power plant. The car featured circular headlamps, black quarter bumpers, and extra driving lamps, a black grille, sports wheels and distinctive side flashes. The cockpit was surprisingly plush for a low-priced mass-production model, with comprehensive instrumentation, a three-spoke steering wheel and well-contoured seats.
Escort RS1800 1975-1977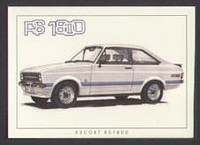 Replacing the RS 1600 and using a bored-out BDA engine, the RS 1800 was built along with the MkII RS2000 and Mexico at Saarlouis. It shared the same two-door reinforced bodyshell as the 2000, stronger suspension and a hefty front cross-member. A deep front air-dam, 5 ½ inch sports road wheels and a soft boot-lid spoiler set it apart from the Sport and derivatives. Ford's most successful rally car, the RS1800 won more rallies than any other British car.
Escort RS Mexico 1976-1978
The RS Mexico used the same strengthened bodyshell as the other RSs but its striping mirrored the Sport. It was powered by a 95bhp, 1.6-litre Pinto engine, coupled to a Type E four-speed all-synchro box. Internally it was very similar to the basic RS 1800, using a centre console and clocks. Sports steel wheels were standard, although many examples were fitted with the optional four-spoke cast alloys. Two years after it was released in 1976. , Ford discontinued the Mexico replacing it with a low-spec RS2000.
Escort 1600 Ghia 1975-1980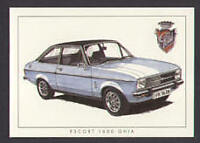 Ford's plan for the MkII was to move the car up-market, and it offered a wider range of engines, improved braking and a range of Ghia versions to cater for the luxury market. The 1600 Ghia was available in two-door form between Jan 1975 and July 1976, adn in four-door body between January 1975 and Summer 1980. Ghia models gave the following features - wood veneer facia and glove box, vinyl roof, tinted glass, fabric seats, shag pile carpets, reclining seat backs plus other extras.
Escort RS2000 1976-1980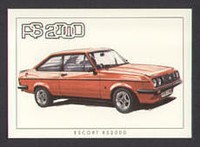 All the Mk2 Escort RS models, including the RS 2000 Mk 2 of 1976-1980 were built at Saarlouis, in West Germany. Faster and better equipped than the original car, the MkII, with its unique droop-snoot nose, which included four headlamps, offered 110bhp and was no slower than the RS1800 "Homologation Special". Yet, this car was also refined, being easy to drive with good handling. A practical four-seater, it could be easily repaired and serviced by every Ford workshop, in contrast to its exotic rivals.
Escort RS2000 X-Pack 1977-1980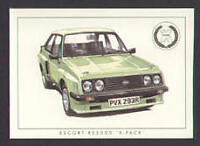 Ford Rallye Sport offered the Series X kits for the RS2000 from Aug '77. It offered a combination of parts designed to compliment each other and focused on specific areas of the car's performance: engine, suspension, transmission and bodywork. Items on the comprehensive options list included: a Group One Spec. 145bhp engine kit. Rocket gearbox, Tarmac wing extension kit including airdam, limited slip differential, gas filled front struts, lower and stiffer front springs, gas-filled rear shock absorbers, 7 ½ X 13 alloys and ventilated brakes.
Escort Harrier 1979-1980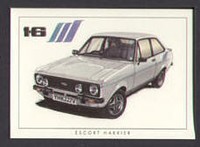 Designed to celebrate Ford's 1979 World Rally Championship title, the Escort Harrier was a special edition based upon the 1600 Sport. Available in Diamond White, or Strato Silver, both with blue body stripes, it's comprehensive specification included: Recaros, tinted glass, a push button radio, boot spoiler and 6-inch AVO alloys. The white and blue model cost £4,330, with the silver finish an extra £35.83. Only 1,500 were produced during 1979-1980.
Thank you for reading my guide and I hope you found it interesting!