Escort Twin-Cam, RS and Mexico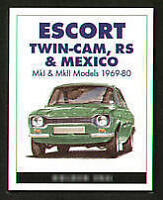 This is one of many illustrated classic transport guides I've created for the community. I hope you enjoy it. If you wish to find out more about the classic Ford Escort art featured in this guide please click here.
This guide features six classic performance Escort models produced between 1968 and 1980.
Escort Twin-Cam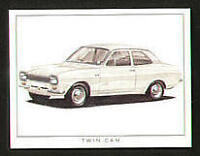 In 1967 a successor for the aging Cortina GTs and Lotus Cortinas was created by shoe-horning the Lotus-Cortina's engine, transmission and braking system into the two-door bodyshell of the new Escort. Series-production was allocated to Halewood, although the first 25 production cars were built at the Boreham competitions department workshops. The car was unveiled with the standard Escorts in January 1968.
Escort RS1600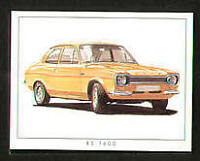 For April 1971 the Twin-Cam was joined by the RS 1600, replacing the Twin-Cam as Ford's most exciting sports saloon and enabling the Escort to remain a front running competition car. The RS1600 featured the Cosworth BDA engine but in almost all other respects was the same as the Twin-Cam.
Escort Mexico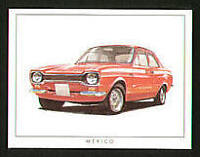 The Mexico was announced in November 1970 and took its name from Ford's success in 1970 London-Mexico World Cup Rally. Basically a re-engined Twin-Cam/RS 1600, the new Mexico used the mass produced 1,599cc Kent engine instead of the limited production 16-valve BDA unit, although in most other respects it was the same car. Maximum speed was just over 100mph compared to 113mph for the RS1600.
Escort RS2000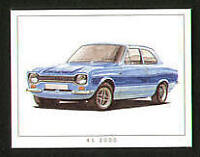 Basically the original Mk1 RS 2000 was a re-engined and refined RS 1600, featuring Ford's new overhead-camshaft Pinto unit. At 1.6 litres, the Kent engine was already at its size limit and to increase performance beyond Mexico standards, this 1,993cc engine was the ideal choice. In the RS2000 it produced 100bhp (DIN) at 5,750rpm.
Escort RS1800 (Mk2)

The RS 1800 was produced in very limited numbers between 1975 and 1977. Fitted with an enlarged version of the 16-valve BDA engine, cubic capacity was now 1,835cc and power output had risen to approximately 115bhp. The RS 1800 model was used with great success by the works rally team and numerous private owners.
Escort RS2000 (mk2)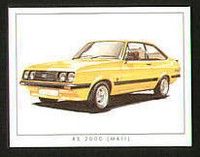 With its new droopsnoot nose, the new RS 2000 created a stir at the 1975 Geneva Motor Show. Like all previous RS Escorts, it was based on the two-door saloon body style and featured extensive used of matt black paint in place of conventional bright metal. Clearly aimed at the sporting buyer who wanted refinement and performance,the model was a success, gaining higher demand than earlier cars.
Thank you for reading my guide and I hope you found it interesting!