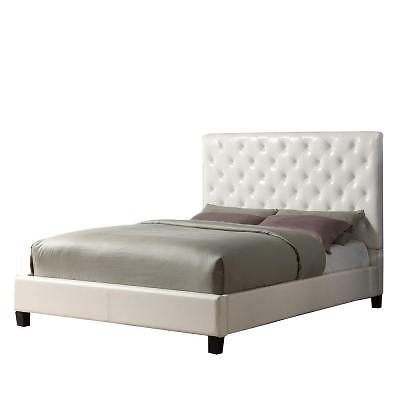 People typically spend one third of their lifetime sleeping, usually in their bed at home. Most people also use their bed to relax and read, to enjoy intimate moments with a significant other, to rest during an illness, or to watch favourite shows on TV. With so much time being spent in bed, it is no wonder that people invest considerable time and money to make their bedroom and their bed a comfortable place.
Buyers searching for the right bed frame have many options, but for a luxurious, durable, yet affordable look, faux leather is the ideal material. This guide will describe faux leather bed frames, suggest a few key features that buyers should look for, and explore some decor options that work well with faux leather bed frames. The guide will also suggest retail locations, including brick and mortar shops and websites such as eBay, where buyers can purchase faux leather bed frames.
About Bed Frames
Most people prefer to have their mattress on a bed frame rather than sitting directly on the floor. A bed frame separates the mattress and bedding from the floor, and serves as a barrier between the individual and any particles of dust, bits of dirt, or stray insects that might be on in the carpet or on the hardwood flooring. In addition, the bed frame gives the mattress extra support and prevents it from sagging or becoming lopsided through use. Some bed frames are designed to allow space beneath the bed, which can be used for storage. Buyers looking for a bed frame are typically faced with a few basic choices: a solid wood bed frame, a metal bed frame, or a frame covered in fabric, leather, or faux leather.
Leather vs. Faux Leather
Some buyers may wonder if there are any advantages to purchasing faux leather rather than genuine leather. In addition to the price difference, there are a number of reasons to choose faux leather over the genuine article. There are some disadvantages as well, as buyers can see in the chart below.
| Advantages of Faux Leather | Disadvantages of Faux Leather |
| --- | --- |
| Less expensive than genuine leather | Not as luxurious and supple to the touch as real leather |
| Not harmful to animals or to the environment | Not very breathable |
| Available in a wide variety of colours and patterns | Easier to rip, abrade, or damage |
| Low maintenance; easy to clean | No rich leather scent or glossy natural patina |
| Glossy appearance | Not quite as long-lasting as real leather |
| Resistant to cracking or fading in sunlight | |
For some buyers, particularly those with children, the ability to clean furniture easily supersedes some other considerations. Leather does endure beautifully if it is well cared for, but it can be easily stained or marked. Faux leather, on the other hand, may be easier to puncture, but any spills can simply be wiped off with a damp cloth and a little mild soap. In the case of a bed frame, faux leather can provide the classy look buyers want without the high price tag of genuine leather.
Available Features and Other Considerations
When shopping for a faux leather bed frame, buyers should keep several key factors in mind. They will likely want a bed frame that is free of health risks and harmless to the environment. They should also coordinate the shape, colour, and style of the bed to with the rest of the bedroom.
Avoid PVC
Faux leather can be made either with polyurethane or with polyvinyl chloride, or PVC. PVC is used to make tough, inexpensive plastics for various consumer applications. However, in recent years the substance has come under scrutiny for possible health risks to children and to the environment. While some studies have shown that PVC is harmless, many of the long-term effects are undetermined. For this reason, many consumers choose to avoid products made with PVC, including certain types of faux leather.
Buyers should be able to find faux leather bed frames that use polyamide or polyurethane instead of PVC. New types of faux leather are constantly being developed, such as the Swedish product koskin and the organic varieties of ocean leather, created from kelp, and cork leather, created from oak.. These alternatives to PVC are safer and more earth-friendly, and they are also easier to clean.
Consider Shape and Colour
Faux leather bed frames are available in many different styles and colours. However, the most common style features an angular design, with square corners and clean lines. The bottom of the bed frame is typically boxlike. The headboard, which stands against the wall behind the pillows, is usually rectangular in shape and is often tufted. Most leather bed frames or dark brown or black, although they can occasionally be found in other colours as well. If buyers would like to maintain the look of genuine leather, they should choose a black or brown bed frame. A coloured leather bed frame will likely give away the fact that the material is faux leather rather than the real thing.
Think About the Room
Faux leather bed frames are bold statement pieces and often become the centrepiece of the bedroom. Since leather bed frames are usually large, dark, and heavy, they can dominate small bedrooms, making them look cluttered. These bed frames look better in a spacious bedroom. White space and light colours should be used to balance the dark shade of the bed frame. With a black faux leather bed frame, buyers should consider a black and white colour scheme for the room. They could use white bedding with black accents, a black nightstand with a white lamp, a white rug, and a selection of black and white photos over the bed. With a brown faux leather bed frame, brown and tan bedding could be used. Touches of greenery and organic patterns and woods might be implemented throughout the room to soften the effect of the bed frame. With the right decor, a faux leather bed frame can provide bold, rich style without overwhelming the room.
Affordability and Quality
While faux leather bed frames are much less expensive than bed frames covered in genuine leather, they may still stretch the budget. Buyers want to ensure that they are getting the finest quality at the perfect price. For confirmation, they can look up customer feedback and reviews about the particular brand and model of faux leather bed frame that they are considering. They should check the reviews to see whether other customers were pleased with the product's durability, its maintenance level, and its appearance. If buyers are purchasing a used faux leather bed frame, they should inspect the frame in person or ask for photos of every part of the frame. The frame should not have rips, tears, punctures, stains, mould spots, or other serious damage. If any of these issues are present, buyers should look elsewhere for their bed frame or ask the seller to lower the price accordingly.
Buying Faux Leather Bed Frames on eBay
Faux leather bed frames should be available at a number of brick and mortar shops and furniture stores in your area. eBay also boasts a wide selection of these frames. Simply type "faux leather bed frames&" into eBay's search bar to see thousands of results. You can save your search if you would like eBay to let you know when sellers post new listings for faux leather bed frames. If you do not find what you want on eBay's main website, try visiting eBay Shops.
Since bed frames are very heavy and costly to ship, you should try to target a seller who is offering free shipping. You can also locate sellers in your area by entering your home postcode and choosing a kilometre radius that represents a comfortable driving distance for you. If the seller agrees, you can pick up your new faux leather bed frame in person and save on shipping. To ask the seller about a pickup or about the bed frame itself, click Ask a Question on the listing page. You can also visit the seller's profile page and click on Contact Member to get in touch with the seller.
Some sellers have received good feedback from their other customers and have been awarded the eBay Top-rated seller seal, which appears on all their listings. Consider purchasing your new bed frame from one of these reputable sellers, particularly if their offer includes additional bundled items or a return policy.
Conclusion
Faux leather bed frames offer a sleek stylish look, are easy to maintain, and add a touch of class and luxury to a bedroom. While some buyers may prefer the organic look and feel of genuine leather, others consider the lower-priced faux leather bed frames to be a much better investment. Buyers should choose a faux leather bed frame that works well with the size and shape of their bedroom. They should also balance the dark colour of the frame with lighter shades such as white, ivory, green, yellow, tan, and blue. If there are children in the home, or if buyers are passionate about the environment, they may want to opt for a non-PVC form of faux leather. If buyers keep all these factors in mind, they should be able to find a magnificent faux leather bed frame that provides them with the comfort and style that fits their personal needs.