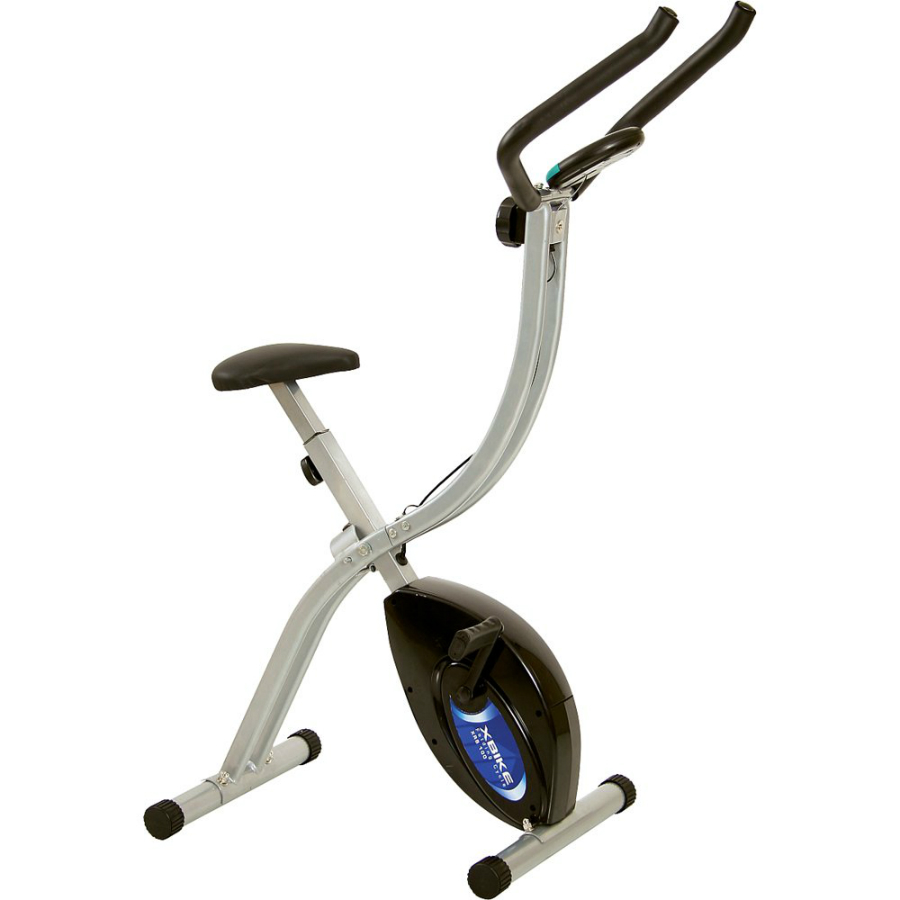 Folding exercise bikes are sought by different sets of people, ranging from people who suffer from space constraints in their homes to people who like exercising even while they are travelling. When it comes to dealing with space constraints, people have resorted to using foldable dining tables, foldable chairs, foldable beds, and now, they have the option to turn to foldable exercise bikes. These exercise bikes normally come in the form of straightforward machines, and they do not just provide a cardiovascular workout, they can be effective in providing a good lower body workout as well.
While turning to regular brick-and-mortar shops to look for folding exercise bikes is always an option, looking online through sites, like eBay, is an option worth exploring simply because the online world tends to offer a wider range from which to choose. However, before choosing any particular model, finding out as much as possible about different folding exercise bikes is suggested, which involves delving into aspects like how well the are made, dimensions, resistance, added features, as well as the bike's intended use.
What to Look for in a Folding Exercise Bike
There has been a significant improvement in the designing of folding exercise bikes since they first came into being, and in today's world, buyers not only have a number of options from which to choose when buying regular folding bikes, but folding exercise bikes as well. While some models are easy to fold, some are not, and while transporting some models is rather easy, this is not the case with all. In addition, since they are designed with portability in mind, their frames tend to be lighter and smaller in comparison to conventional exercise bikes.
Sturdiness
While there has been a considerable improvement in the quality of folding exercise bikes in the recent past, it is essential that a buyer should pay due attention to its frame at the very onset. Not only should the frame be able to provide stability that matches the stability of a conventional model, it should also be strong enough to withstand frequent folding and unfolding. The good news is that buyers have the option to look at models made using fairly sturdy steel or steel alloys. Most of these machines, however, are not really recommended for people who weigh more than 110 kg, and for people who fall under this category, trying the bike in question before buying it is definitely suggested. When it comes to handlebars, seats, and pedals made using thin aluminium and plastic, buyers should know that they are not very good with handling wear and tear.
Setting Up
How easy a foldable exercise bike is to set up plays an important role in its functionality, simply because if a bike is not easy to fold and unfold, there is a good possibility that it may not be used as often as originally intended. Buyers should take into account that certain models can be quite difficult to fold and unfold, particularly for people who suffer from injuries, people who have weak muscles, and people who suffer from any type of a lifting handicap. If a bike is difficult to fold and unfold, it may not serve its purpose for people wanting to use it on a daily basis.
Style
As with regular exercise bikes, buyers have the option to look for upright models and recumbent models. Upright folding exercise bikes work by mimicking the riding position of conventional bikes, wherein the rider leans forward; whereas, a recumbent model puts the user in a slightly reclined position.
Upright
Upright folding exercise bikes are commonly preferred, as these put users in positions quite like regular bikes, and are quite similar to the functionality and design of regular bikes. For example, their variable seat heights that are positioned just above the bike's pedals work in simulating the effects of riding regular bikes; their handlebars give users the ability to position their bodies in the right manner; and since users can lift their bodies off of the seat in order to use more force to pedal, they can simulate experiences like sprinting and hill climbing.
Recumbent
The pedals of recumbent folding exercise bikes are positioned in front of the rider as opposed to beneath the rider, as is the case with upright models. These bikes tend to come with handlebars on both sides of the seat, padded backrests, and wider seats, making them ideal for people who suffer from back problems and knee injuries. Especially helpful is that these bikes offer support to the lower back by placing the user's body in a reclined position, and these bikes provide a workout that focuses more on the lower body in comparison to their upright counterparts. Older adults can find these models particularly beneficial, given that getting on and off of them is quite easy.
Resistance
Folding exercise bikes, quite like conventional models, come with different types of resistance alternatives, which include direct tension, air, and magnetic resistance. Direct tension resistance bikes employ a spinning wheel and some kind of a braking system, typically a belt, that creates resistance. Models that rely on air resistance come with fan blades and make use of variations in air pressure to create resistance. Magnetic resistance exercise bikes use magnets to vary the degree of resistance applied to the unit's flywheel, which can be through push buttons or knobs. Although these are the most expensive of the lot, they are sophisticated, accurate, quiet, and consistent.
Other Features
Folding exercise bikes look and work quite like regular exercise bikes, and most models come with common features, like speedometers and resistance control. Users can also expect to find models that come with inbuilt computer units, and these units, in addition to monitoring speed and distance, can also monitor elapsed time, calories burned, and heart rate. Provided below is a table that indicates what users can expect from the other features on offer.
| Feature | Benefits |
| --- | --- |
| Multi-level tension control | Controls the intensity of a workout |
| LCD display | Digital display of information like speed, distance, heart rate, and calories burned |
| V belt drive | Quiet and smooth operation |
| Wheels | Aid in transportation |
| Pedal safety straps | Prevent slippage |
These features can add to the cost of a folding exercise bike, and taking personal requirements into account is suggested. While some users prefer simple models and some others favour high-end alternatives, the fact that they can be folded remains their biggest selling point.
Other Considerations
If a single user intends to use the bike for recreation or to lose weight, investing in an expensive model is not really recommended, although, if the bike stands to witness multiple users and frequent use, looking for a model that comes with a stable frame and a heavy flywheel is suggested. Fitness levels should be taken into account before looking at available models because beginners can start by investing in basic models that come with simple controls.
Establishing a budget prior to the search is suggested, and buyers should know that the higher the budget, the better the ride. An increased budget can result in better technology, a better quality flywheel, greater variation in resistance, higher weight capacity, an increased number of programming features, and better adjustability.
Measuring both the bike in its folded and unfolded avatar, as well as its designated usage and storage space is something that should go without saying.
Buying Folding Exercise Bikes on eBay
Buyers looking for folding exercise bikes are presented with varied options when shopping through eBay, which include offerings by brands like Pro-Fitness, Confidence, and V-Fit. The variety also extends to types of folding exercise bikes on offer, wherein buyers have the option to browse through upright models, models that rely on magnetic resistance, and so on. When looking for folding exercise bikes that come with heart rate monitors, buyers are presented with models that incorporate hand sensors to keep a track of the user's heart rate.
If budget is a constraint, users have the option to look for used folding exercise bikes through eBay, and since a number of sellers offer collection in person, buyers can actually look at the product before making a decision. Another distinct benefit of collecting the bike in person is that it allows buyers to save some money in the form of postage and packaging costs.
Finding folding exercise bikes on eBay is simple; every page comes with a search box, and all that users are required to do is type in the product for which they are looking. In this case, keying in "folding exercise bikes" yields appropriate matches.
Conclusion
One problem that is faced by a number of people living in urban areas is a lack of space, which is something that puts off a number of exercise bike buying plans. With the advent of folding exercise bikes, this worry can well become a thing of the past, given that the number of brands, models, and people looking for these bikes only continues to grow. Irrespective of space constraints, these bikes can work as effective pieces of cardiovascular equipment, while also incorporating some levels of strength training, and storing and transporting them, in most cases, is quite easy.
Before making a decision, buyers ought to consider the purpose that they want their bikes to serve, and should pay due attention to aspects like ease of use, durability, stability, and not to forget, dimensions. Given the number of alternatives on offer, conducting an extensive search in suggested, as this helps in identifying exactly what is on offer; and buyers ought to remember that although added features, like LCD displays and heart rate monitors, are not hard to come by, they do not come for free.