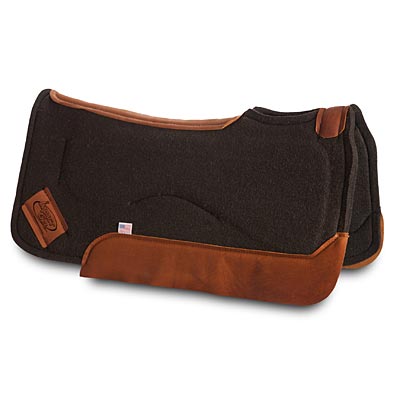 Saddle pads are now a very important feature of the tack room. Since they became a requirement they have been made of all kinds of different materials from sheepskin to leather, nylon and even horsehair and cotton.
There are various different sizes and shapes to suit the horses back, the saddle fitting and any discomfort from which the horse may be suffering.
A
gel saddle pad
is a piece of thermo-plastic elastomeric gel, encased in a cotton cover, and shaped like a very short numnah or saddle blanket, that can sit snugly under the
saddle
.
The gel warms up as it sits on the horse's back and follows the contours of the back. They are very useful if a horse has a rubbed back from an ill-fitting saddle. It is also quite normal to use a gel pad if a horse has lost condition and the saddle is moving around too much.
The pad offers pressure relief. It really is an aid to recovery. Gel pads are not really meant to be used all the time; just until the saddle has been re-stuffed to fit correctly or, if the horse has been let down from work, has had time to regain his or her condition and top line.
Sensitive horses
Some horses naturally have very sensitive skin; the saddle can rub them causing soreness. Gel pads can be used to help relieve this. If you are seeing white hairs appearing in your horse's coat, this is possibly due to saddle pressure.
When a saddle develops pinch points or pressure points, it is effectively killing off the cells in the horse's skin that produce pigmented hairs. The result can be that patches, sometimes quite small, of your horse's hair will grow out white.
Ill-fitting saddles
If your saddle does not properly fit your horse, you will have much less control. You also risk making your horse uncomfortable and therefore unpredictable. There is double whammy here; your saddle changes shape over time and so does your horse. What is comfortable one week may change the next.
A gel pad is one of the various solutions to these changes.
Gel pad sizes
Gel pads usually come in small, medium or large sizes and can be bought quite easily on eBay.
How thick should your gel pad be?
Gel pads come in different thicknesses, usually:
The idea is to match your horse to its saddle as closely as possible. Try to ensure that the backing of the gel pad you choose is non-slip.
Look out for gel pads which will allow your horse to breathe sweat away from his back; this will be more comfortable for him.
Different gel pads for different saddles
You will need to be sure that the gel pad that you are buying matches the saddle that you have. Gel pads come in a range to suit every style of saddle from English to Western.
English
Contour
Dressage
Western
Gallop (for racing saddles)
So long as you have selected the right style of gel pad for your saddle and your horse, the result will be increased comfort for the horse and greater control for the rider.
There are some cheaper gel pads on the market but these are generally a false economy as the covering wears out quickly exposing the gel casing to the horses back and ultimately breaking up. Try to buy the best that the budget will allow as the product will last so much longer.
Care of your gel saddle pad
Wash a pad gently by immersing it in warm water with some mild detergent, rinse, and then lie flat to dry in natural heat; do not squeeze or wring out. Do not put it in the washing machine. Finally, do not puncture the cotton covering as you will damage the gel inside.
Be very careful to store gel pads in a dry place out of the reach of vermin and damp. More damage is done to gel pads and indeed all types of tack when it is not being used than when it is being put on a horse everyday.
Mice have a particular love of anything like gel pads and will quickly nibble into them and ultimately ruin them if allowed to do so. If the storage area is at all damp then the cotton covering will start to rot and so ruin the product. Always make sure the pad is clean and dry before use. It is extremely uncomfortable for the horse if the pad is muddy or damp.
How to buy a gel saddle pad on eBay
You can find gel saddle pads quickly and easily on eBay. While you shop, don't forget Saddles, Other Tack, Grooming & Health, Bridles,, Supplements & Treats and Food. Click the Sporting Goods portal and click Equestrian.
Categories
The Categories list on the left side of each page will help you narrow down your listings by item type. You'll find links for Books & Magazines, Driving, DVDs, Horse Wear & Equipment, Prints & Art, Rider Clothing & Accessories, Stable Accessories, Trophies and Videos. As you refine your search you'll be able to narrow down your choice by subcategory.
Product Finder
Use the Gel Saddle Pad Finder to quickly narrow down item listings by brand, model and condition. (new or used)
Keyword search
Search eBay listing titles for specific words. For example, if you want to find new Gel Saddle Pads type the keywords "Equestrian Gel Saddle Pad new" (without quotation marks) into the Search box. Click "Search title and description" to expand your results. Visit eBay's Search Tips ppage for more tips on searching with keywords.
If you can't find exactly what you want, try browsing eBay Stores or tell the eBay Community what you're looking for by creating a post on Want It Now, or save a search on My eBay and eBay will email you when a matching item becomes available.
Buy a Gel Saddle Pad with Confidence
Make sure that you know exactly what you're buying and understand how eBay and PayPal protect you.
Know your item
Read the details in the item listing carefully.
Remember to add delivery costs to your final price. If you're buying a high value item, check that the seller will insure it until it is delivered to you.
If you want more information, click the "Ask seller a question" button on the seller's profile or the "Ask a question" link at the bottom of the item listing page.
Always complete your transaction on eBay (with a bid, Buy it Now or Best Offer) otherwise you will not be covered by eBay Buyer Protection.
Never pay for your eBay item using an instant cash wire transfer service like Western Union or Moneygram. These are not safe ways of paying someone you do not know.
Know your seller
Research your seller so that you feel safe and positive about every transaction.
What is the seller's Feedback rating?
How many transactions have they completed?
How many positive responses do they have?
What do buyers say in their Feedback?
Are they positive about the seller?
Most top eBay sellers operate like retail shops and have a returns policy.
Do they offer a money-back guarantee?
What are their terms and conditions?
Buyer protection
In the very unlikely event that you do not receive your item or it is not as described, eBay Buyer Protection your purchase price plus original delivery cost.
Conclusion
The reality is that providing the horse does not have any fundamental back problems a saddle pad should not be required. If a saddle is correctly fitted and well-made then there should be no requirement for any padding under it. Badly fitting saddles with badly assembled padding underneath can do a great deal of damage to a horse's back and seriously impair its performance.
If a horse is suffering from back problems, the saddle is the first place to check and make good.
It is worth taking extra special care over the selection of the saddle before any padding is considered. In general padding of some kind does provide a bit of extra comfort to the horse but it should not be used as a way round having a moderately fitted saddle.
There was a time when getting a saddle made-to-measure was an everyday thing and substantially cheaper than it is today because of the number of saddles being produced. The design and manufacture of saddles is now a much smaller industry and so few saddlers exist that saddles in the modern day have to be made to fit. Previously a saddle was fitted at a very reasonable cost and the cost of a new saddle was far less significant than it is today.
Horses also enjoy far better conditions and level of care in general than would have been the case 50 or 100 years ago. The saddle pad as a product and a consideration of the comfort levels of horses in general, whether for recreation or competitive racing, is arguably a part of this process of change and shift towards more concern for animal welfare and now is fundamental to the modern equestrian.
The latest technological advance is the gel saddle pad, which is a fantastically flexible and useful substitute for many of the older materials and styles.