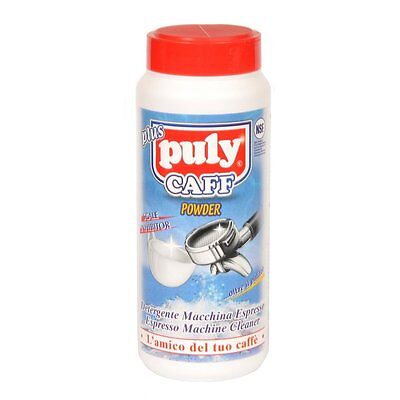 TWEET US: @TheCoffeePpl
Here at
The Coffee People
, we love to give a helping hand to coffee drinkers and machine users. This guide is to give both our customers and non customers alike, simple and easy instructions on how to use
Puly Caff Powder
(or whatever your preferred cleaning powder is) for coffee machine and equipment cleaning. There are usage instructions for both home and commercial users so be sure to read the one below that is relevant to you.
For those of you who are new coffee machine cleaning - Puly are the world leading brand for Coffee Machine cleaning and their Caff Powder is specifically designed to clean the brewing unit and valve of your machine (either through backflush or water tank). The powder washes away the deposits and stains that have gathered in your machine over the weeks and is also perfect for soak-cleaning your equipment (cups, teapots, filters, group heads etc). Using it keeps your coffee tasting its best consistently and we can't stress enough how important it is to use. Puly Caff Powder fully complies with all food safety regulations and leaves no traces or odour in your machine - rather it helps bring out the true taste of your coffee through cleaning.
 How often you need to use it depends on how often you use your machine - below is for the average usage.

Instructions for Domestic Machine Cleaning (through water tank):
1. Dilute either:
(Once a month) One whole sachet (or 20g out of tub) into about 1 litre of luke-warm water and add to your machines water tank OR
(Once a week) One teaspoon (3-5g) of sachet or tub into half a litre of luke-warm water and add to water tank.
2. 
Next, using your coffee making function, pump the solution through your machine until the water tank is empty. 

3. Rinse your tank and fill it with clear cold water
.
4. Pump the water through your machine until the tank is empty to clear away any remaining destainer inside. 

Your machine is now ready to use!

Instructions for Commercial Machine Cleaning (through backflush):

1. Insert your blanking disc (or blind filter) into the Group Handle (
Portafilter
).
2. 
Add one teaspoon (3-5g) of Puly Caff Powder into the Group Handle and place into machine as if making coffee.
3. 
Start the brew cycle and wait for 30 seconds
.
4. Start the rinsing process - Do the above WITHOUT the powder twice to rinse
.
Your machine is now ready to use!

Instructions for Soak Cleaning Equipment:
2. Add 3 teaspoons (10g) of Puly Caff Powder per Litre of hot water needed for equipment and leave for 15 minutes.
3. 
Use a
Group Head Brush
to take off any remaining deposit from the equipment
.
4. Empty tub and rinse parts off with cold water
.
Your equipment is now clean!

Please note that Puly Caff Powder powder only DESTAINS your machine. We also have instructions in our guides for machine DESCALING using
Puly Descaler Baby
, which removes limescale and dirt from your machine - something that destainer does not do. If you're reading this guide, you will need to read the other one on descaling too to keep your coffee perfect, as one powder can't do both jobs!
You can buy the caff powder in many forms - we sell both the
20g sachet version
and the
900g tub version
. And to make life even easier for you, we sell the descaler and destainer sachets together, saving you having to look around for both -
Puly Destainer & Descaler
. Please note that we have no ties or affiliation to any of the products promoted in this guide, we just love our coffee and believe that these are the best tools for the job!
Domestic Users may also choose to insert a
water filter/softener
into the water tank to help remove any chemicals from the water that can inflict on the machine and also the taste of the coffee. If you are interested in seeing the items we sell then
click here
. If what you want isn't listed then we probably still have access to it for you, so get in touch!
We hope you have found this guide helpful. Feel free to check out our cleaning equipment, accessories and machines. We sell all of the products listed in this guide. If you have absolutely any questions for us then please get in touch via our eBay page, linked below.