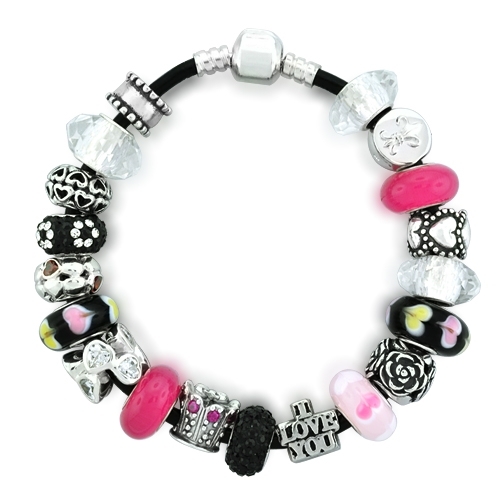 A Pandora bracelet is a unique piece of jewellery to own, whether it is a purchase for a person's enjoyment or a gift to mark a special occasion. Pandora bracelets are a statement piece, with charms representing special moments in a person's life, or even just representing hobbies or interests. What is so unique about a Pandora charm bracelet is the fact that a person can add charms to the bracelet at any point. The charms easily screw on and off the chain, making it easy to swap out charms or customise the look, depending on the occasion.
When choosing a charm for a Pandora bracelet, buyers should compare the different varieties to be sure to find the right match for their needs. There are Pandora beads made of various metals, wood, plastic, and other materials, so considering how often a person is planning on wearing the bracelet can help buyers pick a charm that is the most durable. Also, when adding charms to a Pandora bracelet, buyers may benefit from knowing the meaning of different charms, which is especially important when purchasing a charm as a gift. Lastly, buyers should consider the different options of how the charms attach. There are some that screw onto the bracelet, while others slide on or clip on. Finding the right option for a person is entirely a matter of preference, so it is important to understand all the different elements that go into choosing and adding charms to a Pandora bracelet.
Choosing the Material for Pandora Bracelet Charms
There are hundreds of Pandora charms to choose from to add to a bracelet. A good place to start before making a purchase is to compare various materials the charms are made of. There are various plastic charms, wood charms, and charms with gemstones or made of precious metals. The price of charms can vary based on the material the charm is made of, so if a person is budget conscious, understanding the difference between each material is important.
Wooden Pandora Charms
Pandora charms can be made of natural wood, giving the charm a unique appearance that compliments any symbol, whether it is a plain bead or a charm. Pandora wooden charms are made of various types of wood, some more valuable than others. Because wood is a natural material, each charm has its own unique texture and look, which further adds to the beauty of the bracelet, making it even more customisable.
Gemstone Pandora Charms
Pandora charms sometimes come with beautiful gemstones to accent the piece. The number of gemstones on the charm vary, thus causing a difference in the price of the bead. If buyers are looking to make a big statement, they may consider a charm with many gems on it, like rubies or sapphires, if budget is not a concern. A charm with diamonds on it is another special option. Choosing a charm with birthstones is also a good idea for personalising a Pandora bracelet even more.
Metal Pandora Charms
Pandora charms are made of various metals, ranging from steel and sterling silver to platinum or gold. A metal charm is a durable option, appropriate for a person who plans on wearing the Pandora bracelet daily or very often. Gold charms are considerably more expensive than sterling silver, so if a person is looking to give the charm as a gift, they should keep this in mind. Several of the other types of charms, such as those made of glass or those with gemstones, may have a base of metal for durability. A common metal for Pandora charms is sterling silver, but if the price of a charm is more expensive than what buyers are looking to spend, cheaper metals can be good choices as well.
Murano Glass Pandora Charms
If a person is looking for a truly unique charm, than a Murano glass charm is a great option. Each is hand-made, and no two charms look exactly alike. This is a common choice for people looking to truly customise their Pandora bracelet, making it unique. The glass comes in various colors and styles, but a Pandora charm made of Murano glass is a delicate bead. If a person intends on wearing the bracelet daily, he or she should be careful not to chip or damage the glass. Murano glass charms are relatively inexpensive compared to other Pandora charm options, but still offer a beautiful addition to any bracelet.
Charm Symbolism
Aside from the materials used in creating Pandora charms, the charms themselves come with great symbolism. There are various meanings behind the charms, and choosing a charm that represents a specific individual is important. Understanding what each charm represents is also helpful when choosing a charm for a Pandora bracelet as a gift.
| Charm | Symbolism |
| --- | --- |
| Flower | Blossoming love |
| Evil Eye | Wards away evil spirits; keeps harm away |
| Ballerina | Dreams becoming reality |
| Angel | Blessing a person's life |
| Butterfly | Colorful life; fun and enjoyment |
| Key | Happy home; happy memories in one's home |
| Lock | Unlocking dreams put aside for too long |
| Rose | Beauty |
| Shamrock | Luck |
| Star | Wishes becoming reality |
| Ladybug | Good luck |
| Dolphin | Joyful and fun life |
| Cross | Christian religion |
| Heart | True love, pure spirit |
There are many different charms, each with their own symbol, and the above just touches on the many meanings a charm can represent. When adding charms to a Pandora bracelet, buyers should consider a charm that means something to the person who is going to wear the bracelet before making a purchase. When choosing a Pandora charm as a gift, it is considerate to choose something that one believes represents the recipient's personality and style.
How to Attach Charms to a Pandora Bracelet
Depending on the type of charm, the way it is attached to the bracelet varies slightly. Some charms slide on with ease, while others simply clip onto the bracelet. A common way a Pandora charm is attached is by threading the bracelet through the hole in the charm. The hole on a charm has a special Pandora thread inside to help this process. After threading the charm onto the bracelet, twist until the charm stops. This will continue until the charm is about one third of the way along the bracelet. To move the charm to a different part of the bracelet, twist the charm around again. The charm then moves by section with each continued twist. Continue until the desired position is reached.
There is also an option of adding spacers to a Pandora bracelet to separate the charms. This is a valuable addition to any Pandora bracelet, but especially for bracelets that are filled with charms. Spacers allow each charm to be displayed properly without looking too cluttered on the bracelet.
Buying Charms for Pandora Bracelets on eBay
eBay is a great place to find charms for Pandora bracelets with hundreds of charms to choose from, all in one place. Adding charms to an existing bracelet is a fun process, allowing you to customise and express yourself through jewellery. On eBay, you can find many varieties of charms, so it may be helpful to understand what you are looking for in a charm before making a purchase. You can search for Pandora charms by materials, colours, stones, or other options. Simply type what you are looking for in the search bar, and wait for the wide variety of charms to be displayed right on the eBay page. You can also narrow down the search by clicking the search parametres located on the search page to further filter your search results.
Because purchasing a charm for your Pandora bracelet is an exciting experience, you may wish to just perform a general search for Pandora charms on eBay. This allows you to browse through eBay's hundreds of options until you find a charm that you like. Consider the materials used in the making of the charm before making a purchase, seeing as it could dramatically alter the price of the charm. Also, be sure to consider which type of band your Pandora bracelet is, be it metal or leather, so that your charms fit the bracelet properly.
Conclusion
A Pandora bracelet is an exciting piece of jewellery to own, allowing a person to continuously customise and update the bracelet with charms. People may find certain charms symbolic to a particular stage in their life, but may wish to swap out the charms in time or when going through different life experiences. No matter what the reason, it is always important to pay attention to the details of how the charm attaches to a person's existing bracelet in order to properly display the charms. While some people enjoy a bit of variety on their bracelet, having some charms clip on and others twist securely in place, other people may like the bracelet to look uniform throughout. Also, not all charms are compatible with all bands, so buyers should make sure to read the product description before making a purchase. Also, they should pay attention to the materials used in the construction of the charm, seeing as the price dramatically changes depending on what the charm is made of.