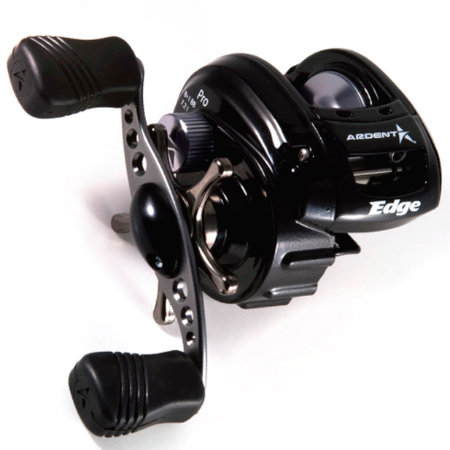 In terms of technical evolution, investment and pure strength there is no piece of fishing tackle more impressive than the big game reel.
This is understandable because they are designed to cope with:
the enormous pressures of fishing
high seas
big baits and lures
enormous lengths of line.
More important and exciting to the angler however, is the sheer size, strength and agility of the target fish.
Fighting a 200lb marlin in a big sea requires great physical endurance from the angler as well as the tackle being employed.
The reel is fundamental to that effort and if it fails in any way the consequences can be far more than just the loss of a fish and have the potential to be actually life-threatening.
There is a large range of reels used for different methods of fishing in different environments.
In general they are expensive because they are built to last and to withstand extreme pressure.
The weight of a big game fish can range from 50 to 1000 lbs. The famous game fish species include salmon, tuna, marlin, sail fish, swordfish, tarpon and dolphin fish.
Most big game fishing happens at sea so the materials used in reels have to be of the highest quality and totally non-corrosive. Seawater can seriously damage metals if they are not protected or are of the wrong sort.
With the size of fish involved it is important to select the right reel for the job but also to match it to the angling methodology being used.
There are many components of a big game reel but it is important to have an understanding of just a few key features.
The Spool
The spool is the circular drum that holds the line. It can vary in size depending upon:
the length of line required
the thickness of that line.
They are made of lightweight and durable materials like titanium, graphite or aluminium and there are two types; the open and closed-faced spools.
| | |
| --- | --- |
| Open–faced | Used on spinning reels and bait casting reels. Reel is mounted on top of the rod rather than the more normal position underneath. Allow large amounts of line to be stored in clear view. This gives easy access to the line although if not properly operated they can become easily tangled. |
| Closed-faced | Line enclosed in a casing. Most commonly seen in spin-casting reels. Line is not accessible but it is prevented from getting tangled by the protective casing. |
Spools are available in a huge range of sizes with line capacities from 100 to 1000 yards or more. They are rated by a pound test, which calibrates the reel by the weight and pressure it can take before breaking. The pound test is generally shown on the spool and might read 850/50, which indicates that the spool is capable of sustaining the pressure of a 50lb fish at 850 yards of line.
The Gear Ratio is generally indicated on the reel and represents the ratio of line retrieved with each turn of the reel handle. A 1:1 ratio means one full rotation of the reel handle brings in one spool turn of line. With big game fish of a large scale this ratio needs to be much more powerful. The range of ratios is from 1:1 to 6:1 and really depends on personal preference.
Where a line is being cast a long way the reel needs to have a mechanism to control the release and retrieval of the line.
Ball bearings and lever systems control the outward velocity of the line and lure to prevent the line over running and tangling in the spool drum.
Bail Arms and Level Winds
Whilst sometimes automatic these can take the form of push buttons or levers. Again they help to control the line in the cast. Level winds help distribute the line evenly throughout the spool to stop it snagging on release.
The Lever System provides the angler with the option of putting more resistance or drag on the reel. This is particularly useful with big fish as the required strength to take line of the reel increases as the drag system is cranked up. It can be too much on occasions and care must be taken not break the line as too much drag is applied.
Choosing a reel that is best suited to the type of fish, conditions, fishing technique, and experience of the angler is a complicated selection process. It is sensible to seek good expert advice particularly as the investment in some of the larger reel formats can be very high indeed.
Increasingly the fishing fashion, particularly from the US and Japan, is to catch big game fish on a fly rod. The reels required here are less complicated but are often very expensive.
The fly reels used tend to have big spools capable of carrying a long and relatively thick fly line with backing. Here the cast is made to a relatively short distance of around 25 to 30 yards but the reel must be able to carry up to 500 yards of backing in order to fight big game fish on very light tackle.
The standard freshwater fly reel generally works well for small fish in freshwater conditions like sea trout, trout or salmon. In saltwater where the fish tend to be much bigger a bigger reel is required even if the rod used is not that much longer.
The real difference in fly reels for saltwater game fishing is the materials used to make them. The salt is particularly harmful to the sensitive spring mechanism of a fly reel if it is made of inferior or unsuitable materials. Saltwater compatibility is very clearly indicated on the reel packaging.
Although much simpler than the open-case reels discussed above, the fly reels still have a good drag system on them which is very important when trying to tire a big fish on light tackle.
At the top of the price range and made of very high quality materials are brands such as Alutecnos and Accurate. Daiwa, Shimano, Okuma and Penn offer good deals in the low high to mid-price range.
In fly reel drag technology then Battenkill, Orvis, Okuma and Daiwa offer a good range of reasonably priced saltwater reels to use on fly rods. At the top of the range Hardy, Sage, Einarsson and Lamson are worth considering.
Conclusion
Wherever possible buy the best brands. The budget does need to be set high as there are very few quality reels available at under £150. Fishing for game fish at all levels requires tackle that is robust, well designed and as simple as possible.
Reels are one of the most important tools in Tackle Boxes and often the very thing that lets down the angler at the crucial moment. It is worth getting the very best for the very best of sport.
How to Buy Big Game Fishing Reels on eBay
Now that you've worked out which big game fishing reel you want, find them quickly on eBay. While you shop, don't forget line, and tackle. Click the Sporting Goods portal and click fishing.
Categories: The Categories list on the left side of each page will help you narrow down your listings by item type. You'll find links for Clothing & Footwear, Coarse Fishing, DVDs, Fly Fishing, Sea Fishing, Tackle Boxes, Universal Accessories, Videos and Trophies. As you refine your search you'll be able to narrow down your choice by subcategory.
Product Finder: Use the big game fishing reel Finder to quickly narrow down item listings by brand, model and condition. (new or used)
Keyword search: Search eBay listing titles for specific words. For example, if you want to find used big game fishing reel, type the keywords "big game fishing reel used" (without quotation marks) into the Search box. Click "Search title and description" to expand your results. Visit eBay's Search Tips ppage for more tips on searching with keywords.
If you can't find exactly what you want, try browsing eBay Stores or tell the eBay Community what you're looking for by creating a post on Want It Now, or save a search on My eBay and eBay will email you when a matching item becomes available.
Buy Big Game Fishing Reels with Confidence
Make sure that you know exactly what you're buying and understand how eBay and PayPal protect you.
Know your item
Read the details in the item listing carefully.
Remember to add delivery costs to your final price. If you're buying a high value item, check that the seller will insure it until it is delivered to you.
If you want more information, click the "Ask seller a question" button on the seller's profile or the "Ask a question" link at the bottom of the item listing page.
Always complete your transaction on eBay (with a bid, Buy it Now or Best Offer) otherwise you will not be covered by eBay Buyer Protection.
Never pay for your eBay item using an instant cash wire transfer service like Western Union or Moneygram. These are not safe ways of paying someone you do not know.
Know your seller
Research your seller so that you feel safe and positive about every transaction.
What is the seller's Feedback rating?
How many transactions have they completed?
How many positive responses do they have?
What do buyers say in their Feedback?
Are they positive about the seller?
Most top eBay sellers operate like retail shops and have a returns policy.
Do they offer a money-back guarantee?
What are their terms and conditions?
Buyer protection
In the very unlikely event that you do not receive your item or it is not as described, eBay Buyer Protection your purchase price plus original delivery cost.