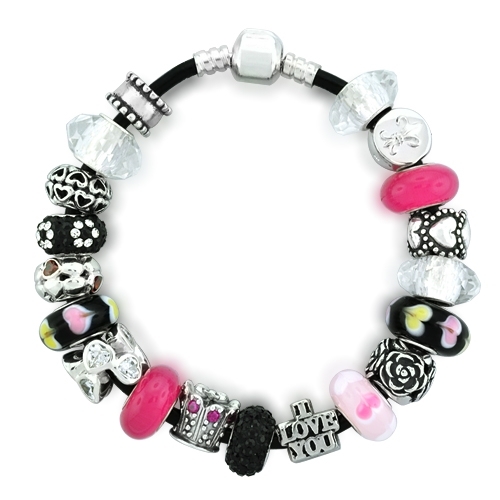 Pandora bracelets are beautiful and versatile pieces of jewellery, highly popular in the UK. The attraction of this innovative charm bracelet lies in the charms that can be bought for it. There are more than 600 charms available, not counting charms that have been retired in past years. They are made from solid gold and silver, as well as from other materials like glass and wood. New ones come out every season, and are eagerly awaited and bought by Pandora aficionados who collect charms.
Pandora bracelets are heirloom quality, meaning that they can last for decades if cared for properly. Pandora is a designer brand, so charms can be found at independent jewellery stores as well as online. Whether the charms are a gift or for oneself, knowing the different types of charms, charm materials, sizing, and compatible charm brands, makes it a little easier to go about choosing charms for a Pandora bracelet.
Pandora Bead Types
Charms that decorate the bracelet are only one of the many types of beads made for Pandora bracelets. The other types include clips, which do not move freely, and spacers, which help set apart accent charms. There are also dangling charms, otherwise known as pendants, and safety chains which are also decorative. While the majority of beads are charms designed to fill the bracelet, shoppers should be aware that they are able to come across the other types as well. Knowing the characteristics and uses of each type of bead helps shoppers choose the ones they need.
Fixed Beads or Clips
Clips are designed to cover the small threaded areas which separate the bracelet into three sections. Unlike charms which screw onto the bracelet, clips usually snap on, and have no threading on the inside. They do not move but otherwise look just like charms. Clips are useful because they stop charms from getting stuck on the threading between sections and they help distribute weight around the bracelet.
Charms
Charms are, of course, the main reason for a charm bracelet. Pandora charms screw onto the bracelet and then slide freely until they reach a section divider. They can pass the divider by turning. For this reason, they have threading on the inside. Charms vary in materials, design, and even size.
Pendants
Pendants are hanging charms similar to traditional charms for bracelets. Many pendants are narrower than regular charms, which means more of them are able to fit on a bracelet. A single pendant with spacers on each side also gives a special look to the bracelet, especially to make it more formal.
Spacers
Spacers are charms that are used to occupy space where a full-sized charm would not fit. They fill unwanted gaps and prevent delicate charms from rubbing against each other. Some spacers are about half the width of a regular charm and have threading on the inside. Other spacers are even thinner and do not have threading.
Safety Chains
While they are technically not charms, safety chains end in beads that look just like charms. These either clip on to the bracelet, or screw on to the end threads. The kind that screws on the threads, is preferable for those who want to maximise the amount of space available for charms. The clip-on type is better when there are not many charms on the bracelet. The beads on the safety chains come in various designs to match any style of bracelet.
Charm Materials
Pandora charms are solid, unlike many other brands. There are solid 14ct gold charms, sterling silver charms, as well as duotone charms with both gold and silver. Other charms are made of wood, Murano glass, or enamel. Some also have precious or semiprecious stones.
Gold Charms
The pure gold charms are by far the most expensive because Pandora uses only solid gold for the entire charm. Authentic gold Pandora charms are marked with '585', to indicate that they are 14ct gold. They should also be marked with the Pandora trademark 'ALE'. Gold charms of other brands also fit on Pandora bracelets (see the section on Compatibility) but always check if the gold is simply gold-plating or solid gold, and the purity. Pure gold bracelets are generally suitable for formal wear.
Silver Charms
Sterling silver Pandora charms are marked '925', with the trademark 'ALE'. They weigh considerably more than most sterling silver charms by other designers, which are usually hollow. As with gold, it is important to check when buying charms of other brands, whether the silver is true sterling silver, silver plating, or costume silver tone. Since both charms and bracelets experience friction, low-quality materials soon wear out, causing the base materials to show through. Silver is appropriate for both casual and formal clothing.
Duotone Charms
Duotone charms have both silver and gold parts. These are ideal for anyone who wants the greatest versatility with their bracelet, since it hopefully matches any accompanying accessories. Duotone charms can be formal or casual, depending on how they are arranged on the bracelet.
Wood Charms
Wooden beads are made from various different species of trees from the Amazon rainforest. These lesser-known species include Muirapiranga, Acapu, and Pau amarelo, and are sustainably harvested to support rainforest protection efforts. Pandora follows the Canopy Wood code of conduct in the production of these beads, making a strong statement for ecological responsibility. Wood beads from other brands can also be found.
Murano Glass
Murano glass and lampwork charms, are the easiest way to add a splash of colour to a Pandora bracelet. Authentic Pandora glass charms have sterling silver cores, but other brands often make glass charms without cores or with other core materials. While these are not as durable, inexpensive Murano glass charms are a great way to make the bracelet mesh well with any outfit. Lampwork is a traditional and time-consuming method of making glass beads.
Enamel Charms
Enamel is created by fusing powdered glass to metal. These charms also add a touch of colour which is balanced by sterling silver. Enamel adds a special touch to a silver charm. For example, the popular Pandora gift box charm is shaped like a box with a ribbon, and is all silver except for the ribbon which is red enamel.
Pavé Charms
Pavé refers to a technique in which a surface is covered, or paved, with tiny crystals or stones so that the base material is not visible. There are pavé Pandora charms made with diamonds, crystals of various colours, as well as cubic zirconia.
Stones
Other charms have bigger stones or pearls set in them. Diamonds, topaz, quartz, rhodolite, black onyx, and opals can all be found on Pandora charms, as well as pearls of different colours. Less expensive charms have crystals or cubic zirconia, both of which look attractive and can add colour to any bracelet.
Charm Compatibility and Sizing
Many other European charm brands also fit Pandora bracelets. The two charm brands that may not fit a Pandora bracelet are Troll Beads and Lovelinks. Other brands may or may not have threading.
When choosing charms for a Pandora bracelet, sizing is an important factor to take into account. Bulky beads like Murano glass beads, can quickly make a bracelet too tight if several are added. Check the profile of the charm to make sure it does not stretch the bracelet too tight. If buying a Pandora bracelet for the first time, choose a bracelet size that allows for ample space, as many charms are generally worn at one time.
How to Buy Pandora Charms on eBay
Pandora charms can be found easily on eBay, where a wide selection of charms and sellers ensures your satisfaction. eBay makes it easy to find reputable jewellery stores online because of its innovative public feedback system. The bidding options also encourage competitive pricing, making it easier to afford the highest quality of jewellery available.
To find charms for a Pandora bracelet on eBay, simply enter the search term "Pandora bracelet charms" in the search box on any eBay page. Use the categories to narrow down the search. Then use search criteria like type, main colour, material, and price to narrow down the search further. eBay's search options make it easy to find a particular charm. You can also browse through hundreds of listings if you are not sure what kind of charm you want.
As with any transaction, make sure to read the entire listing carefully. Check the seller's feedback score or choose a Top-Rated Seller to make sure the service you receive is professional and fast. Also be sure to check the return policy.
Conclusion
A Pandora bracelet is only as eye-catching as the charms that exist on it. However, the sheer number of charms on the market, Pandora or otherwise, may leave a new bracelet owner unsure of how to begin searching for the right charms. Pandora bracelets feature an innovative design in which charms are screwed onto the bracelet, and then moved to different sections of the bracelet by turning the charm. Clips, pendants, spacers, and safety chains, can all decorate a bracelet just as regular charms do, while performing other functions as well.
Pandora charms can be made from solid silver, gold, glass, silver with enamel, or sustainably-harvested wood from the Amazon rainforest. Charms from other brands are available in a huge variety of materials but buyers should be aware that they vary widely in terms of quality. Most charms from other charm bracelet brands fit Pandora bracelets. Exceptions are Lovelinks and Troll Beads. Charms of all types can be found easily and quickly on eBay, the world's leading online marketplace.