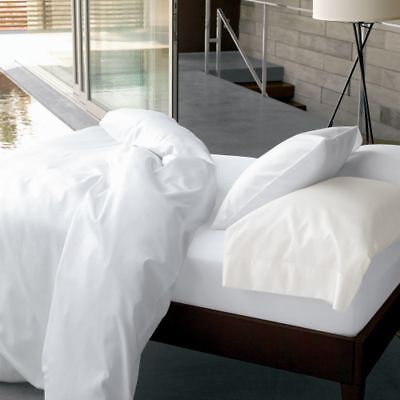 Fitted sheets are part of the standard sheet set, so why would anyone need separate fitted sheets? The primary reason is that in recent years, the use of pillow top mattresses and foam mattress toppers have increased mattress depths such that standard fitted sheets do not always fit every bed. A fitted sheet that is designed for a standard mattress with a 30.5 to 35.6 centimetres depth will pop off of a pillow top mattress that is 40.6 centimetres deep, creating no end of evening irritations at a time when all anyone wants is to fall fast asleep. As a result, many people are adding new, deeper fitted sheets to their collection of bed linens to complement the flat sheets and pillowcases from their existing sets.
Finding fitted sheets for deep mattresses is becoming easier, although locating sheets for the thickest mattresses can still be a bit tricky. Fitted sheets are often packaged with sheet sets. Nonetheless, many fitted sheets may be found in discount stores, department stores, specialty bed and bath shops, and their online equivalents, as well as such online marketplaces as eBay. When purchasing fitted sheets, one should measure their mattress to determine what type and size of fitted sheet is needed as well as understand the characteristics of a quality fitted sheet and how to shop for them on eBay.
Determining Fitted Sheet Type by Depth
To figure out what size of fitted sheets are needed, measure the depth of the mattress all the way to the top of the box spring, including the thickness of any mattress topper that is regularly used. The correct fitted sheet type will be as indicated in the table below:
| Mattress Depth (centimetres) | Fitted Sheet Type |
| --- | --- |
| 30.5 - 35.6 | Traditional or Standard |
| 40.6 - 45.7 | Extra deep |
| 48.25 - 55.88 | Super deep |
To determine what fitted sheet type will work best, it is essential to know the depth of the mattress. A sheet that is too deep can wrinkle, creating discomfort, while a sheet that is not deep enough is unlikely to stay in place. The depths of children's mattresses can be smaller, especially for cribs and toddler beds.
Pocket Depth vs. Mattress Height
If the sheet indicates the "pocket depth", then this should be 5.08 centimetres deeper than the mattress is high for 100 percent cotton fabrics, to allow for shrinkage, and at least 3.5 centimetre deeper than the mattress is high for other fabrics. The pocket depth includes the entire length of the fabric at the corner, from the top corner of the sheet to the bottom corner, so it includes any fabric that will be available to fold under the mattress.
Fitted Sheets Must Match the Bed Size
Mattresses come in a range of sizes, in addition to a range of depths, and the fitted sheet must fit the side-to-side dimensions of the mattress as well. Shoppers will see UK fitted sheets, EU fitted sheets, and AU fitted sheets. These are described in terms of bed sizes.
| | Single (centimetres) | Double/Full (centimetres) | Queen (centimetres) | King (centimetres) |
| --- | --- | --- | --- | --- |
| UK Fitted Sheet | 90 x 190 x 20 | 135 x 190 x 20 | - | 150 x 200 x 20 |
| EU Fitted Sheet | 90 x 190 x 20 | 140 x 190 x 20 | - | 160 x 200 x 20 |
| AU Fitted Sheet | 91 x 193 + 40 | 137 x 193 + 40 | 152 x 203 + 40 | 182 x 203 + 40 |
Specialty fitted sheets are made for waterbeds, futons, and sleeper sofas. Bed sizes have varied somewhat over time, so if you are fitting sheets to older mattresses in a summer camp or cabin, for example, check the mattress dimensions.
Qualities of a Good Fitted Sheet
Quality fitted sheets will have all the characteristics of quality sheets, including an appropriate thread count, a smooth weave, and a breathable fibre. They will have, in addition, the right elastic in well-constructed corners.
The Right Elastic in Well-Made Corners
Fitted sheets typically have elastic surrounding the corners to help keep them in place. Some fitted sheets extend the elastic around the entire bottom edge, making for a closer, more secure fit. These tend to cost more, but they are less likely to slip.
The corners of a fitted mattress are the location where quality stitching is critical. The stitching that assembles the corners needs to be well-made so the corners will stay together for as long as you plan to keep the sheets.
An Appropriate Thread Count
When shopping for bed linens and seeing thread counts that have a large range, buyers may wonder how it is possible to decide which ones are good, or even "good enough". Without becoming extremely technical about how international regulators count textile fibres, we'll simply say that sheets from 200 to 400 threads per inch are very comfortable and durable. Sheets up to 500 threads per inch are likewise comfortable and durable. Beyond 500 threads per inch, sheets are likewise comfortable and durable.
The difference, in most cases, is related to weaving techniques that change how threads are counted under international regulation, not the actual number of threads in the sheet. So while a sheet with fewer than 150 threads per inch will certainly feel rough to many people, most people will not experience a difference in comfort or durability over 500 threads per inch. Durability is an important consideration with fitted sheets since they generally receive heavier wear than flat sheets. It can therefore be appropriate to choose fitted sheets with higher thread counts than the flat sheets they will be paired with. If the sheet set has 250 threads per inch, choosing a fitted sheet that has over 400 threads per inch can be a wise investment.
A Smooth Weave
The classic percale is always well regarded for sheets, as are sateen and flannel. Jersey knits are relatively recent to the market and as soft as the T-shirts they mimic. Fitted sheets sold separately are most often percale, sateen, flannel, a pattern-woven cotton, or a satin made from a synthetic fibre.
A Breathable Fibre
Fibres often favoured for breathability in bed linens include Pima cotton, which is sometimes referred to as Supima, Egyptian cotton, linen, silk, and modal, a cellulose-based fibre made from beech trees. Egyptian cotton is today grown in many parts of the world. Cotton-polyester blends are popular for their no-wrinkle ease, but are less breathable than all-cotton sheets, which can make them less comfortable in warm weather. The most comfortable cotton-polyester blends will be those that are at least 50 per cent cotton.
Shopping for Fitted Sheets on eBay
When shopping for fitted sheets on eBay, to limit the number of options, you will want to begin by identifying the bed sizes and pieces you are seeking, and specify "deep fitted sheets" as your search term. You may then further specify any colour or fibre preferences.
With thousands of selections available, sorting search results by price is one way to start comparing "apples to apples" in your sheet search. You will be able to see the range of thread counts, fibre choices, and depths at a given price point. As you check out specific sheets that interest you, you will be able to see on the Product pages whether they represent sheets that differ because of the fibres used or finish details that are part of the sewing process instead.
Compare Products, Compare Sellers
On eBay, another useful way to compare among products is to compare among the sellers. On eBay you can see whether most prior customers have left positive Feedback about a seller. This allows you to know whether the seller has a track record of successful transactions with prior customers. You can also check to see if a seller is considered a Top-Rated Seller. These sellers offer the highest level of reliability and customer service, demonstrated over many prior transactions.
Conclusion
The trend toward softer, pillow top mattresses is likely to stay with us, so the need for fitted sheets that can accommodate these deeper mattresses will also remain. It is difficult for companies producing sheet sets to anticipate all of the possible variations in fitted sheet depth that customers may prefer. This means that some sheet sets will include deep pocket fitted sheets that are deep enough for a particular mattress, but other deep pocket fitted sheets that come in sets will not be sufficiently deep.
When the fitted sheet in a set is not deep enough for the mattress and any foam topper regularly used, finding a coordinating fitted sheet that is sold separately can be a good choice. It will fit the bed better, so there will be neither wrinkles from an overly large sheet nor "pop-offs" from a sheet that is too small. Once the bed is made, the lack of a perfect match will not be evident. On the other hand, the improvement in sleep from a sheet that stays comfortably in place will be obvious.