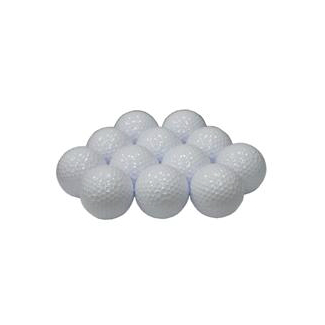 Buying bulk amounts of any item is a great way to make savings, and the sport of golf is no exception. Where balls are so regularly discarded on the course, golfers should take a serious look at bulk buying opportunities. Choosing to buy a large amount of golf balls in one transaction is a great way to lower the price of each ball and make mass savings. The reason golfer's choose to buy in bulk is because balls often get lost, and when on a driving range there is actually no way to recover them.
There a plenty of options for buying in bulk, which includes purchasing new, used, damaged and refurbished balls. There are plenty of retailers dealing in golf supplies; however, none offer as good a value as eBay. The world's leading online marketplace should be the first port of call for bulk buying golf balls.
Golf Brands
When entering the market for bulk amounts of golf balls, shoppers need to select a brand of choice. Even though it is possible to get a mix of brands in a bulk sale it is rare, especially when buying new. The following are considered the best brands in the world of golf balls.
Wilson
Nike
Callaway
Volvik
Titleist
Srixon
Mizuno
Bridgestone
Adams
Odyssey
Ping
Experienced golfers understand that every brand offers a variety of different balls and very few are one-size suits all options. It is advised that those who are unsure about what ball fits in with their playing style should try a few out before opting for a bulk purchase.
New Balls
Heading out to a wholesaler or speaking to an online seller who deals in bulk sales is smart way to gain information on bulk buying. Those with larger budgets should look straight towards buying new golf balls in bulk.
The most expensive form of golf ball that can be bought in bulk.
For committed players who spend a fair amount of time on the course.
Sold at a set price per unit, which makes negotiation difficult.
It's rare to find bulk lots that are mixed brands.
A smart purchase for experienced players.
No matter how good a golfer you are there will be times when balls go astray, and this can be frustrating. However, having a new ball directly to hand that can immediately be used can be advantageous.
Used Balls
Those who are new to the sport and looking to take the time to improve their game may want to avoid investing in new balls. No golfer wants to lose a highly priced set of brand new balls to the woods or local lake. Used golf balls are great for use on the green and are a smart way to save money.
Perfect for those not looking to commit to any particular brand or ball type.
Can still do the job on a course even if they're not new.
Being used means shoppers can freely negotiate on price.
Mixed lots of ball types are available.
Losing a used ball may be disappointing, but it isn't as financially painful as losing one that is new.
With the understanding that not everyone has loads of disposable income, used balls have become big business, and many companies pay clubhouses and courses for the right to collect disregarded balls. Expect to find interesting and inexpensive lots of used balls in eBay's dedicated golf section.
Damaged Balls
Some people don't have much interest in actually getting out on the links, they just like to head out and hit a ball or two. These players call the driving range home and don't require any kind of particular ball in order to get the results they desire. This means they can save a great deal of money by buying damaged balls in bulk.
The most affordable form of ball to buy in bulk.
Many sellers don't want to hold onto damaged stock for all that long, this means they are open for negotiation on price.
Balls will usually come with dents and chips.
Only suitable for those who do not care about losing the ball.
Not intended for use on the green and can actually damage the turf.
Damaged balls are nearing the end of their lifespan, there is no other way around it and it is signaled in their low price point. This means shoppers should not expect them to have a quality finish, airtime or any conceivable resale value.
Customised Balls
Those who really take their golf seriously, and want to step up and give off a professional image may want to have customised golf balls produced. They're a great marketing tool and perfect for companies who wish to promote their brand. When used correctly they can also be good for networking, especially when playing a round of golf with work colleagues.
Customised balls that contain original logos, designs and colours are easy to detect when out on the course.
They're a great way to add a touch of creativity to a golfer's game.
When looking for a gift for an avid golfer, it can be a nice touch getting them a set of personalised golf balls.
Never underestimate the power of displaying company logos and slogans on golf equipment.
They may not be for every golfer, but customised golf balls definitely have their uses. Many of eBay's top golf equipment sellers offer customised options and they're fully worth enquiring about. Always remember that customised golf balls start on the production line, this means negotiating a price is something that can be done.
Negotiation
Everyone understands that buying new should never cost the same as buying used, but some sellers don't understand this. Many are selling bulk amounts at inflated prices and take shoppers for a ride. Here are a few tips to aid you when negotiating a deal for used golf balls.
Find out both the RRP price and manufacturer's base price.
Don't be afraid to put forward the price you're willing to pay, but always come in lower in order to give you room to work with.
Rushing a negotiation is a recipe for disaster; remember that patience is key.
Always be willing to walk away from a deal if it isn't right for you; don't be bullied into a transaction.
The above will help shoppers make sure that they get the best possible deal on a bulk purchase of used golf balls.
How to Buy Golf Balls in Bulk on eBay
The biggest fear any golfer can have is that they're caught short when it comes to supplies. There is arguably nothing worse than bringing a round to an end early due to a lack of golf balls. Thankfully, these fears can now become a thing of the past. Golfer's can now buy their favourite brand of ball in bulk, meaning that they will always have plenty of balls at hand should their game require it.
When it comes to bulk buying golf balls no online retailer delivers more consistent value than eBay.
To see what the world's leading auction site has on offer, log onto the homepage and select the sporting goods category.
From there, click golf then golf balls. This will display all new, used and damaged products available.
If you are looking for a customisation service, shoppers are advised to use the keyword search at the top of the homepage.
eBay Shops
A little known fact is that almost two million golf balls are lost around the world on a daily basis. It's a humongous figure that leaves retailers rubbing their hands. They understand that golf balls are an essential part of the game, which means they'll do all they can to secure your business. A new way in which they attempt to do this is with the eBay shops format. These are target-market driven mini-stores that provide shoppers with great deals on golf supplies.
Completing a Transaction

When customers have found a style of golf ball that they wish to bulk buy, they'll need to commit to a purchase. Do this by doing one of the following when on an item listing:
Place a Bid
Make a Best Offer
Buy it Now
The auction will conclude after a set time, and if you've won the item you'll need to go through the checkout procedure.
Complete the checkout process with PayPal to ensure that the buyer protection program covers the purchase.
Conclusion
When a golfer is next on the course all they need to do is look around to see the sheer amount of golf balls that aren't collected after a round. Many will wonder why this is the case. Simply put, those in the know are buying balls in bulk in order to save money and it should be something that all players should do. This guide has walked shoppers through all the options available, so everyone can now look at the possibility of buying golf balls in bulk.
When it comes to getting the best deal on a bulk amount of golf balls, eBay is every golfer's best bet. They have offerings from brands of all styles, so there is definitely something for everyone no matter their budget.