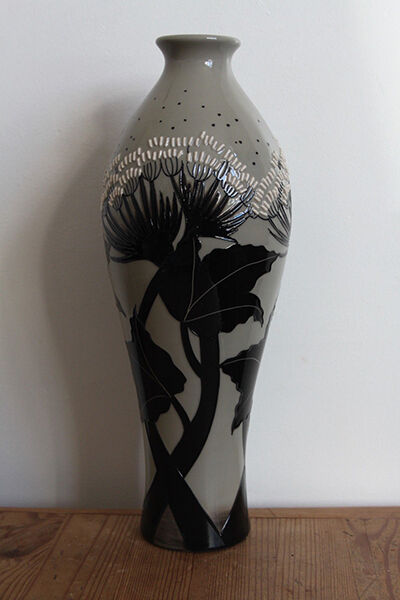 Moorcroft stoneware includes any pottery pieces made by the British pottery manufacturer Moorcroft. The Moorcroft company was founded in 1897 and mainly produces art pieces sold at a mid to high range depending on the condition and quality of the piece. Purchasing Moorcroft stoneware on eBay is a great way to find discounted prices, antiques, and used pieces from sellers located in the UK and abroad.
Buyers can sometimes become confused by different dates or models of Moorcroft pottery, but with a little bit of research, shopping on eBay is easy. Anyone who wants to purchase Moorcroft stoneware on eBay can simply decide what piece they are looking for, research the value of the item they wish to purchase, and then find it on eBay. Making a purchase is as simple as reading the item description, deciding if the purchase is a good one, and then buying the stoneware.
What is Moorcroft Pottery?
Moorcroft pottery is any pottery produced by the company founded by William Moorcroft in 1897. Older pieces are considered to be rare and even antique as the company reached its centennial in 1997, meaning that anything produced in the late 1800s and early 1900s is now considered as an antique as 100 years or older. Buyers can look for Moorcroft pottery on eBay based on age, design, style, or even specific piece.
A Brief History of Moorcroft Pottery
Moorcroft pottery was first released under the name of James Macintyre & Co. Ltd where William Moorcroft produced a line known as Florian Ware. His designs won him a medal at the St. Louis International Exhibition in 1904, after which Moorcroft began signing his name on his designs, a practice he continued until his retirement and final design, which was released in 1999. He was granted a royal warrant in 1928 by Queen Mary, and the warrant was restored to his son Walter Moorcroft in 1946. Nowadays the senior designer Rachel Bishop works on most of the Moorcroft pieces, although other designers are also present. Anything produced by William Moorcroft features his stylised signature on the bottom of the stoneware piece.
Moorcroft Pottery Design
Moorcroft's designs are characterised by beautiful and often elaborate designs that usually alludes to nature or floral designs. The stoneware is usually brightly coloured with reds, blues, pinks, and other vibrant colours, and much of the pottery is hand painted as neither William, nor his son Walter, were fond of mass production. The technique most used by Moorcroft was tubelining, which uses outlines to accentuate the designs, usually flowers. Animals such as fish, birds, and other parts of nature are also reflected in Moorcroft designs.
Moorcroft Pottery Signature
All Moorcroft stoneware pieces come with a signature and a watermark as well as a stamp and a model number on the bottom. In the case of original Florian Ware pieces, the design is a stylised box with 'Florian Ware' James Macintyre & Co. Ltd and then Moorcroft's initials and a model number. Modern Moorcroft stoneware features a circular Moorcroft stamp reading 'Moorcroft England', a date, various design elements, and usually the initial logo of the designer. The stamp for the senior designer Rachel Bishop is a seahorse with an R. inside.
Choosing Moorcroft Stoneware
Moorcroft stoneware ranges from mid to high end when purchased new, and older options can vary in price as well. Usually, the older the piece, the more expensive it is, as many Moorcroft pieces are collectibles. Buyers should decide on a piece, style, or age that they are looking for before looking for it on eBay. This is because there are relatively new options as well as antique options that are valued at more than new pieces.
Buyers can make a decision based on preferences. For example, anyone who would like to add to a collection might either want new pieces that they do not yet have, or old and rare pieces that might be easier to find on eBay than anywhere else. Buyers can also search for the cheaper options available if they would like an affordable addition to a collection, an affordable Moorcroft piece, or a gift.
Moorcroft stoneware was typically produced in a range of styles. Common styles include vases, pin dishes, bowls, chargers, plates, jars, figurines, and more. While each of these styles appeals to the majority of buyers, it is important to decide which type of Moorcroft stoneware is preferred in order to search for it more effectively on eBay. For example, anyone who collects vases obviously wants a vase while anyone looking for a small Moorcroft piece can look for a pin dish.
Valuing a Moorcroft Purchase
The value of Moorcroft pottery does vary but it is important to have some idea of how much a piece is worth before buying it on eBay. There are many books that value individual pieces for serious collectors, as some online references for anyone who would like to check one or more pieces. Typically, the older and larger the Moorcroft stoneware is, the more valuable it is. For example, a small pin dish produced within the last fifty years is likely to be much less valuable than the same pin dish produced circa 1900. In fact, the difference in value can vary by as much as more than three times the price.
By the same standards, a large Moorcroft vase produced within the last 50 years would be a great deal more valuable than a pin dish, simply because the vase is larger. This can be used as a rough estimate of value, but is definitely not always correct. Usually, anyone who does not have a basic idea of how much a Moorcroft costs should either check the price of the new item or compare it to similar pieces and what they are selling for.
Purchasing Antique or Vintage Moorcroft Stoneware
There are many vintage or circa 1900 Moorcroft stoneware pieces available and usually some of them are on eBay. These are probably the most valuable Moorcroft pieces, although any damage definitely lowers the value of any piece. Buyers can look at photos and ask as many questions as they like of the seller before making a purchase simply because the Moorcroft stoneware is so valuable. In this case, it may also be possible to ask for more photos, or ask to see the piece in person if the seller is nearby, although not all sellers are open to this idea. Antique Moorcraft stoneware tends to be quite rare, with the Florian line being one of the oldest with the Moorcroft signature ,and, therefore extremely valuable.
Looking for Local eBay Sellers
One thing that most buyers should consider is that purchasing from a local eBay seller might be easier for shipping, viewing, and the safety of the stoneware. Typically, it might be safer to arrange for a pick-up of the stoneware as it is very valuable and fragile. Delivery via post is of course also possible but it does come with the risk of breakage. Most buyers should consider paying extra for insurance, and ensuring that the stoneware is packaged and wrapped as safely as possible in order to avoid damage. Purchasing from a seller who lives nearby allows for shorter delivery time as well as cheaper postage fee on what is likely to be already premium cost of postage. However, it is not always possible to find the exact item from a local seller so it may be necessary to search and choose from a seller no matter where they are located. In this case, buyers should contact the seller to ask about insurance, extra precautions when packaging, or any premium postage options that they feel might increase the safety of the item being purchased.
Buying Moorcroft Stoneware on eBay
If you are ready to purchase Moorcroft stoneware, then you can search for it from the home page of eBay. If you are looking for specific styles, patterns, or even designs such as Florian Ware, then you can also specify that in your search. There are differences between earthenware and stoneware, so anyone who specifically wants stoneware should check to ensure that the piece they would like to purchase is stoneware.
Buyers should read the full listing description and check the photos for any signs of damage. If you have any questions, you can easily send the seller a message and wait for them to reply before making a purchase. It is very important that you check everything before buying as most items on eBay are sold as-is at the time of purchase. After reading and checking everything, you can purchase the piece you are looking at and wait for it to be delivered to you.
Conclusion
Purchasing Moorcroft stoneware on eBay requires that the buyer decide what they would like, and usually how much they would like to spend on it. Moorcroft pottery ranges from mid to high value, depending on its age and size, so a budget should depend on which era of Moorcroft pottery is being purchased and the item's condition. Typically, an antique can more than double the value of an item that is fifty or less years old, so it is always important to set an age-based value. Importantly, anything designed by William Moorcroft is considerably more valuable than items designed by his son or Rachel Bishop.
Finding and purchasing Moorcroft stoneware on eBay requires a simple search. Buyers can check to see if there is more than one of the item they are looking for and, if so, compare them to find the better value, condition, and if possible, the nearest location. If there is only one item available, then the buyer should check all photos, read the description, and, if necessary, contact the seller before making a purchase.