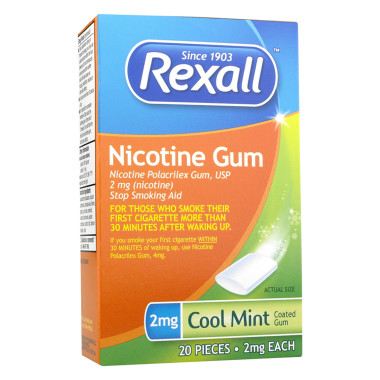 What is Nicotine Gum?
Nicotine gum is available in two different strengths – 2mg and 4mg, with the stronger gum being designed for heavy smokers or those who are struggling to give up a strong nicotine addiction. Both 2mg and 4mg gum can be found on websites such as eBay, available in a range of flavours. A heavy smoker is classed as someone who smokes more than 20 cigarettes a day.
By chewing the gum, nicotine is absorbed through the mouth and into the bloodstream. Initially, those quitting smoking will probably need to chew a piece of gum every hour to keep cravings at bay. Chewing the gum releases heat and an instant hit of nicotine – once the nicotine is released the gum can rest in the mouth until the next nicotine boost is needed. The amount of gum chewed should be gradually decreased over time. This can be achieved by chewing smaller pieces, switching to a lower dose gum or alternating with a regular chewing gum.
Who is Nicotine Gum For?
Nicotine gum is specifically designed for those who are quitting smoking and experiencing nicotine cravings due to their addiction. Whilst it is not ideal for everyone as some people do not like the taste, it has been proven to significantly improve a smoker's chances of quitting, particularly those who are heavy smokers on more than 20 cigarettes a day.
No more than 24 pieces of gum should be chewed a day, regardless of whether the 2mg or 4mg gum is selected. It is also important that those with a history of heart problems or those who are taking medication seek medical advice before purchasing nicotine gum. It should also not be used by pregnant women as it contains nicotine
How to Use Nicotine Gum to Help You Quit Smoking
Following these steps will help ensure that nicotine gum is being used correctly to help with quitting smoking:
Chew one piece of gum every 1-2 hours as needed.
Gum should be chewed slowly until the taste of nicotine is apparent – it should then be 'parked' in the mouth for about a minute until tingling stops. Chewing can then be started again. This process should be repeated for approximately 30 minutes.
It is important to remember not to chew one piece of gum directly after another, or to chew gum too fast.
By following these simple steps, nicotine will be released into the body to help alleviate cravings and improve chances of quitting smoking for good.
Other Quit Smoking Aids Available
As well as nicotine gum, there are a number of other aids to assist in quitting smoking available on the market. Most of these can be found online, on websites such as eBay. These include:
Nicotine Patches
Microtabs
Nicotine Inhalators
Electronic Cigarettes
Nasal Sprays
Lozenges
Prescription medications such as Champix and Zyban – available from a GP
There is no 'perfect' solution to quitting smoking, and different aids work for different people. So it is a case of experimenting to see which works best for the individual. It will also depend on how heavy a smoker they have been – someone smoking more than 20 cigarettes a day will be more dependent on nicotine than a light social smoker on a couple of cigarettes a day.
Benefits of Nicotine Gum
Nicotine gum is a great choice for busy professionals who do not have time to use an inhalator or nasal spray but are still looking for a quick and convenient way to quit smoking. Because it provides a burst of nicotine, gum is proven to help those struggling to give up cigarettes for good. Smokers are twice as likely to quit when using NRT to assist them.
Chewing gum has also been proven to aid concentration and relaxation, so chewing nicotine gum at work can help busy people to relax whilst experiencing a burst of nicotine to sate their cravings. The 4mg nicotine gum is ideal for heavy smokers who are highly addicted to nicotine.
Popular Nicotine Gum Brands and Flavours
There are several popular brands of nicotine gum available on the market, and these brands produce gum in a range of flavours. Some of the most popular types of nicotine gum and the flavours produced are detailed below – most can be found online, on websites such as eBay.
| Brand | Available Flavours |
| --- | --- |
| Nicorette | Mint, Freshmint, Icy White, Fresh Fruit, Original and Variety Packs (available on eBay) |
| Nicotinell | Classic, Mint, Fruit, IceMint, Liquorice |
| NiQuitin | Mint |
The choice of brand and flavour is entirely a personal decision – all brands offer 2mg and 4mg gum and both Nicotinell and Nicorette offer a wide range of flavours to suit all tastes, most of which can be found online, on websites such as eBay. Many people struggle with the original taste of nicotine gum, so by choosing a flavour such as fresh fruit or mint, the taste of the nicotine is masked so that chewing the gum is a pleasant experience.
Side Effects of Nicotine Gum
Whilst there are no side effects specifically related to nicotine gum, nicotine itself can cause a range of side effects – these include:
Dizziness
Headaches
Muscle ache
Nausea
Jaw ache
Mouth ulcers
Some side effects can also be more severe and these include experiencing trouble breathing, disturbances in heart beat and seizures.
It is important to follow these precautions:
Never smoke cigarettes or use other products containing nicotine whilst chewing nicotine gum .
Never use nicotine gum if pregnant, planning a pregnancy or breast feeding – nicotine is harmful to the foetus.
Contact a doctor if any of the following apply: history of heart condition, ulcers, angina, overactive thyroid, dental condition or any other serious medical condition.
Always see a doctor before using nicotine gum – particularly if on any other prescription medication.
Reducing Nicotine Gum Consumption
Whilst substantial savings can be made by buying nicotine gum in bulk on websites such as eBay, it is important to gradually reduce the consumption of the gum over time as is it designed to slowly wean smokers off nicotine. Experts recommend that nicotine gum should be used for a maximum of three months and it is important to speak to a doctor if using the gum for a longer period. The easiest way to reduce gum consumption is to follow these steps:
Every week, decrease the amount of nicotine gum consumed per day by one piece.
Over a period of a week, decrease the amount of time spent chewing from 30 minutes to 15 minutes. .
Use regular sugar free gum as a substitute for one or more pieces of nicotine gum – gradually increase the number of pieces over a period of a week.
Gradually work down from 4mg gum to 2mg gum by replacing one or more pieces.
When nicotine cravings can be satisfied by using only one or two pieces of nicotine gum a day, then the use of the gum can be discontinued.
Conclusion
Nicotine gum is a popular aid to quitting smoking and has been proven to double a smoker's chances of quitting for good. It is popular for a number of reasons including the variety of flavours available, relatively low cost – particularly when purchasing online from websites such as eBay – pleasant flavour and convenience, and will continue to be a popular choice amongst those who are trying to quit smoking.
Whilst nicotine gum is a great choice for those looking to quit smoking, there are a variety of other aids available on the market, such as inhalators and nasal sprays, and full details of these can be obtained from a health practitioner. It is easy to find multipacks of nicotine gum available at a discounted price on websites such as eBay, as well as inhalators, nasal sprays and lozenges to assist in quitting smoking.