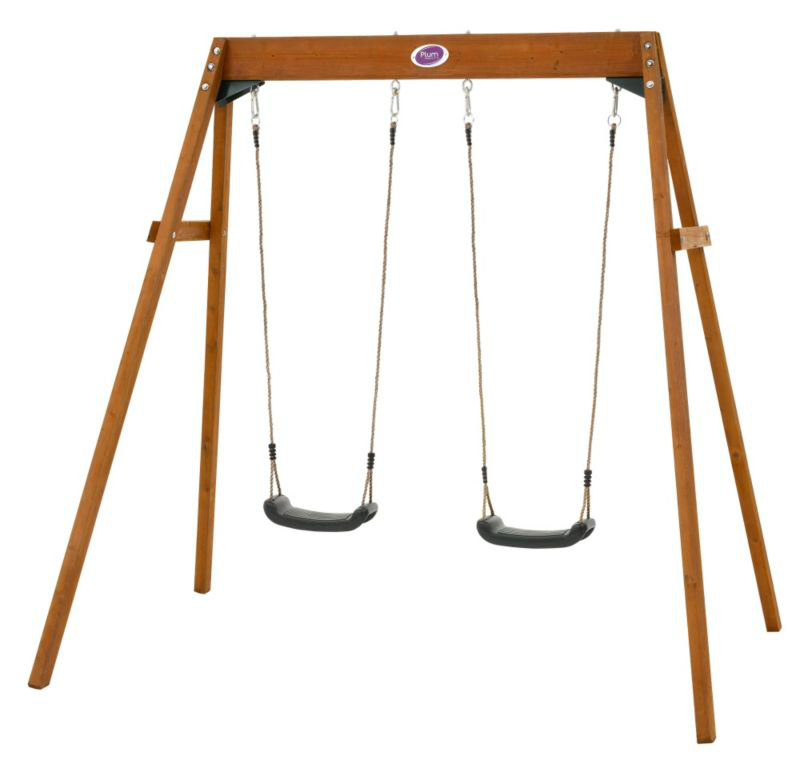 The back garden of a home has become a prime area in which to erect children's play sets. Swing sets are the perfect piece of equipment for such environments as they allow children to undertake aerobic and athletic exercise in a fun and playful way.
When it comes to purchasing a swing set, parents have several options to choose from. However they must evaluate both garden suitability and family requirements before committing to a purchase.
eBay has options available no matter the environment in which shoppers are looking to purchase a swing set for.
Swing Set Materials
Swing sets have evolved from being simple flat-pack plastic kits to sophisticated pieces of equipment that are built for longevity. Swing set manufacturers have embraced new and classic ways of constructing them. The following are a variety of types that are available to buy.
Wood – Considered being the all-American classic. Wooden swing sets are a popular choice because of their natural look and ability to blend into any surrounding. They can be purchased in redwood, cedar or pine, each of which carries different attributes in terms of appearance and durability. Their life can be extended even further with the correct maintenance and wood treatment. Wooden swing sets usually come preassembled, which will suit those who can transport it directly into a garden area.
Vinyl – Considered to be the most robust swing set type available and its build quality backs up such consensus. The frame is constructed of wood but covered by a thick layer of vinyl, this means that such swing sets do not require stain and weather treatment. Vinyl swing sets often come with a ten-year guarantee but larger variations can be an expensive investment.
Metal – The most versatile form of swing set in terms of appearance. Expect to find them in all colours, so buyers are sure to find one that suits their tastes. They are built to withstand harsh weather and come rust protected. Swing sets of this kind will have either a powder coat or plastic finish, both do their best to help prevent water discoloration that tends to occur over time.
Swing sets come in all shapes, sizes and materials, catering to all weather and location conditions. When shopping for one for the home always factor in climate. Think about where the swing set will be based, this is important as some swing sets fair better in certain weather conditions than others.
Shoppers should have the prospective users in mind when searching through listings. All swing sets can support young children with ease; however older children may not be as fortunate in terms of what they can use.
Understanding the weight limit of a model is a must. The frame should be the focal point of any swing set purchase.
Swing Sets Seating
Swing sets may get their stability from a sturdy frame but they get their comfort factor from the use of the correct seat. Seats are a key element in the swing process in terms of safety. There are various types of seats available, all of which are constructed out of hard-wearing and durable materials.
Plastic
Rubber
Pliable Canvas
Seats on a swing set come in flat or bucket style. If parents are buying for young children and toddlers the latter option is advised for added security. However bucket seats are limited in size and can be outgrown quite easily. Seats are attached by either chain links or rope. Both the seat material and style chosen will come down to a buyer's personal preference.
Swing Set Types
There are two types of kits available to prospective swing set buyers. Each of which offers something different in terms of price, stability and how much effort is required to set it up.
All Inclusive – They use parts that are from a single manufacturer and contain everything that is required to construct a working swing set. The assembly process can be lengthy but can be completed using basic hand tools such as screwdrivers and wrenches.
Partial Kit – These come part assembled and are perfect for those who are not construction inclined. Allows for customisation using parts from different companies, this allows a swing set to be built to personal specification.
The construction element plays a part in what swing set is purchased. It also depends on what factors are important and whether or not customisation is a possibility. If you are setting up a metal or wooden swing set it should be built into the ground. For grass, this involves digging holes to root the feet. In concrete it is recommended that it is set into the ground using cement.
Swing Set Considerations
Swing sets are no longer just a single swing attached to a frame they have evolved into full activity play-sets. Many feature everything from slides to monkey bars so added extras are something to consider along with the following.
Child's Opinion – Even though they are not the ones funding the swing set they are the ones using it. Take their opinions on features and design into account during the shopping process. For younger children who can't communicate their opinions play close attention to what equipment they already enjoy and purchase something that is similar.
Adaptability – Swing sets can be an expensive investment so it needs to be able to remain suitable as a child grows. The purchase should be able to withstand anticipated levels of use and then some. Another aspect to consider is what can be added to the swing set. From an entertainment standpoint extra features will help keep a swing set relevant to a child.
The advantages of owning a swing set are well documented but in order to obtain those advantages users must own the correct model. Shoppers should note their future needs whilst also incorporating a child's opinion during the shopping process.
Maintenance of Swing Sets
Keeping a swing set in excellent condition is not costly nor is it time consuming. Taking into consideration the following maintenance tips will keep a swing set in use for years to come.
Check nuts and bolts regularly and always ensure that they remain tight.
Keep mud and dirt off the seat.
Use a cover or canopy to protect the swing set when not in use.
Avoid jumping off the swing as doing so can cause damage to the frame.
Apply a rust protective finish to metal frames should corrosion become an issue
If properly maintained, a swing set will remain looking great and keep a certain degree of resale value. How often users clean a swing set is dependent on the amount of use it receives and the weather conditions it endures. It pays to remain observant and spot issues when they arise in order to keep a swing set in useable condition.
How to Buy a Swing Set on eBay
eBay has built a reputation for providing an extensive selection of garden equipment. Swing sets are a long-term investment so it's important to work within a pre-set budget. eBay has search options that allow buyers to buy swing sets at affordable prices and still have money to spare.
In order to start browsing live auctions click on the toys and games category. - From there select outdoor toys and activities and finally swings. This will display all items of such nature that are currently for sale.
If a shopper has a desired model in mind they can use the advanced search function to narrow down results.
Delivery
Swings sets are large and bulky items that do not fit into typical delivery conventions. In kit form they'll be available for delivery but expect to pay a higher than average delivery charge. Used swing sets or those which come part-assembled will more than likely be available via collection only. In such instances it is down to the buyer to collect the item. For items like swing sets winning bidders will have to factor in van hire and petrol charges, as transporting such an item in a standard size car isn't an option.
Completing a Purchase
Once a prospective buyer has located a suitable swing set they'll need to either place a bid, make a best offer or commit to a purchase via the buy it now option. From there winning bidders will need to complete the checkout process, using PayPal to do so ensures that the buyer protection program covers the transaction.
Conclusion
Garden swings sets are not a new product but they are undoubtedly effective when it comes to helping children stay healthy and active. The effect that such equipment has on a child's emotional and social development is also well documented. In years gone by parents were limited to either taking children to a park or buying an unstable kit in order to get use from a swing set.
Times have changed and manufacturers now offer a wide range of swing sets in a variety of robust and safety conscious materials. After shoppers have identified their swing set needs they can use eBay to find the perfect model for their home garden.