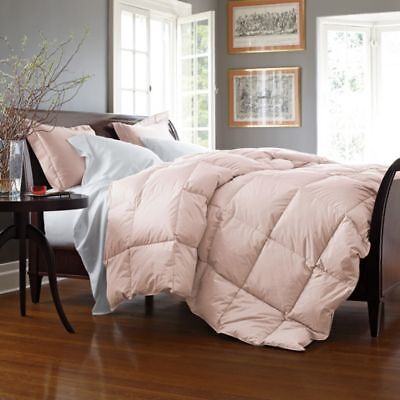 A duvet is bedding filled with down, feathers, silk, or a synthetic material. Duvets are protected by a removable cover, that functions in a similar way to a pillowcase. The cover is usually made of cotton or a cotton blend and can be found in a wide array of styles, colours, and designs. So, duvets tend to be plain white, as they are not visible when covered. Duvets can be used on their own or with other bed sheets and covers. Duvets are available in various types, weights, and warmths. The weight, softness, and warmth of a duvet depends on its tog rating and filling. The tog rating, or measurement of thermal insulation, varies and should be considered carefully when buying a duvet for summer. Duvets may be filled with natural or synthetic material, each offering its own benefits.
Duvets can be brought from homeware shops and department stores, as well as online. When buying a duvet for summer at retailers such as eBay, buyers should consider the duvet's tog rating and the various types of materials used as filling. Buyers should also take into account duvet sizing and learn how to care for their duvet properly to ensure its longevity.
Duvet Tog Ratings for Summer
A tog is an industry standard name used for measuring the warmth of a duvet. Togs are measured in units of thermal resistance: the higher the tog rating, the warmer the duvet. For the summer, buyers should look for a duvet that ranges from 4.5 to 6 tog. Duvets that have tog ratings of 13.5 tog and higher are better suited for colder seasons. It is important to note that the tog rating has no effect on the heaviness of the duvet. Lightweight duvets are often able to insulate the body just as effectively as a heavier duvets, depending on the filling used.
Types of Duvets for Summer
There are various types of duvets. When choosing the best type, buyers should consider the material that is used to fill the duvet. Shoppers may opt for a natural or synthetic material depending on their requirements, budget, and desired level of comfort.
Natural Duvets for Summer
Duvets filled with natural materials have better insulation properties than synthetic, so they need less filling to achieve an equal level of warmth. Duvets with natural filling are soft, lightweight, and comfortable, helping the skin to breathe more effectively. Duck feather and down duvets are heavier than goose down, although they offer the same level of warmth. Goose down duvets are prefered for their light weight. Natural duvets are highly resilient and maintain their shape better, so they are likely to last longer than those with synthetic filling. Natural duvets should be professionally cleaned.
Duvets that contain feather or down are given a fill power rating. This refers to the volume that is occupied by the filling and varies depending on the quality of the duvet. In general, the higher the fill power, the higher quality the duvet.
Synthetic Duvets for Summer
Synthetic duvets provide the same warmth as natural duvets for less weight. These duvets are ideal for buyers who suffer from allergies, especially those who may have a particular sensitivity to feathers and down. They are also better suited for those who prefer ease of care as most synthetic duvets can be machine washed. Polyester hollowfibre duvets are non-allergenic and are the best choice for buyers who know that they will need to wash their duvet frequently.
All Season Duvets
All season duvets are versatile and geared towards use all year round. They consist of two duvets which can be used separately or together, depending on the desired level of warmth. One of the duvets is usually around 4.5 tog, while the other is around 9 tog. During the summer, buyers can opt to use the 4.5 tog duvet. The 9 tog duvet is ideal for the autumn and spring when the weather is cooler. During the winter, buyers may choose to put the two duvets together, creating a 13.5 tog duvet, for maximum warmth.
Duvet Sizing
Duvets come in various sizes and may vary slightly depending on the manufacturer. They are generally designed to fit a standard size mattress.
| Size of Duvet | Dimensions (cm) |
| --- | --- |
| | 135 x 200 |
| | 200 x 200 |
| | 230 x 220 |
| | 260 x 220 |
| | 290 x 235 |
When searching for a duvet, buyers should consider their mattress size. It is always recommended that exact mattress measurements are taken in order to ensure a well-fitting duvet. Buyers who want their bed to have a fuller look, may choose a duvet that is a size larger than their mattress. This is also beneficial for couples who share a bed as it ensures that both sleepers have adequate coverage. Duvets can also be found in non-standard sizes.
How to Care for a Duvet
Duvets are designed to last for a long time if cared for properly. Buyers should regularly air their duvet, especially when it is new. This helps warm air to flow inside and provides the maximum amount of warmth. Buyers should also shake their duvet frequently to fill it with air, which creates a layer of insulation. In addition to a duvet, buyers need to purchase a cover to protect their duvet from body odour, sweat, and debris. Duvet covers are available in a wide array of colours and designs. As the duvet is covered while it is being used, it is not necessary to wash it frequently.
A natural duvet can last up to 30 years, while the average lifespan of a synthetic duvet is 10 years. The number of times a duvet is laundered impacts its lifespan directly. If there is a large amount of time spent sitting or laying on top of the duvet, then this can also affect its lifespan because it compresses the filling and lessens the duvet's ability to trap air. This is especially relevant to synthetic duvets.
How to Buy a Duvet for Summer on eBay
Shopping for a duvet for summer can be easy when you see the variety available on eBay. From the eBay homepage, simply enter your keywords for any type of duvet, including tog ratings, into the search box, for example, "summer duvet", and a wide variety of results will appear.
If you prefer to browse the different types of duvets for summer, go to the eBay homepage and search through the category listings. You will see many options for each type of duvet and can narrow the results by price and condition.
Buy a Duvet with Confidence
Before finalising any purchase on eBay, thoroughly investigate the seller. On eBay, this is simply a matter of reading a seller's feedback comments and checking their rating. Consistent positive feedback ratings indicate that the seller is detailed in their listing descriptions. This can help a buyer feel confident throughout the buying process.
Buyers should examine all listing images for signs of wear and tear to the duvet prior to making a purchase, especially if the duvet for summer is pre-owned. The pictures of duvets for sale can provide a helpful insight to the buyer and a better sense of what they are bidding for. If no pictures are available, buyers should contact the seller to inquire about any further details regarding the condition of the duvet. It is a good idea to find out about the size of the duvet as well. eBay's "Ask a question" link is a handy communication tool that allows buyers and sellers to clarify details with each other. This tool can help buyers to form a relationship with the seller so that they can feel more comfortable purchasing from him or her.
Conclusion
An overly warm duvet can leave sleepers feeling uncomfortable during the summer. With the growing need for a lighter option during hotter temperatures, manufacturers have created duvets with lower tog ratings. These duvets offer less thermal resistance, helping to regulate a cool body temperature. Buyers who wish to remain covered in the summer, but escape the heat should look for ratings of around 4.5 to 6 tog. Duvets can be either natural or synthetic. Some people prefer the lightweight feel and longevity of use that natural duvets offer, while others opt for a synthetic duvet due to allergies or because of the low maintenance they require.
To further cater for a wide range of sleeping options, manufacturers have created all season duvets that are typically two duvets joined together, each of a different tog rating. These duvets offer the ease of transformation between all weather conditions. Buyers should also familiarise themselves with sizing to make sure that they choose the most suitable duvet for their bed. In order to ensure prolonged use, buyers should care for their duvet properly and avoid sitting or lying on top of it, if at all possible. Whichever type of bedding buyers prefer, they can find a wide array of both new and used duvets for summer on eBay.