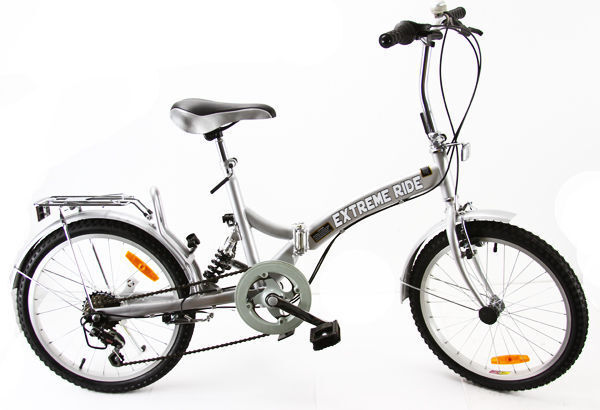 A folding bicycle offers one simple feature for women: convenience. What a folding bicycle lacks in power and speed, it definitely makes up for in the ability to ride easily and carry anywhere. A folding bike can be brought right into an apartment, work or almost any shop. And since you are not in a race, folding bikes can often be the best choice for your transportation.
Learn the difference between the types of bikes to avoid any costly mistakes. Become educated before buying a folding bicycle in a shop or online.
Folding Bicycle Benefits for Women
On average, women have longer legs than a man of the same height. This difference can affect the way a proper bike fits, feels, and handles. Because of this, proper bikes are often designed by gender. Most experts agree the fit between bicycle and rider is the most important element in selecting any sort of pedal bike.
Because folding bikes are very adjustable, they can be adjusted to fit almost any woman of any size - tall or short.
The overall benefits of a folding bike are:
* Adjustable: A folding bike can be adjusted to fit any size and riding ability of any woman.
* Easy Transport and Storage: The best ones are light. Designed to allow any sized person to transport or store it more easily and conveniently when you are not riding it.
* Fits on Airplane, Tube or Bus: Current models may be folded into cases suitable for airplane travel, and bus or train travel. A commuter might take the bus, tube or train to a stop near his or her workplace, then ride the bike the rest of the way. In this case, quick folding and a positive lock is especially important.
* Fits in an Office: They can easily be stored in out-of-the-way places at your work. Even right next to your desk.
* Fits Small Apartments: If your bike must be easily stored in a "cosy" apartment, folded size may well be the most important factor.
* Good for Touring: Folding bikes may be used in conjunction with trains for touring. You take the train to the city you want to visit, then use your folder for local transportation. Ride-comfort might be the most important factor.
Best Features to Look for In a Folding Bicycle
There are a number of different features to look for in a folding bike, all of which are different than what one would normally consider in choosing a standard bike.
Ease of Folding
If you are likely to fold and unfold your bike nearly every day, you want the process to be easy.
* Small frame, single hinge. This is the configuration that can make a huge difference in the ease of folding. Some bikes may easily be carried without a case.
* No Carry Bag needed to hold the bike closed.
* The saddle and handlebar should telescope, in order to make things fold even smaller.
* Simple adjustment latches make all parts of the bike easy to collapse.
* Luggage racks or saddlebags make the folding process harder. These also make carrying harder. However, they may be needed by some for daily commutes or for longer touring.
You should work with any bike you are considering for yourself, comparing one to another to see which are fast and easy to fold-and, which are not.
Ease of Carrying
Not all bikes fold to the same size. You may have to fit the bike into a particular area. If the bike is to be used for commuting or touring, the rail or bus or tube line may have size limits on what is allowed.
* Frame Fold into a Handle: Some bikes fold such that the frame naturally makes a convenient handle for single-handed carrying. No extra bag required.
* Fold into a Wheeled Suitcase: Some bikes fold in such a way that they can be wheeled along on their own wheels or on small jockey wheels.
Investigate thoroughly and carefully. You will be grateful for the effort the first time you are tired, late, and the weather is terrible.
Covered Chain
Exposed chains are often oily. Although no bicycle chain is ever fully covered, a cover over part of the chain reduces the possibility of staining clothes.
* Inside Chain: Some bikes fold so that the chain is toward the inside, using the frame as a guard to help protect clothing from accidental contact.
* Carry Bag: Some owners prefer to use a carry bag. This eliminates such problems, but adds a step for both setup and breakdown. (Some bikes require a carry bag, as they do not latch closed.)
Ride Quality
Folding bikes do not have the ride quality of their larger, non-folding siblings. This comes from a combination of design compromises that are made in order to make the bike easy to fold and carry.
* Small Wheels: Most folding bikes use 20-inch wheels, rather than 26 or 28. This makes them easier to fold and lighter to carry.
* Small Wheels, Rough Ride: Small wheels contributes to a rougher ride, and affects the bike's ability to cross bumps and holes smoothly.
* Large Wheels Smooth Ride: The larger wheels handle difficult road surfaces better than smaller ones. Larger wheels also dampen small movements of the handlebars, making for a smoother ride. Some folding mountain bikes do have 26-inch wheels.
* Large Wheels, Hard to Carry: Large wheels may be more comfortable but they make the bike harder to fold and heavier. This makes it harder to carry. When looking for convenience, smaller wheels may be the best choice.
Adjustability
The best folding bikes are the most adjustable.
* Saddle can be Configured for a Woman: Many women prefer a female specific saddle.
* Adjustable Seat Height. When seated on the saddle, the rider's toes should just be able to reach the ground. This makes for efficient pedaling.
* Seat Movement: Some folding bikes let riders adjust the seat forward or backward to accommodate a wider range of comfort for taller riders.
* Adjustable Handlebar: Should be adjustable to a comfortable height.
Tyres
Smooth tyres are the best. Tyres with knobby treads are usually best for riding on unpaved trails or roadways, but are not quiet or comfortable when used on pavement. And the reverse is true for smooth-treaded tires.
Gears
The gearing on a folding bike should be simpler than a street or racing bike. Folding bikes will generally only handle pavement.
* Six Gears: Folding bikes generally have 6 gears, or fewer. Six gears provide the greatest flexibility for hilly terrain-though with more weight, complexity, and expense.
* Single Gear: These folders are perfectly fine for the rider who deals with mostly flat ground. Such as to and from work in an urban environment. They are definitely lighter.
Luggage
Luggage capacity is important to most users. Some folding bikes come with luggage carriers, while others only offer them as an add-on. If you plan to use a luggage rack, be sure that mounting the rack does not affect the folding of the bike in any way.
How to Buy a Folding Bike for Women on eBay
eBay offers hundreds of different folding bike products for any woman's needs. eBay sellers are known for their competitive pricing and unbeatable reliability. The advantage of buying on eBay is the wide selection and flexible payment options.
To search for folding bikes visit the Sports and Leisure < Sporting Goods portal. From there you can choose to search under Cycling < Bikes, Folding Bikes.
You can also type in specific search terms into the search box provided on every page. Some buyers have a more specific idea of what they want. They will type in a search like "single hinge folding bike". Using the search feature will help you find exactly what you want.
When searching through listings, carefully review all the data. Make sure the item matches what you had in mind. Look over the photographs a couple times. Feel free to ask the seller a question if you want additional details. Visit the Buying Tips page for more information.
Once you're ready to buy, either place a Bid, Buy it Now, or put down your Best Offer. Buying with PayPal will ensure that the transaction will go smoothly. eBay users are protected by the Buyer Protection Program.
Conclusion
Choosing a folding bike means picking the right bike for the buyer's individual needs, style and budget. In constantly growing and congested urban areas, more and more people are choosing to ride bicycles instead of driving cars as their main mode of transportation. They are even choosing bikes over public transportation. Bikes get around the traffic congestion better than cars and are more flexible than public transportation. Though the experience of riding a folding bike is different to that of riding a normal bike, it can be very positive and uniquely exciting. There are hundreds of folding bikes on the market today. Finding the right folding bike is simple and easy on eBay.