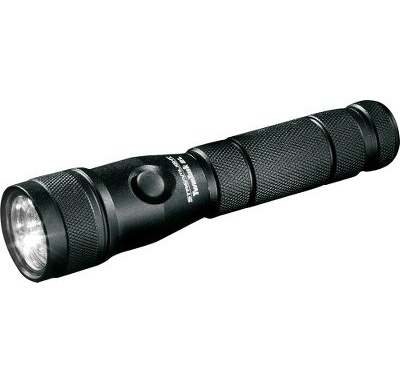 Advanced campers embarking on more intricate and problematic expeditions will sometimes require a superior and more sophisticated flashlight model. Entering deep caves or exploring areas with little natural or man-made light can be trickier and dangerous without a suitable flashlight to accompany you.
Military-grade flashlights that can assist with this are readily available on the market. Although some can cost high amounts to acquire, there are still many that can be purchased for realistic prices, despite their advanced technology.
Buying on eBay can also help consumers looking for a good deal as some flashlights can be found for less than on the high street or other online outlets. This guide will look at the specifications of some military-grade flashlights used for camping and also how to buy one on eBay safely.
What Is a Military-Grade Flashlight?
- The armed forces, emergency services, government bodies and security companies will all use more advanced flashlights in their line of duty. They will generally be more powerful and robust than recreational models.
- The term flashlight is most commonly associated with use in North America, whereas 'torch' is more common in the UK. When performing a search online, be sure to use both terms to enhance the range of possibilities.
- They are also referred to as 'tactical flashlights' in reference to their use in strategic army operations, sometimes even being mounted onto guns.
Specifications of a Military-Grade Flashlight
Below are some common features found with military-grade flashlights:
Power Source: They invariably use Light Emitting Diodes (LEDs) as the power source. They have a much longer lifespan compared to regular bulbs and do not require constant replacement.
Brightness: Their brightness is measured in a term known as a lumen, which is basically the amount of visible light emitted by the flashlight. Typical military-grade flashlights will emit in lumens of around 100 – 500 lumens, although versions which go up to over 1000 lumens can be found also.
Brightness Modes: Different brightness modes can be activated in line with different requirements and in order to save power. For example, the flashlight may have a power saving mode on around 50 lumens, a normal mode on around 200 lumens and a higher mode up to 600 lumens.
Size: The need for increased power and larger batteries will usually mean that military-grade flashlights are larger than regular models. They are also used in more arduous conditions, and they often need a more vigorous outer body.
Batteries: The batteries in military-grade flashlights are mainly unconventional types, unlike those found in regular torches. Such battery types such as the CR123A, 16340 and 18650 are commonly used, although some more recognisable models (i.e. AA and AAA's) are sometimes found in small versions.
Lifespan: LEDs are known to last over 100,000 hours, making them fantastic for taking on numerous camping trips. The lifespan of the batteries will differ due to the type used and how many the torch needs, but can generally last between 2-6 hours without being charged.
Light Colour: Apart from the traditional 'light' colour, military-grade flashlights can come with different coloured beams. Red is useful in darker environments and won't disturb night-vision, although may not stretch as far as white beams.
Materials: The body of the flashlight is normally made from strong aluminium. It is sometimes classed as aircraft-grade aluminium, useful because of its lightweight but strong nature. It will be rare to find a military-grade model that isn't waterproof either, however, always double-check this when coming to buy.
Buying Considerations
Before coming to buy a flashlight, also consider some other aspects that can make the purchase an efficient one. These include:
Firstly, actually consider if a military-grade or tactical flashlight is needed. Will the camping trip you are undertaking actually require such a high-powered beam or will a regular torch be sufficient. It may be tempting to give into the advertisement of impressive performance features that come with some military-grade models, but they can simply push the price up unnecessarily.
Some versions will actually classify themselves as military or police-grade, yet have no more features than a standard flashlight. Look out for these by doing as much comparative research as possible online or in store.
In terms of finding a flashlight with a powerful light, consider how bright the light actually needs to be. Although some models will have a rating of up to 1000 lumens, this may not be needed at all. A flash of 200 lumens can temporarily affect a human's eyesight, so finding flashlights much stronger than this may not be necessary.
The size and weight of the flashlight should also be preferable to your needs. Although the torch is an imperative part of camping equipment, an oversized model can weigh down a bag unnecessarily. In terms of length and width, check specific models when coming to make a purchase for the actual dimensions, which will usually be listed in millimetres or centimetres.
Think of what type of camping trip that is being pursued. If staying outdoors for a prolonged period of time then consider if the batteries in the flashlight will sustain extensive use. Also think of how bright they will be shining – beams using increased lumens will run the battery quicker. Consider taking spare batteries and suitable chargers if required.
Although LEDs are the predominant source of light in military-grade flashlights, other bulbs are sometimes incandescent and halogen. These types will have a much shorter bulb and battery life, as well as a less powerful beam. They can be found for less than LED models, but the advantage of saving money in buying one is outweighed by their poorer performance.
When buying online, also check to see if the flashlight will be under warranty when being purchased. This will guarantee a sense of security with the flashlight in case something happens to go wrong with it.
Buying Military-Grade Flashlights on eBay
eBay is a website used by many people to sell their goods due to its quick and easy nature, allowing customers to search out their desired item and complete a transaction in a secure manner.
Search
eBay has a search bar at the top of every page in which certain words or phrases can be entered in order to bring up corresponding results. In this instance, type in a 'military grade flashlight' and then review the items that appear on the results page. Also try entering 'military grade torch', as a way of broadening the possible results that appear.
Because individuals and not the company itself list the items on eBay, some flashlights may not have been advertised with exact terms in the title. A good tip is to bring up a much larger selection of desired products and type in a phrase like 'military-grade flashlight, and tick the 'Include Description' box.
Narrow the Listings
If too many results now appear, then by using the menu on the left hand side of the page a more refined list can be brought up. To narrow them further select 'Camping' from the menu, then 'Lamps, Lanterns & Torches' and then 'Flashlights & Torches.'
Other refinements can come with the inclusion of certain features the flashlight should have. These include flashlights that are waterproof, include batteries or come with a wrist-strap for example.
Also select the desired brand if this is necessary; Cree is by far the most popular manufacturer of flashlights, whilst Inova is also common.
Also, choose between the amount of LEDs that are placed into the flashlight, along with how many batteries that it requires to run. Select these depending on which suits your requirements the most.
Sort the Listings
It is possible to arrange the items in a more favourable way. For example, sort the listings in respect to those costing the least or those ending soonest. Also arrange the flashlights with those available as an 'Auction', 'Buy It Now' or 'Best Offer' product.
Another good feature is to bring up listings from sellers who accept PayPal as the payment method. PayPal is regarded as the safest way to pay for an item, and can guarantee security in case anything goes wrong after money has been sent.
Stay Safe
Before completing the transaction, read the full details of the flashlight as carefully as possible, taking into account the size dimensions, power source and battery type. Also look at the payment and postage information provided by the seller to understand fully how the deal will go through. If anything is unclear then make sure to contact them with any sort of question. Full conditions of how to stay safe on eBay are listed in the website's Safety Centre.
Conclusion
Military-grade flashlights are more advanced models of regular flashlights, with sturdy aluminium frames and powerful beams, which can be used in many situations. For camping purposes, always have in mind what sort of journey you will be undertaking and how a military-grade flashlight can enhance the experience.
eBay can provide a route into finding many flashlights at an amount lower than the market average. Spend time researching the many products available to consumers, taking into consideration how to find the best military-grade flashlight for your money.