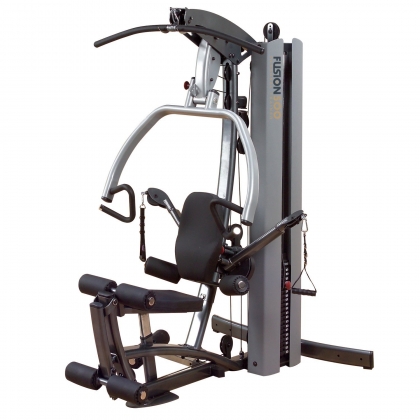 People are becoming increasingly interested in keeping fit, but some wish they could do so without leaving the home. Fortunately, this can be achieved with a multi-gym, the preferred method in which to keep in shape and to also avoid the costly fees associated with gyms.
eBay is one of the best places online to buy affordable strength training equipment, which can spark a drive towards a healthier body and mind.
The following buying guide explains the key decisions to make when looking for a multi-gym, the considerations to take before buying one and how to buy the apparatus safely and securely using eBay.
What is a Multi-Gym?
Multi-gyms are apparatus that have a number of stations all attached to one frame.
They can have as few as two stations and most use a large amount of pulleys in order to lift weights.
Amount of weight will vary from one gym to another and different highest weights will be appropriate for different people.
Weight Station Types
Depending on the multi-gym being bought, there will be a variety of different stations that all work on certain parts of the body.
The table below explains the stations that will be found, as well as a description alongside each of the major muscles that it will work on:
Station

Body Area

Description and Major Muscles Worked

Arm Curl

Upper Body - Arms

Bar that lets the user mimic the movement done when using dumbbells to perform an arm curl.

Works the bicep and tricep muscles, as well as the forearm.

Bench Press

Upper Body - Chest

Allows user to bench press weights without the need for a spotter.

Primarily used to work the pectorals or chest muscles with exercise performed in a horizontal state.

Chest Press

Upper Body - Chest

Sometimes referred to as seated chest press machine.

Similar to the bench press, with the pectorals/chest the major muscles worked.

Lat Pull Down

Upper Body - Back

Very common machine that allows user to pull down weight down from above.

Used to work the back muscles, the latissimus dorsi in particular.

Leg Curl

Lower Body - Legs

Works the hamstring and will usually be a seated station when attached to a multi-gym.

Can also be performed as an exercise whilst lying down.

Leg Extension

Lower Body - Legs

Seated action where the quadriceps is worked by an extension of the leg from a bent position.

Leg Press

Lower Body - Legs

Another seated exercise that sees the legs straightened away from the body.

Works the quadriceps, gluteals and hamstrings.

Leg press is a good alternative to squats.

Pectoral Deck

Upper Body - Chest

Popular type of machine that works the pectoral muscles in the chest.

Regularly referred to as a Pec Deck.

Rowing

Upper Body - Back

Works a variety of muscles depending on which direction the rowing is performed.

Can either be upright or seated and both work the back and spinal muscles.

Shoulder Press

Upper Body - Shoulders

Machine that can be used to perform a variety of different exercises to strengthen the shoulder muscles.

Shoulder press, if performed correctly, works deltoids, trapezius and triceps.

Stepper

Cardio-vascular

Uncommon component that allows the user to perform footsteps, which brings an element of cardiovascular exercise to the multi-gym.
Some multi-gyms will also have other stations that aren't included by eBay as search options – a 'Cable Crossover' being one of the more popular ones, as well as Chin Up bars.
In order to find these, type the correct search terms into the search bar with Multi-Gyms selected in the drop down list next to it.
Amount of Weight
When purchasing a multi-gym, weight should be one of the biggest factors to take into account.
Before looking through the listings on eBay, it's useful to have an idea of the amount of weight you want to eventually be able to lift.
The maximum amount of weight that can eventually be lifted should be enough to challenge the primary user of the gym.
It's important this is the case because once a multi-gym has been bought there usually isn't anyway to add to the weight.
Conclusion
Home Gym equipment is becoming an affordable alternative to expensive gym memberships, with eBay being one of the best places to get hold of the equipment anywhere online.
A multi-gym is the closest buyers can get to having the whole weight training experience that you get in a gym in one place and it makes fitness a lot easier to obtain.
The main factors to think about before buying one are:
· Which weight stations will be most beneficial to your routine?
· How much weight will you be lifting at maximum capacity?
· Have you checked the gym fits in the room where it will be put?
These points all considered should mean a suitable multi-gym being bought. Although remember that the decision is always down to you, the buyer.
Remember to use PayPal to make sure a transaction goes through as safely and securely as possible.