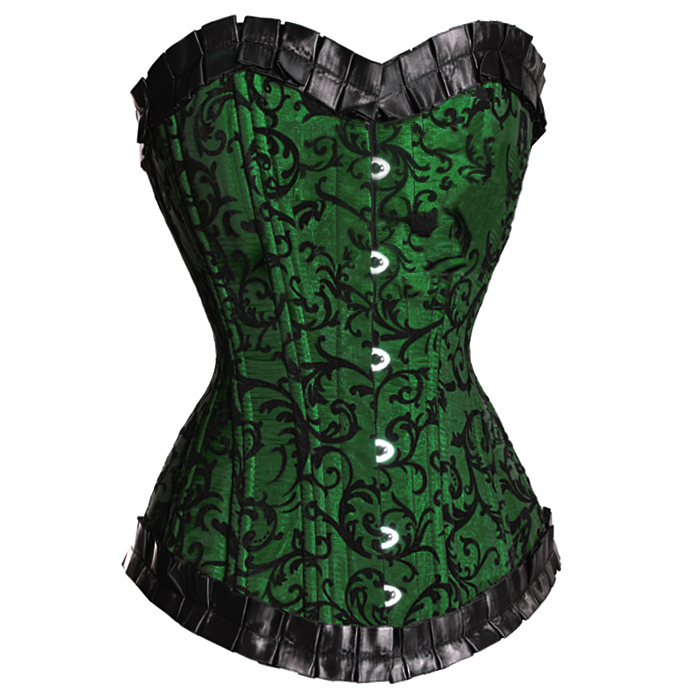 A corset is an iconic item of women's fashion, popular as lingerie, part of a costume, and even worn day-to-day. Corsets are available in a variety of styles and are made of fabrics such as silk, leather, and lace. An authentic corset reshapes the wearer's waist and hips, creating an hourglass figure and smoothing the torso. On the other hand, a fashion corset simply has the appearance of a corset, with minimal shaping. However, both types of corset are readily available for women of all sizes.
When purchasing a plus-size corset, buyers should understand the type of corsets that are available and their construction, as these factors affect how the corset looks and feels. In addition, every corset needs to be fitted properly to ensure that it is comfortable and flatters the body. Finally, the buyer should pay attention to the cut and design of the corset. While shopping from department stores and specialty shops is always an option, buyers can also go to online auction sites such as eBay, which offer a wide variety of items to choose from.
Choosing a Type of Plus-Size Corset
Corsets typically belong to two categories: authentic corsets and fashion corsets. An authentic corset reshapes the body, while a fashion corset does not. There are other differences between the two, as well. A fashion corset is manufactured as a high volume product, while an authentic corset is typically handmade, whether it is a ready-to-wear or custom-made design. Both types are available in plus sizes. It is important to note that fashion corsets are not designed to last as long as properly made authentic corsets because of the differences in the way that they are constructed: fashion corsets are typically designed for lingerie and everyday fashion.
Plus-Size Corset Construction
When evaluating the construction of a plus-size corset, buyers should pay attention to two factors: the fabric used and the boning. These influence the comfort and support offered by the corset.
Fabric for Plus-Size Corsets
Authentic corsets typically use at least three layers of fabric: a stiff structural layer, an inner lining layer, and a fashion, or face, layer, which uses decorative material. By contrast, fashion corsets may use only one or two layers. Using a natural fabric for the layer closest to the skin is the most comfortable regardless of the type of corset, as it breathes easily and keeps moisture away from the skin. When buying a plus-size corset look for a modesty panel, which is a piece of fabric that covers the skin where the corset laces. This can conceal any bulging of the flesh that can happen when the corset has been laced. Also look for a waist, or stay, tape. This is a piece of tape or fabric that is sewn into the corset horizontally and helps to reinforce the corset and give it structure to stop it from bending out of shape.
Boning for Plus-Size Corsets
The bones of a corset, also referred to as stays, are vertical ribs that give the corset its shape and support. Originally made from whalebone, common contemporary options include plastic and steel. The number and placement of bones in a corset can vary by manufacturer. However, the material used for the boning is of high importance when choosing a plus-size corset. Fashion corsets may use plastic, which is very flexible. German plastic is a durable and a sturdy choice for a plus-size fashion corset that needs extra support, but it still does not offer the support of an authentic corset with steel boning. Steel boning comes in two types: flat and spiral. Many corsets may use a combination of the two. Spiral steel is flexible, which gives the wearer a wider range of movement. In addition, steel boning comes in multiple thicknesses. The thicker the bone, the more support it gives.
Underbust vs. Overbust Plus-Size Corsets
After deciding on a fashion or authentic corset, buyers then need to consider whether they want an overbust or an underbust corset. An overbust corset covers the bust, while an underbust corset fits below the bust. An underbust corset can be worn under or over clothing and can even serve as shapewear. It tends to be more discreet underneath clothing than the overbust style, which is ideal for outerwear. Women who are especially busty may prefer the overbust style because it provides more robust support than a bra. The overbust corset supports the bust from the waist up, which better distributes the weight. In addition, an overbust corset provides support for the back, which can make it more comfortable.
Shapes and Necklines for Plus-Size Corsets
An underbust corset may be straight or pointed in its shape. An overbust corset allows women to choose from several necklines, including sweetheart, plunge, straight, and scoop. In addition, the necklines may provide varying degrees of coverage. Full coverage necklines cover more of the bust, providing extra support and reducing the chance of any spillage. A demi neckline is more revealing, and is better suited to smaller busts. A plus-size woman may consider the underbust and overbust styles that come with a halter neck-style strap for even more support for the bust.
Hip Lengths for Plus-Size Corsets
Corsets are available in a variety of hip lengths. A longline, or long hip style, rests lower on the hips, while a short hip style may only graze the top of the hips. Short hip styles provide a greater flexibility of movement at the waist, but are better suited to flatter tummies. For people with larger tummies, a long hip style provides more control and better shaping to eliminate any bulging.
Sizing a Plus-Size Corset
As with most women's clothing, fitting a corset often requires a combination of measurements. This is especially true for custom-made corsets, which are tailored to fit a single body based on those measurements. While it may be possible to be measured by a tailor or an expert at a lingerie shop, it is also possible to take measurements at home, with just a soft cloth tape measure. Always measure multiple times to ensure accuracy. In addition, the tape should not be too loose or too tight. Without proper measurements, the corset will not be a perfect fit, so avoid drawing in the waist and take realistic measurements.
Bust, Waist, and Hips Measurements
Three measurements are essential in most women's clothing, and the corset is the same: bust, waist, and hips. The bust should be measured at its fullest point and the hips at their widest. However, measure the waist at its narrowest point. This is typically a few centimetres above the navel, and is called the natural waist. In addition, some corset makers may ask for measurements of the underbust and the top of the hips.
Plus-Size Corset Length
When choosing a plus-size corset, it is also important to consider the overall length. A corset that is too long may poke into the thighs, the bust, or the underarms, depending on the style. To compare the length of the corset to the wearer's body, sit in chair with the back straight. Measure from the centre of the bust at or slightly above the nipple line for an overbust corset, and from the centre of the bust at the band of the bra for an underbust corset. If the length of the corset means that it would graze the thighs, then the corset is too long and buyers should look for a shorter model.
Choosing a Plus-Size Corset
When choosing a plus-size corset, it is important to consider the type of corset. A fashion corset does not reduce the waist or reshape the body and they come in dual sizes (L, XL, 2X, 3X, and so on). By contrast, an authentic corset states its size by the waist measurements that it creates, so the corset size does not correspond to the wearer's actual measurements. Instead, the corset size will be anywhere from 2 inches to 6 inches less than the natural waist measurement. For wearers with waists above 34 inches, the waist reduction is anywhere from 4 to 6 inches. However, buyers can choose the degree of reduction that they are comfortable with. When choosing and fitting a plus-size corset understand that corsets are not meant to be laced closed completely. In addition, the corset should never be painful or make it difficult to breathe. Both are signs of a bad fit or lacing that is too tight.
Buying Plus-Size Corsets on eBay
When buying a plus-size corset, visit the eBay home page to begin your search. You can enter a keyword, such as, leather plus-size corset, in the search box on the home page or any other page on the site. You can filter your results by item category and a variety of other features. Have your measurements handy, and contact any sellers if you have questions about their products. In addition, research the sellers by checking the feedback and ratings left by previous buyers. eBay recognises sellers who consistently deliver items in good time and provide outstanding customer service by labelling them as Top-rated sellers.
Advanced Searching on eBay
To speed up your search for plus-size corsets, consider using eBay's advanced search feature. This allows you to search more effectively. In addition, you can search within specific categories to filter out irrelevant results. You can also refine the search by selecting a price range, as well as displaying items only from sellers with particular delivery or payment options. eBay allows you to specify the seller's location, so you can choose a UK based seller, or maybe even a local seller, which could mean a faster delivery. If the local seller agrees, you may be able to arrange to collect your purchase in person.
Conclusion
Corsets can make a dramatic fashion statement, whether they are meant as lingerie, formal wear, or everyday wear. They are designed to fit all body types and sizes. Buyers looking for a plus-size corset should keep a few factors in mind when searching for an item. Firstly, remember that fashion corsets do not achieve the waist reduction offered by authentic corsets, so the sizing is similar to other types of clothing. On the other hand, an authentic corset can reduce the waist by up to 6 inches. Sizes for authentic corsets are stated by the waist measurements that they create. In addition, buyers must then choose between overbust and underbust styles. While an underbust style is more versatile, an overbust style provides more support for the bust and may even be more comfortable than a bra for some women.
Other factors to consider when choosing a plus-size corset are the fabric used, the boning, and other features that it has. A natural fabric used in the lining of the corset is breathable and wicks moisture from the body. Fashion corsets often use plastic boning, while authentic corsets typically use steel, which is much more durable. Finally, look for features such as a modesty panel and a waist tape, which reinforce the corset and help it to keep its shape. When buyers are ready to make the purchase, eBay is an excellent place to start the search.