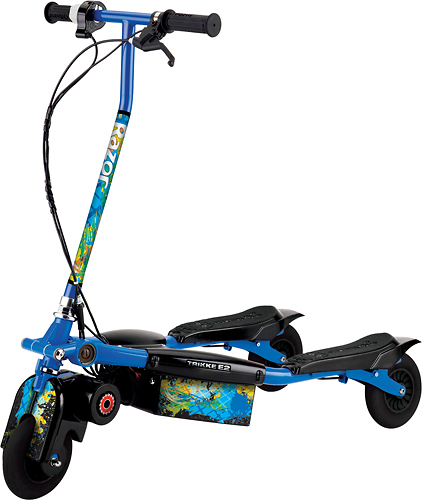 Some people may have a misconception that push scooters are just for children, this however could not be further from the truth. The push scooter market is extremely wide and many companies have designed scooters especially for adults.
Whether someone is a daring thrill seeker or they're just looking to recapture their youth, there is a push scooter out there to suit them. This guide will explain some basic information about scooters, which particular designs are suggested for adult use, as well as some useful advice on how to find the perfect push scooter using eBay.
What is a Push Scooter?
Push scooters originally started life as simple children's toys that could be made at home for practically no money. Since then however they have evolved into universal playthings that are enjoyed by people of all ages and their commercial manufacture is a huge business.
A scooter will usually have two wheels, (although there are varieties with as many as four wheels) a solid metal or plastic base and a steering column, which is often adjustable to the rider's height. A rear brake is also a common safety feature on a lot of push scooters.
There have been a huge range of different push scooters developed over the years and each type is aimed at a certain demographic. For example, thrill seekers who are used to skateboarding or BMX riding may be interested in a trick scooter, whilst small children are likely to be better suited to the stability that a three or four wheeled scooter can offer.
Scooters can practically cost as little or as much as a shopper wants them to. A shopper with a budget will find some very good quality scooters on eBay for as little as £30. Those who are looking to make an extravagant purchase however will be pleased to hear that many sellers also offer luxury scooters on eBay, some of which can cost up to £1,000.
What Types of Scooter are Suitable for Adults
Push scooters began life as children's toys and most of the market is dedicated to aiming their products at younger people. This does not mean however that adults cannot have their fun too; there are plenty of companies out there now designing push scooters especially with adults in mind. Any adults who like a little nostalgia and would like to recapture their youth by purchasing a push scooter have a number of options available to them.
Basic Push Scooter
These models are completely basic and are often the least expensive scooters that people will tent to find on offer.
This certainly isn't a negative however; these classic scooters offer a great way for adults to have fun without the need to purchase a great deal of expensive equipment.
Any parents with small children may like to buy a basic push scooter so that they can enjoy using a scooter with their kids, who will probably find it entertaining to see mum or dad joining in with the fun.
Basic push scooters offer good all-round performance at competitive prices and should certainly be taken into consideration for anyone who is buying a scooter to use casually.
Off-road Scooter
Off-road scooters offer daredevils the chance to extend their list of hobbies to include scooter riding as well.
Off-road scooters come with larger wheels with mountain bike-style tyres and larger, more durable frames than your average street scooter.
Built to handle even the toughest terrain, off-road scooter riding has become somewhat of a sport in its own right, with many partaking in downhill races and time trials every week.
Anyone who is either very competitive or has taken part in extreme sports such as BMX or downhill mountain bike racing before will likely be enticed by the idea of having a go at riding an off-road scooter and the challenge or mastering the art is very much an incentive as well.
Electric Scooters
We all know all too well that adults do not have the same energy levels that kids do, so why not make up for it and purchase an electric scooter that will take the pain out of riding.
Most of these scooters will come fitted with a good battery that will provide a number of hours of power before it needs recharging.
Most electric scooters are operated in a similar way to traditional motorbikes, with acceleration being controlled by a twist throttle located on the handlebars.
Many electric scooter designs have the capability to reach speeds in excess of 15 miles per hour, which is a good reason why they're better off being used by responsible adults rather than children.
Trick Scooters
Anyone who has an interest in freestyle BMX, skateboarding, inline skating, surfing, wakeboarding or any other extreme sport is likely to enjoy performing tricks and there are just as many tricks to learn on a scooter as on any other mode of transport.
Trick scooters are designed to be hardwearing, yet lightweight so that any stunts are as easy to perform as they possibly can be. This means they tend to ride very well.
As a result to the reinforcement that trick scooters go through to become so durable, they are never fitted with an option to collapse the handlebars or in any way collapse the scooter down.
Due to the fact that trick scooters are probably the best quality scooters that are available to the general public, it comes as no surprise that they are the most expensive type of scooter on this list, sometimes costing as much as £1,000.
Adult Scooter Safety
When riding a scooter, it should be acknowledged that there are certain health and safety risks that any responsible adult must take into account. The list below offers a few suggestions on how to behave as an adult riding a scooter to ensure that no one gets hurt or anyone's property is damaged.
The most important thing to remember is that riding a scooter whilst under the influence of alcohol is a criminal offense in the United Kingdom. This is because the police will class a scooter quite rightly as a vehicle that could cause damage if not operated correctly and few officers are likely to take kindly to a drunken adult riding a scooter and putting the general public in danger. Keep scooters and alcohol separate to avoid any potentially embarrassing incidents.
Scooters should never be ridden on the road because they will present a number of different hazards to powered vehicles that are trying to use the highway. This is another act that if committed is likely to get the offending scooter driver in trouble with the law.
Anyone who is planning on taking their children out for rides on their scooters should keep a watchful eye on them. Try not to let them ride scooters close to roads or in busy pedestrian areas. If there is a local park nearby, it is best to take them there where they are going to be given enough space that they will find it difficult to hurt either themselves or other people around them.
Remember, scooters may seem harmless, but if used irresponsibly they can be extremely dangerous. In 1998, 2,200 people were injured in accidents that involved scooters. Even more telling is that a large percentage of these people were grown men and women who perhaps should have known better in the first place.
Buying a Push Scooter for Adults on eBay
Once someone who is looking to buy a push scooter has decided what type of scooter is best suited to them and they have taken measures to think about how they will stay safe when using their new scooter, all that is left to do is to buy one.
Luckily, eBay has literally thousands of listings for push scooters on the site all year round, meaning the perfect scooter may be only a few clicks away. Here are some quick tips for finding a great push scooter for adults on eBay:
Use eBay's clever search functions to make sure that finding a new adult's scooter is as quick and easy as possible.
Firstly, type the search term "adult scooter" into the search bar at the top of the home page. When the search results come back, users will likely be given thousands of listings to sift through.
This is where eBay's ingenious tailored search filters come in. eBay have hundreds of different product categories that have these tailored filters which allow the buyer to select features they would like in a product. Items that do not meet these specifications are filtered out, meaning that customers only need look at items that are likely to be of interest to them.
When searching for scooters on eBay, users can browse products based on what age group they are intended for, whether they are fitted with a motor or not, what price bracket the scooter fits into and even how much postage and packaging is going to cost, which is especially useful when looking to buy a large item such as a scooter that has the potential to cost a lot in delivery charges.
Search eBay today and find out what great deals are available on adult push scooters.