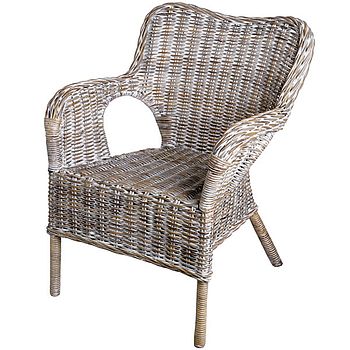 Garden design and decoration is a very interesting and complex process. Much like the interior of the home, taking time to carefully plan and arrange one's garden furniture is essential. By considering each piece from parasols to garden tables, the overall look of a garden is enhanced, but so too is the function. One popular choice that buyers make is to add rattan garden armchairs to their outdoor design. These versatile pieces provide several benefits to users and can really add class to a garden.
Before purchasing a rattan garden armchair it is important to understand what rattan really is both in its natural form as well as when made into furniture. There are also several notable benefits of rattan garden furniture in general.
From there, buyers need to take the time to consider their specific needs. This means measuring garden space, considering function, and budget. This is a quick process, but essential for success when moving on to purchase. Finally, the concluding section of this guide will cover the actual purchase of rattan garden armchairs including how to complete this process via eBay.
All About Rattan
Before describing the method that buyers should use to locate and purchase a rattan garden armchair, it is important to define the basics. This means understanding what rattan actually is and the benefits of choosing it as the materials for one's garden furniture.
Rattan: A Definition
The word rattan refers to 600 different species of palm trees and plants which are native to the African tropics. Historically, long and thin pieces of rattan were woven together in the construction of furniture and rattan baskets. This is because the wood itself was both mouldable and easily stained into various colours. What's more, the inner core of rattan pieces is one of the many substances used to make wicker.
Modern Rattan
The problem with natural rattan, however, stems from its durability. Because it is made of a 100 per cent natural fibre without much treatment, true rattan furniture is subject to weathering and rot. This makes the high price of natural rattan furniture an unwise investment if it is intended for outdoor use. Instead, garden rattan furniture is generally made of high-quality plastics which are designed to look and feel like natural rattan with the added benefit of increased durability and performance.
The three most common materials used for the manufacturing of rattan furniture are High Density Polyethylene (HDPE or PE), Polyurethane (PU), and Polyvinyl Chloride (PVC). Because of the common element of all these materials (the "poly") they are collectively referred to as Poly Rattan to differentiate them from natural rattan. The table below will give readers a general idea of the differences between each of these types of plastic-based materials.
Rattan Material

Positives

Negatives

Additional Notes

HDPE or PE Rattan

Environmentally-friendly manufacturing process

Recyclable

Weather-Proof

Durable, tougher than PU or PVC

UV and mould-resistant

Higher priced than PU or PVC furniture

PD is a thermoplastic resin made from natural materials that are part of the wax family

Life expectancy in the UK is 5-10 years

PU Rattan

Elastic strength that resists cracking

UV and mould resistant

Non-recyclable

Life expectancy in the UK is 5-10 years

PVC Rattan

UV resistant, but not as strongly as PE and PU

Recycleable

Not ideal for UK weather

Generally mixed with another elastic material for additional flexibility

If covered, it can last for 3-7 years
As the table above shows, there are clearly some big differences between each type of poly rattan garden furniture on the market. And, though they are identical to palm-based rattan in appearance, it is important to remember that PE, PU, and PVC rattan garden furniture is considered man-made or synthetic, rather than natural. However, all of these materials closely resemble wood in terms of their density as well as their carbon and oxygen base.
The Benefits of Rattan Garden Furniture
Though most of the rattan garden furniture that people buy today is not actually natural rattan, there are still many noted benefits of choosing it. For starters, poly rattan garden furniture is far more durable than natural rattan, which is likely to rot. This type of furniture is also weatherproof, frost-proof, and UV resistant.
In addition, at least in the case of PE rattan furniture, even though it is a man-made fibre, it is also environmentally-friendly because it is made of natural materials and produced in a responsible manner. In fact, during its manufacture, HDPE rattan garden furniture uses no additives, creates no toxic emissions or smoke, and creates no dirty water.
Choosing the Right Rattan Garden Armchair
Because of the diverse rattan armchairs that are available for purchase on today's market, there are several steps that buyers need to take before committing to purchase. This means considering the space, function, and budget for their new armchair and weighing those needs against what is available.
Measure the Space
Before going online or to a garden store, it is important to begin by measuring the garden itself. This way, certain armchairs and auxiliary pieces can be eliminated based on size alone. It is also important to consider the clearance needed for a chair which is seated next to a table as opposed to one that sits independently. In general, for a table and chairs, it is important to allow at least a 60 cm clearance behind each chair to ensure that there is enough room for people to comfortably sit.
Consider Function
In addition to space, function is equally important. Consider what the primary function of a rattan armchair will be. Consider the importance of comfort and whether the armchair will be used practically, as a seat at a table, or recreationally, as a lounge. Based on this assessment, buyers will need to consider the level of comfort needed for the chair as well as its design. There are a range of options from pieces with cushions much like a sofa to straight backed armchairs that come as part of a rattan table set.
Consider Budget
The last consideration buyers need to make before moving on in the purchase of a rattan garden armchair is their intended budget. Even though most rattan pieces are not made of actual rattan, not all man-made fibres are the same which means that their is a great variation in price from one piece to the next.
For this reason, it is important to pay attention to manufacturer's descriptions of rattan garden furniture, since often it will not be immediately obvious. Also, remember the information from the table in the previous section. PVC rattan furniture, for example, is less durable than PE and PU, making PVC rattan generally cheaper than the others.
Buying a Rattan Garden Armchair
Once buyers understand the basics behind rattan and the process they must go through to decide upon the proper rattan garden armchair for their space, shopping can begin. There are a wealth of places to purchase rattan garden arm chairs, both new and used, which range from physical shops and garden centres to flea markets and used furniture dealers.
However, most people these days prefer to do their shopping online, allowing for even more options. Shopping for rattan garden armchairs on eBay far surpasses every other option, and is a great way to save time and money.
How to Buy a Rattan Garden Armchair on eBay
The key to success when shopping on eBay is knowing how to search and discover the best products. eBay provides users with an easy registration process that gets them shopping straight away. From there, a search can be conducted from any eBay page by using the main search bar.
For those interested in rattan garden armchairs, simply entering that term into the search bar will yield hundreds of results, though the term "rattan garden chair" may be a bit better for those looking for several options. These basic searches are a great ways to browse through options as if one is in a shop. However, users with specific needs may want to enter more specific terms, such as "brown rattan garden chair". This will save the user time searching through unnecessary results.
Once a series of options has been generated, the beauty of the eBay buying process is that users have the ability to cost compare several different retailers, all on one site. Make sure to pay attention to posting costs as well as seller feedback before committing to a purchase.
Conclusion
Choosing to decorate one's garden with rattan furniture is a great way to marry function with style. However, before going ahead with a rattan purchase it is important to understand some basic elements of what you are buying.
Rattan furniture these days, especially furniture intended for outdoor use in a garden, is not made of actual rattan, but rather of one of three plastic-based alternatives. These are polyethylene (PE), polyurethane (PU), and polyvinyl chloride (PVC). These poly rattan materials produce a more durable and lasting piece of outdoor garden furniture than the quick-to-rot natural rattan, especially in UK weather.
The process of actually buying rattan garden furniture itself is quite simple. Buyers must measure their space and then consider both the function and budget for their piece. Armed with this information, finding the right rattan garden armchair is easy, especially if buyers use eBay. By offering the ability to easily shop from a number of different retailers all under one website, eBay is a great place to buy a garden rattan armchair.