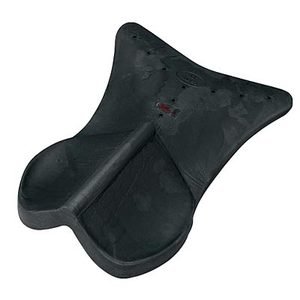 Every horse is a different shape and size, and like a humans can suffer posture problems. A poor fitting saddle may only increase discomfort as a result. A well-fitting saddle often makes the difference between a good or bad tempered horse. If a horse is unhappy with the saddle, its riding can be greatly affected. A saddle riserpad replaces the need for an extra padded numnah or horse blanket.
Saddle risers are popular with riders as they prevent slipping and allow the saddle to fit properly. A horse with high withers may be difficult to fit with standard saddles, but using a saddle riser pad may eliminate any problems and help the saddle fit well. This guide aims explore the different types of saddle riser pads available on eBay, and help make a choice which one is a good fit the horse.
What a Saddle Riser Pad Does
Saddle pads have evolved from typical saddle pads over the last few years into a specific item. A new type of saddle pad, riser pads are made to support a horse with an odd shaped back. It is easy to assume that all horses have equal shaped backs in equal proportion, but this is not always the case. A horse for example may lean more heavily on the left hand side, therefore letting the left hand side of the body become lower than on the right. This would cause the rider to compromise balance and comfort in the saddle. A good saddle riser pad can help lift the horse on the side and leave the saddle level. Ideally a horse's back should always be in contact with the saddle, as this will encourage the horse's muscles to develop correctly.
A vital factor for a saddle is to ensure the horse's spine always has clearance, and a good saddle riser pad will aid greatly with this. The weight of a rider should always be towards the back of the horse, and a saddle riser pad will help the rider have a deeper 'seat' in the saddle and help them feel secure and safe. Too much pressure at the front of the horse's body can put unnecessary extra stress on the horse's shoulders and withers.
Horses that have some muscle wastage, and are in the process of being conditioned can benefit greatly from a saddle riser pad. Rather than purchasing a new saddle at the start and end of the training, a saddle riser pad can be positioned to help support the saddle until the horse has recovered the muscle wastage. Some horses may be higher in the withers or lower in the back, so a specific saddle riser can be used for both of these problem areas.
What Materials a Saddle Riser Pad Comes In
With modern materials becoming cheaper and easier to use, many equestrian products can come in foam or even gel . Materials like foam has good shock absorbing properties and many saddle riser pads come with easy care instructions.
Rise pads come in two main types:
Combination riser pads are available; these are often adjustable by having open pockets in the saddle pad so the rider may put padding where it is needed for the horse. These are ideal as over time a horse's tone may change and improve, so it does save the need to purchase a different saddle riser pad or even saddle. A combination riser pad will also be suitable for riders with different horses, so the riser pad can be adjusted to each different horse.
The most common materials a saddle riser comes in are:
| | |
| --- | --- |
| Gel | These are the most common type of saddle riser pad available on eBay, and some come in a variety of options and sizes. They are normally covered with a fabric cover, the gel being on the inside of the riser pad. |
| Wool | Thick and padded with shock absorbing properties, these are a good choice for a rider who is concerned about any skin problems the horse may have. |
| Rubber | Whilst rubber may sound an unpleasant material, it will be soft and smooth and not come in direct contact with the horse's back if a numnah or a saddle rug is used. |
| Sheepskin | Similar as a saddle riser pad made from wool but the edge of the pad may be visible from under the edge of the saddle, but it looks much like a saddle pad. |
The Sizes Saddle Riser Pads Come In
Saddle riser pads come in very general sizes. So long as they are not too big or small for the saddle, the actual area size is not critical in the fit of the saddle riser pad to the horse. Bear in mind the size of the saddle it is intended for and check the items description for the size of the saddle pad.
The Advantages and Disadvantages with a Saddle Riser Pad
Saddle riser pads are an economic way of helping a saddle fit better around a horse, and may prevent the need to call out a specialist saddle fitter. It is important to consider the advantages and disadvantages to a saddle riser pad before purchasing.
The advantages of a saddle riser pad include:
Gel pads make a great investment as they don't compress over time and can last years. Some come thin enough so they can be cut to exact shape with it a perfect solution to helping a saddle fit a horse.
Many are easy to clean and care for which is a bonus for the busy horse rider.
Combination saddle riser pads are ideal for adapting to a particular horse over a period of time.
Sheepskin riser pads are popular as they gradually shape to the horses back, becoming more comfortable over time. The sheepskin has sweat absorbing properties, but this can be a issue when cleaning a saddle pad as it can't be washed at high temperatures.
Some saddle riser pads have mesh over the padded areas to allow good air flow to the horse. This prevents too much sweat building up on the horse's skin and therefore preventing an environment for sores or skin problems.
Disadvantages:
A front lifting saddle riser pad can cause some problems with pressure at the back for the horse due to extra pressure being placed there. Check the horse on a regular basis to make sure no saddle sores are forming.
The same is true for a rear lifting saddle riser pad, as extra pressure is put forward to the withers of the horse and may cause pinching. The wither area of a horse is very sensitive, so be wary of any changes in the horses behaviour when using a rear saddle riser pad.
Foam saddle riser pads compress over time, and will need replacing when they are too thin.
Buying a Saddle Riser Pad on eBay
To begin browsing a range of saddle riser pads, simply go to the eBay home page and search 'saddle riser pad' in the 'Sporting Goods' category.
This search will being up a range of listings, including front and rear saddle riser pads. If looking for a front or rear saddle riser pad, search for 'Rear Riser saddle pad' or 'Front riser saddle pad' under 'Sporting Goods'.
In general the conditions of saddle riser pads available on eBay are 'New' and 'Used'. Condition can be an important factor when choosing a saddle riser pad as a new one will not have any previous marks or defects on it. For an inexperienced rider it would be ideal to buy new as the saddle riser pad would not have been used by another horse, and therefore be out of shape.
If buying a used saddle riser pad made from gel, this would not be a problem as gel would not mould to the shape of a horses back. If the item's description specifies it has not been used much, and is like new, then a used one would be ideal for an experienced horse rider wishing to try a new style or material of horse rider pad.
As horse rider pads are a more specialist item, the sellers tend to specialist equine equipment suppliers rather than private sellers, but this is an advantage for both experienced and inexperienced riders the returns policy and feedback for such sellers will be strong.
The budget of the buyer will be important, and a search option can be used to narrow down riser pads in a certain price range. To do this, simply type into the 'price' section on the left hand side a lower figure and a higher figure, for example '£5-£50'.
Conclusion
A good fitting saddle makes a world of difference, for both the rider and horse. There is great advantage to buying a saddle riser pad from eBay; there is no need for travel to a specialist horse tack shop and the overheads of the seller will be much lower so the price online is more reasonable, even with shipping added in. Using some basic tips, the perfect saddle riser pad can be found easily on eBay. The perfect saddle riser pad can be bought with absolute confidence and ensure great use for owner and animal alike.