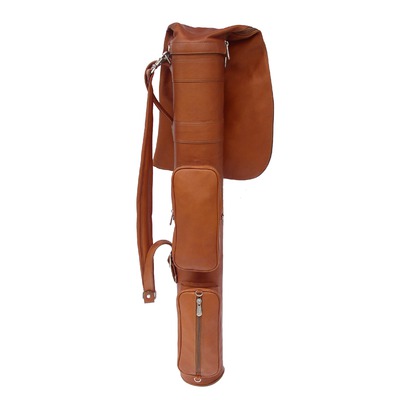 This guide will look at how to make a purchase on eBay in regards to a single-strap golf bag. The different types of bag will be evaluated, along with certain aspects to consider as a potential buyer. Combined with the advice listed here, further research should be completed about the various types of single-strap bags to suit your style and taste.
After evaluating the golfing market, it may become clear that the most affordable products are found on eBay, especially if looking items that are second-hand or in an auction. Knowing how to search efficiently and understanding how to make a bid on the site is also looked at in this guide, and is in tune with the buying advice as detailed in the eBay Safety Centre.
What is a Golf Bag For?
Carrying clubs around a golf course is made much easier with a golf bag, even for amateur players who play for recreational reasons rather than professionally. The various types of clubs, such as drivers, irons, woods, wedges and putters, can be placed inside along with spare equipment and personal belongings.
There are different styles of bags designed to suit the various needs of the player. For example, for golfers who regularly get around the course with the aid of a buggy, attachable cart bags can be purchased. For more advanced players who play with a caddy, larger tour bags are used, so that the player doesn't have to carry any excess weight.
Carry Bags
However, carry bags are the most commonly used type of golf bag by the average golfer. They are designed with comfort in mind, so the player can transport the bag by themselves during a round.
Again, they come in varying styles to suit different tastes; the number of straps is one key element. Underneath is a selection of the carry bags that players can choose from:
| Type of Golf Bag | Description |
| --- | --- |
| Standard Carry Bag | Carry bags are designed to be lightweight and easy for the player to pick up and transport. They usually come with single or dual shoulder straps. |
| Pencil/Sunday Bag | Designed to be slicker and more stylish kind of carry bag, the pencil bag is narrow and especially light. It is flexible so can be rolled up after use, although its storage ability is often limited. |
| Stand Bag | Stand bags can come with one strap also. They have retracting and foldable legs attached to them, meaning they can stand up independently. This allows for easy access to the bag. |
Amount of Straps
Historically, the majority of golf bags were carried by the player and usually only had a single strap. However, as time progressed, the emergence of caddies, golf carts and dual shoulder straps saw a decline in one-strap carry bags.
For amateurs who don't tend to use buggies or have caddies, the addition of the dual strap – which is intended to be used like a school bag – was welcomed as it evened out the weight across their shoulders when moving in between holes.
Single straps, however, are useful if playing on a fast course, in the sense they can be picked up quickly and thrown over the shoulder. If the particular course one plays on has short holes, this can save time transporting a bag from different areas. Some dual straps can twist together and become a hassle to dissemble before picking up.
Also, for some people, the dual strap mechanism has more chance of being awkward to wear and ill fitting, because if the purchase of one is slightly off, it can make wearing the golf bag uncomfortable.
In addition, some golf bags are designed with two single straps, which some players find an annoyance; the second strap can disrupt a walking pattern and simply get in the way. Quite a few golf bags are manufactured with interchangeable straps, however. They allow the player to decide whether one or two straps will suit their style, removing one if needed.
Conclusion
Although single-strap golf bags are not as common as dual-strap models, a lot of players still prefer them. A lot of sports or golfing outlets may not stock a sufficient amount, which can limit your choices.
Buying online can eliminate this potential problem, however, especially if shopping on eBay, as many people use this as a platform to sell their goods. Use the search tips as noted in this guide to reveal all the single-strap golf bags listed and always remember to stay safe before parting with money.