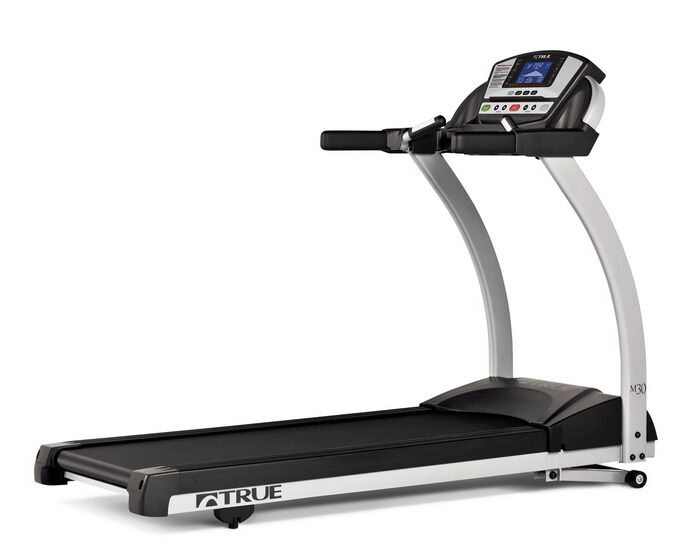 Treadmills are one of the most popular and widely used pieces of gym equipment on the market; they are simple to use and form a good basis for any cardiovascular workout.
They are a luxury that the majority of people can afford nowadays, especially if looking to buy online where there are many low-cost deals available. eBay has a whole host of treadmills accessible on its online marketplace at reduced prices to supply the UK market.
There are many different types of treadmills on the market ranging from manual to motorised types with different resistance levels such as hydraulic, magnetic, air, and water from a large number of authoritative brands including Reebok, York, ProForm and Life Fitness.
Manual or Motorised Treadmill
When coming to choose a treadmill, the first decision to make is whether to buy a manual or motorised machine.
Manual Treadmill
Basically, the belt of the manual treadmill is rotated around by the user themselves. The speed of the treadmill is dictated by how fast and how hard the user runs.
Advantages - In the majority of cases, the manual treadmill will be cheaper. They will also usually be lighter and easier to store away. Suited to slower paced users or those in the injury rehabilitation process. The majority of manual treadmills are safer than their motorised counterpart.
Disadvantages - The user must generate the power of the belt themselves; some belts may be hard to get going in the first place. This can put strain on the lower body and cause muscle injury.
Motorised Treadmill
Alternatively, there is the more recognisable and widely used motorised treadmill which is powered by a build-in motor. The user simply walks, jogs or runs against whichever speed you select the belt to rotate at.
Advantages - Much more professional and effective for an efficient workout. Comes with a built-in TV screen on the front; informs users of their speed, time taken and calories burned as well as an option to increase the incline.
Disadvantages - The models at the top end of the market can be out of some people's price range. The need to make sure they are located next to a suitable power supply in the house must be taken into consideration. Some motorised treadmills can be bulky and heavy meaning they may be difficult to place in your desired position.
What to Consider When Buying a Treadmill for Your Home
After deciding which type of treadmill to buy, there are other considerations to take into account.
Budget Available – How much money can be budgeted to pay for a treadmill? As with most items there is a correlation between price and quality, but this doesn't mean buyers have to overspend to get good value for money. Some motorised treadmills at the very top end of the market can cost as much as £10,000 which is obviously out of most people's price range. Buying online from websites such as eBay shows this isn't the norm however. Fully operational treadmills are available for as little as £150 and manual machines can come even cheaper. Ask how professionally the workouts will be and if it's worth spending that bit more for the extra quality.
Is it Worth the Investment? – It is best not to overspend on products that buyers will not make the most out of. On the other hand, investing in a treadmill machine that is of poor quality may equally be a waste of money. Also consider, will the isolated benefits of cardiovascular based running machine suit your requirements, or alternatively would joining a proper gym with all the services it provide a better workout and investment?
Which Treadmill Suits Your Requirements? Is buying a treadmill in preparation for regular and high intensity training the best way to invest in a higher class of treadmill? Also, different physical shapes of the potential users may mean needing to buy a specific kind of machine. For example, taller and heavier runners will require sturdier and longer machines respectively. The average running area a human requires is roughly between 18-20 inches wide and 50-55 inches long but each individual user may need more or less than this.
Where Will You Position It? It is best, to already have an idea of where the treadmill will be situated or positioned in the house. Consider if there will be enough space in this desired location. Maybe you would like to watch TV or listen to music whilst exercising which is something else to think about. Also, if buying a motorised treadmill, a suitable power supply needs to be close by. Take note that some treadmills are battery powered and some are foldable which may resolve some of these problems.
Who Else Will Use The Treadmill?The simple nature of the treadmill means that it can be used by the whole family. Again, take into consideration the different physiques of who will use the machine. In addition there are safety concerns to worry about purchasing electrical treadmills, especially if young children can come into contact with the machine. There have been reports of children suffering burns from touching the moving belt, so keep this in mind when locating the treadmill in the house. Consider a manual treadmill if you're worried about this.
Advice on Selecting a Motorised Treadmill
If looking for a motorised treadmill, as most people are, then there are a few more particular conditions to look out for.
Check if the treadmill comes with a heart rate control feature. This is a device that adjusts the speed of the belt in accordance to the users' required target heart rate; ensuring a safer workout for those with heart conditions or a pacemaker.
There will almost certainly be an incline option on electronic treadmills as well. This gives a different approach to a workout, with the incline simulating running up a slight hill. Most machines come with an incline option of between 10% and 15%.
Set programs are another common feature of the in-built TV screen. This will provide details of the workout being done; telling the user the amount of time spent exercising, speed of the belt, calories burned and heart rate level. They also can give the user a predetermined routine to stick to every time exercise is carried out.
The motor speed and engine is another aspect to consider. If the treadmill seems to be struggling to move around at a decent speed with you using it then the horse power may not be sufficient enough or the motor is under too much pressure.
Has the belt decking got good cushioning for when you run? The best and most comfortable treadmills will absorb the pressure of the user's feet and allow the user to concentrate on your workout.
The more powerful the training will be, the more powerful the motor should be as well. The motor needs to be capable of rotating the belt around for extended periods of time at a high speed. Look for a motor with at least 1.5 horsepower continuous duty rating.
Where to Buy a Treadmill From?
Treadmills can be found on the high street in certain sports shops but they won't have a large selection to choose from unless it's a specialist gym equipment store. The best bet is to browse the selections online, which gives an idea of the whole market. Treadmills online will by and large be more affordable than in shops as well.
eBay has a large selection of treadmills available in all different styles. By simply typing in "treadmill" a whole list of results will appear. Pinpoint your preferences here and narrow down your search in terms of selecting your ideal:
- Price Range
- Type of Treadmill
- Condition
- Brand
- Location of Item
Just because buying a treadmill from eBay may be less expensive doesn't mean that it will not equal the quality of those available through brick and mortar shops. Some people may genuinely be trying to sell their treadmill at a cheaper price to guarantee a quick sale.
If deciding to buy from eBay there are a few tips that will ensure a smooth and safe purchase:
Read the item's description carefully and any conditions that come with it.
Review the seller and their feedback rating.
Is there a warranty still valid in case something goes wrong?
Are the delivery conditions acceptable? If it is a 'collection only' listing then do you live within a reasonable distance to pick it up?
Be sure to ask the seller a question if there's any doubts over the treadmill.
Conclusion
The treadmill is an effective and straightforward machine to exercise with in the home, allowing the user the chance to keep fit in the comfort of their own surroundings any time they wish. If used regularly, body fat will decrease steadily and bone density will improve. To make the most of the treadmill then make sure you buy the right one for your needs in the first place. Review this guide and the considerations raised in it to help with the purchase.
Decide which type of treadmill is most suitable and shop around online to find the best deal. Make sure to read reviews of the product; finding out other people's first-hand experience of the treadmill is invaluable. eBay will generally provide all the leading brands of treadmill at an affordable rate. If deciding to go down this route, then take the recommended precautions and use PayPal to ensure a safe transaction.