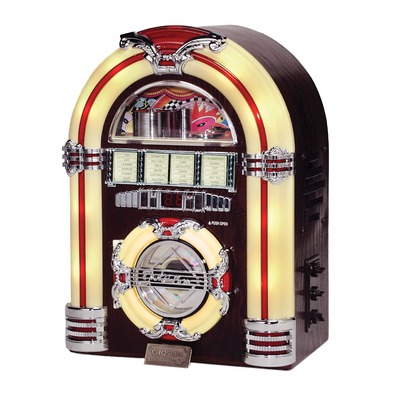 Buying a used jukebox is normally a once in a lifetime purchase, and is an important event. So finding the right one should be taken seriously. Used jukeboxes are great for playing a music lover's favourite music, whether in the home or used for a social gathering.
There are a few main types of jukeboxes with varying features to consider when looking for the right one. This guide aims to take one through all that is needed to know in order to find the perfect, authentic used jukebox. Used jukeboxes can be found in the Collectables category on eBay.
Types of Jukebox
There are a large number of used jukeboxes around that date back to as late as the 1920's, which use vinyl, right up to jukeboxes that have been refurbished and installed with technology to play CDs. When it comes to used jukeboxes, there are four main brands that manufactured brilliantly made jukeboxes, and are the more well-known. The four most popular brands of jukebox are:
AMi
AMi jukeboxes were only around for nine years during the 1950s and 1960s, but made some real classics. These are quite hard to get hold of, as they weren't in production for that long in comparison to their rivals.
Rock-ola
The 1920s saw the introduction of Rock-ola jukeboxes. These jukeboxes predated the 'Rock 'n' Roll' era by 20 years, but are thought to have inspired the phrase. The 'nostalgic' jukeboxes are still in production today and are easy to find on eBay.
Seeburg
Seeburg really stole the mantle from Wurlitzer in the 1950s to bring the jukebox its 'silver age'. They produced the first ever jukebox to allow 100 song selections and the design was a radical change to its predecessors. Seeburg really took their design themes from 1950s automobiles, with lots of glass and chrome incorporated into the designs.
Wurlitzer
Wurlitzer was really the top brand in the golden age of jukeboxes that lasted until the late 1940s. The Wurlitzer jukeboxes from this period were often referred to as 'dome tops' because of their shape and heavy art-deco influence with lots of vibrantly coloured plastics and lights. They only play vinyl records at 78 rpm and rarely have more than 24 songs.
All of the jukeboxes aforementioned have a rich sound and usually work brilliantly well, provided they have been kept in good condition. Jukeboxes were designed to be extremely hardwearing, as they would be left on all day, playing hundreds of song selections. Their surrounding also meant they may have coffee, beer or cigarettes spilled and stubbed out on them. Because of this, a well-restored jukebox can be a reliable addition to the home environment.
The price of a used jukebox can really range from £400 to £10,000, depending on the brand, model and condition. The cheapest models tend to be from the 1970s, as they have hidden play mechanisms and are generally considered to be quite unappealing in the looks department. The most expensive machines will be the 'dome tops' from the 'golden age' of jukeboxes. If you wish to play 45's you might want to consider getting a jukebox from the 1950s or 1960s.
What Condition Do You Want the Jukebox to Be in?
With jukeboxes being around for just under a century, there are lots of different variations available from different eras. This means there are a number of features to consider when buying a used jukebox.
Fully Restored Jukebox
A fully restored jukebox is one that is in full working order, and is generally the most expensive, as should be in great condition. This is a great way to buy a jukebox, because little to no work will need to be done to get it working. However, it may be difficult to find specific jukeboxes if they are quite rare.
Good Condition
Jukeboxes in good condition will come with most of the original features, like steel plating, plastic trims, decals and buttons. These should all be working and ready to be used as soon as the jukebox is plugged in. These are generally the most popular machines because they work really well and are reasonably priced. Fully restored ones are generally sought out by collectors or enthusiasts, and are thus hard to find.
Unrestored Working Jukebox
Unrestored jukeboxes are very popular for the jukebox aficionados who like to restore the machines themselves, but want it to work before they pull it apart. Most of the time these machines are in real need of cosmetic work, and may need some investment of money and time to get them looking perfect. They are a great choice if one has the time to restore the device and is on a fairly low budget.
Unrestored 'As Found' Jukebox
These jukeboxes are normally bought an experienced restorer of jukeboxes, as there could be many things wrong with the machine, and also have bits missing. These machines will be in need of serious restoration and may require one or two new parts fitted. This is the riskiest way to acquire a jukebox, and could potentially prove very costly. Always be sure to ask the seller if there is any doubt in whether the jukebox one is considering to buy is in working order.
Replica Jukebox
If authenticity of a jukebox really doesn't bother you, and you want something that looks the part, replica jukeboxes could be a great option. There are lots of replicas out there and they generally have the appearance of the models from the 1940s with up to date technology inside. Some of the jukeboxes can play up to 200 songs on vinyl and over 2,000 on compact discs. You can't buy brand new vinyl machines, but it is easy to buy new CD jukeboxes that look as well as sound great, and that will work for years.
There are even quite a few jukeboxes available that enable you to play MP3 Audio with its internal hard drive. Just connect the jukebox to a computer or laptop via USB and drag and drop the songs on to the jukebox. This is a great idea for house parties or for just updating a playlist.
It is key that the item listing is read thoroughly in order to know exactly what item is being bought and what condition the item will be in on delivery. It is possible to ask the seller any questions about the working order and condition of a jukebox to help you make a decision on whether to buy or bid for the item.
Using eBay to buy a Used Jukebox
There is a massive range of used jukeboxes available on eBay. If you type 'used jukebox' into the search bar at the top of any eBay page, lots of different types of jukeboxes will be shown on the search page. These machines can then be bought in the one of these ways:
Bidding: Just like you would at a real auction; you can bid for products with a 'best offer'. It is possible to increase bids at any time during the auction, and the customer with the largest bid will be the owner of the item. Winning bidders sometimes will only have to pay 1 penny more than the second placed bidder, so you don't pay much more than is needed for that item.
Buy it Now': If you don't have the time to bid and have found the used jukebox that you want at an affordable price, use the 'Buy It Now' feature to instantly buy the item. With both of these methods of purchasing the used jukeboxes, be sure to factor in shipping costs as well.
All listings can also be narrowed down by using the advanced search page. These results can be sorted by 'All of these words', 'Any of these words', or 'Exact phrase'. Search in 'All Categories' to open up the search even further too.
When buying items on eBay it is very important to find as much information about the seller and the item as humanly possible. Customers need to feel secure about all online purchases of a used jukebox, so find out as much as you can, using the following criteria:
Have previous customers submitted good comments about this seller?
How good is the seller's feedback rating?
Has the seller completed a lot of transactions and did a lot of them generate a positive response.
Many eBay sellers operate just as a bricks and mortar store would do and have return policies for their customers. Do they have terms and conditions and are they easy to find?
Conclusion
There are a large number of jukeboxes available on eBay to suit all tastes. Make a decision on the make, model and type of jukebox you want when looking, and decide the condition that you would like the jukebox to be in. There are a lot of fully restored jukeboxes that are in fantastic condition, but they will be the priciest.
Alternatively, there are some great replicas or partially restored that will be on the lower end of the scale. Whatever jukebox is desired, there are hundreds to choose from in the Collectables section on eBay.