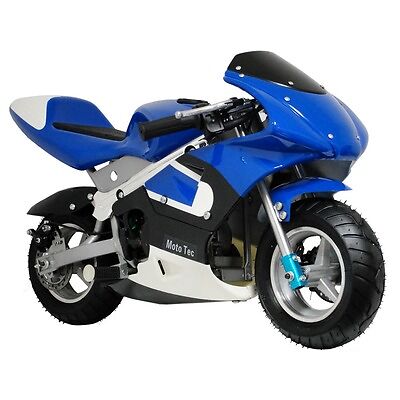 Pocket bikes have been motorcycle rider's answer to go-karts for many years now and they allow track racers to achieve high speeds on bikes that can often be made from scratch.
The models look strikingly similar to their larger brothers of the motorcycle world and in that sense are alike to scale models in the way they're modelled to such an intricate level.
eBay is home to hundreds of pocket bikes with the market for used ones burgeoning, and this gives buyers the chance to acquire a one of a kind bike that feels a lot more personal than a mass produced one.
The guide below will help buyers to identify and buy used pocket bikes safely and securely using eBay's auction platform.
What Is A Pocket Bike?
A pocket bike can be classified as:
Miniature ride-able versions of motorcycles are known as pocket bikes, or mini motos, and are used by enthusiasts to race each other round a go-kart track.
The first pocket bikes were known as pit-bikes because people working in pit-lanes designed them as an easier way to get around.
They were constructed using spare parts from normal motorcycles that were modified to fit on to the smaller bike.
Nowadays pocket bikes fall into a number of different categories and are ridden both on and off-road with hundreds of components available to modify each and every pocket bike on the market.
Types of Pocket Bike
The different types of pocket bike on the market have increased over time and every specification is now catered for. Below is a table that outlines each one with details as to how they can be identified:
Bike Type

Description

Pocket Bike or Mini Moto

Most common variation of the pocket bike is also sometimes referred to as a mini moto.
Height of the bike is normally lower than 20 inches (50cm).

Length generally anything up to 1 metre (3'3").

Pocket bike engines vary in size with the lowest 39cc and the highest 50cc.

Run on a two-stroke engine and it has a maximum horsepower of 4.5 to 6 hp.

Top speed the bike can reach is between 19mph and 40mph.
Some newer models have been appearing that have a four-strike engine or are powered by electricity.

Pit Bike

Used by motor-racing teams to get around the pit areas.

Design is very close to the original pit bikes that were the foundation of mini bikes.

Midi Moto

Very similar to a pocket bike except they are larger in size.

Height of the bike is higher and the seat is usually one or two foot higher than a pocket bike.

Engine is larger with most midi motos having an 110cc four-stroke engine.

Bike regularly reaches speeds between 55mph and 65mph.

Mini Dirt

Bike that is similar in construction to a pocket bike.

Difference is that it's specifically designed to handle off-road conditions.

Tyres will be off-road and the suspension may be stronger to deal better with the conditions.

Quad Bike

Another bike that is designed almost exclusively for off-road use.
Has four wheels and is very similar looking to the larger real world quad bike.

Mini Chopper

· Not a particularly common type of pocket bike.

· Has the characteristics of a chopper bicycle with an engine and speed similar to a pocket bike.
Buying Considerations for Used Pocket Bikes
In the wrong hands, a pocket bike can be a dangerous piece of kit and it means taking a number of things into consideration before going through with a purchase. The headings below look at the common considerations that must be made before buying a used pocket bike:
Condition
When buying a used pocket bike it's particularly crucial to know the exact condition of the pocket bike before it's bought. New bikes will be just that and no use should have occurred in the past. Used bikes can be classed as any number of different things, and the table below explains them in some more detail:
Condition

Details

Used

Item will have seen some usage in the past.

Ask the Seller how much use it has had and if possible how old the bike is, plus the number of owners.

Seller Refurbished

Item has been faulty and the seller has repaired or modified it.

Again, check how old the item is and the nature of the problem that needed repairing.

Manufacturer Refurbished

Bike has been sent back to the company that made it and subsequently been repaired.

Can sometimes be a bit more reliable than seller refurbished models.

For Parts or Not Working

Pocket bike is broken and in need of repair or is only suitable to be used for spare parts.
Legality
Anyone that buys a pocket bike must know that they cannot be legally driven on the road and riders face being fined if they do so. The reason they cannot be driven is that they don't conform to a European convention that governs what can and cannot be classed as a road vehicle. This being a law means they are only really raced on tracks.
Price
Pocket bikes can be incredibly affordable and when searching for them on eBay remember to research fully before making any concrete bid. Use Internet search engines to check the price of bikes when new or used to work out what is a fair price to pay for the particular bike in question.
Check Replacement Parts Can Be Sourced
One of the joys of pocket bikes is the amount of modifying that can be done and it marks them out as favourites with motor sport enthusiasts. Before buying a pocket bike make sure that spare engines, wheels, chains, filters and tyres are available for the bike being bought.
Wear Correct Safety Equipment
Pocket bikes spend most of their lives in and around some sort of track and relevant safety equipment must be worn when riding them. This means investing in a pair of protective overalls, appropriate footwear and, most importantly, a helmet that fits and protects the rider if there is an accident.
Tyres
A pocket bike can have a number of different types of tyre fitted and each will depend on the conditions on track on a given day. Most bikes will use racing tyres, or slicks, which perform best when the conditions are dry. In wet weather, wet tyres should be put on the bike to prevent any accidents happening and to give the bike grip. Off-road bikes only need one type of tyres, which are off-road specific.
How to Buy Used Pocket Bikes on eBay
Pocket bike riding is a worthwhile hobby for go-kart and motorcycle enthusiasts to both compete at an even playing field. The small size bikes are affordable and easy to store due to their size, with the speeds they reach giving riders the thrill they seek from motor sport.
eBay has thousands of varieties of pocket bikes for sale on their auction site with an extremely well-informed group of sellers on hand to help buyers through every step of the buying process:
To find used pocket bikes on eBay, first go to the Sporting Goods category and click to go on to the next page.
From the list of sub-categories that presents itself before you, scroll down the page until Scooters is reached, and click the link to be taken onto the next page.
On the left hand side there will be a long list of different options, and from the top list go to Pocket Bikes to be taken to the page with all eBay's pocket bike listings.
From here, it's as simple as clicking Pocket Bikes under the Type heading.
To see them sorted by Condition and specifically used, click Used underneath the Condition list on the left hand side.
Choosing from the options on the left hand side that include Price, Format, Item Location and others, can filter out the results even further.
If the buyer knows the exact item that is wanted, eBay's search feature may be an easier way to find it. To utilise it, just type search terms into the box at the top of any eBay page and use the drop down list to the right of the search box to alter what is searched for.
When completely happy with the item; either make a Bid, place your Best Offer or choose to Buy It Now. The auction type will dictate which ones of these are available to you.
Conclusion
Pocket bikes are a way for motorcycle riders to take on go-kart riders at their own game and use smaller versions of their own vehicles to race around a similar track. Mini-motos, as they are sometimes known, are very accessible for all types of motor-racing enthusiasts and eBay has a particularly large collection of the bikes for sale, used or new.
The site's experienced sellers are on hand to help buyers every step of the way and the guide above is an excellent companion to have when purchasing a pocket bike from eBay. Once happy with a purchase and ready to pay, remember to use PayPal to make sure that the transaction goes through as safely and securely as possible.