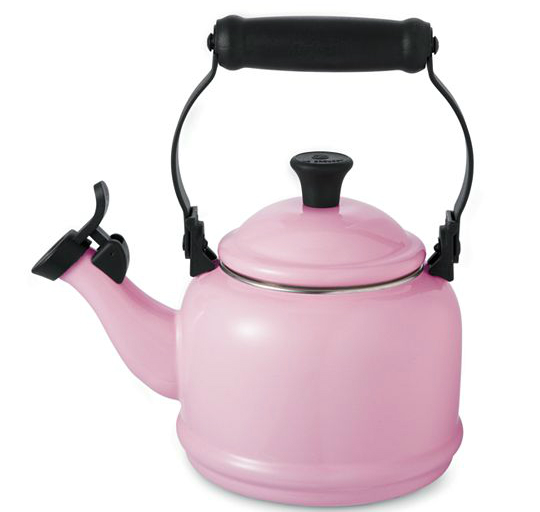 With so many types of kettle out there, it's easy to get confused about which type to buy. A lot of people now like the retro style, and what's more retro than a whistling kettle? A quick search on eBay will bring up a fantastic array of items – so which to choose?
Different Types of Whistling Kettle
Which kettle will work best will depend on own individual needs, preferences, and budget, not to mention the kitchen design and the other appliances owned. A kettle that sticks out too much from the surrounding kitchen design will not fit in. Below is a quick look at some of the types of whistling kettle available, and their features and advantages.
Stovetop Kettles
There are advantages to a stovetop whistling kettle, but they're not for everyone. A quick look at some of the features will help decide if a stovetop kettle is right. Some stovetop kettles are not suitable for electric hobs, so be careful when choosing the model. Some types of stovetop kettle are magnetic, so consider this for use with an induction hob as this will be much more energy efficient. Most kettles are suitable for all types of hob: electric, gas, or induction, but double-check before purchasing that the kettle is suitable for the stove in question. Another advantage to a stovetop kettle is that it is portable. This is particularly well suited toward individuals who like to get out in the wilderness in a tent or caravan. Rather than spend money on a dedicated camping kettle, simply bring the stovetop kettle from the kitchen. On a related note, power cuts in mid-winter can be made more bearable, as hot drinks can still be made without electricity - depending on the stove, of course. Lastly, a stovetop kettle has one major advantage over an electric kettle – there are no electronics to break, short-circuit or need replacing. If treated with care, a stovetop kettle can outlast an electric kettle by many years due to its sheer simplicity, making it an ideal household appliance.
Electric Kettles
Surprised that there's such a thing as an electric whistling kettle? With the retro style of kitchen very popular, many people love the old-fashioned feel of a whistling kettle, but would still prefer one that can be plugged in. Some manufacturers have picked up on this desire and acted accordingly, even offering particular designs of kettle in either stovetop or electric versions. This, too, has advantages. An electric kettle will generally boil quicker than a stovetop kettle, so a cup of tea is ready faster. This could be a particular advantage when boiling water for cooking or when, after getting up in the morning, not much time is left before having to leave home. Another advantage of the electric kettle is that the handles don't become too hot to touch, which is ideal for families with children who might be tempted to grab them. They are isolated from any heating elements and, unlike stovetop kettles, do not sit on top of a heat source. Many stovetop kettles must be picked up with an oven glove or a tea towel in order to avoid a burn, which is something that one can do without. Lastly, and probably most importantly, an electric kettle will switch itself off once it's boiled, meaning it will not boil dry or over-boil the water making the tea taste flat. This also means that the whistle is optional, since it is not necessary to manually remove the kettle from the heat. The only drawback of an electric whistling kettle is that they are not as widely available as traditional whistling kettles, and might be difficult to find at lower prices. If one can be found, it will offer the charm of an old-fashioned whistle as well as the practicality of an electric kettle.
A Note About Different Types of Whistle
Most whistling kettles have a whistle that is attached to the spout and flips up to pour the water. There are some types of kettle that have a removable whistle, like the Alessi bird kettle. While this is an elegant design, it can be difficult to remove the whistle to pour the water without receiving a nasty steam burn, unless an oven glove or tea towel is used. If concerned about hearing the whistle before making a purchase, as some are too quiet, and others too shrill, then it is wise to search for videos of whistling kettles in action. This will give some idea of the sound it makes, and will help avoid an expensive purchase that must be returned. Some whistling kettles now have a multi-tone whistle, but this might not be appropriate for certain needs. Do a bit of research before purchasing a kettle as this will prevent ending up with an ear-splitting whistle that cannot be beard, or a quiet one that cannot be heard from the living room.
Buying a Whistling Kettle on eBay
Firstly, there is a much wider range of all types of kettle available online, so there is far more choice available. Some brick-and-mortar shops don't carry particular colours, for example, or the particular design of kettle that is required. Most things are cheaper to buy online, and kitchenware and kettles in particular are no different. eBay is a great place to look for competitive prices, and if second hand is an option, then even better prices are available. Have a look at the vendor's return policy and make sure they will accept returns before any money is exchanged.
Finding a Whistling Kettle on eBay
One way to find a whistling kettle on eBay is to click on the Home & Garden category on the main site. Having done so, click the Kitchen frame and when a window appears, select the Small Appliances link. A selection of Small Appliances related categories will be given on the left hand side of the page. Here, select, under Features, the Whistling box. This will narrow down the results to whistling kettles. Further search options are available to narrow down the search even more, for example, brand name and whether or not the kettle should have a cord. Alternatively, use eBay's search bar by typing in 'whistling kettle', and and proceed from there. Decide which design offers the required features and narrow the search accordingly. As an example, search for 'traditional kettle'. Find the exact design required, and compare different listings - have a look at the price, seller's return policy and so on. Also, make sure all features required from the kettle are offered - for example, check to ensure that it is magnetic for use with induction hobs. Once a kettle has been selected, either place a bid or purchase outright if the seller offers this as an option. Make sure that the kettle is the right one, so as to spare any hassle later on.
When the New Kettle Arrives
Clean the kettle by boiling it and pouring the water away a couple of times before the first cup. This will make sure it is clean of any particles left over from the manufacturing process or any remnants from the previous owner, and ensures a good clean cup of tea.
Conclusion
No matter the style of kitchen, whether it be rustic or retro kitchen or a more modern one, a whistling kettle is a nice touch to add to the home. They come in all shapes and sizes, from expensive designer models to more basic budget versions, so there's something for everyone. Doing a bit of research online before committing to buy can help to avoid unwanted purchases that end up having to be returned. Keeping in mind all of these factors will ensure that only the most suitable kettle is purchased.