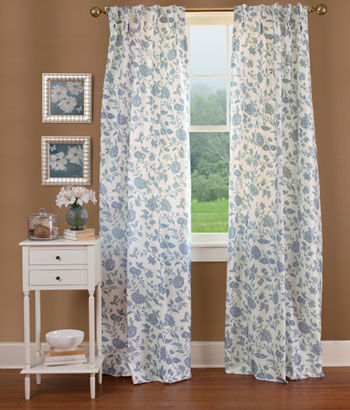 Curtains and draperies are ingenious ways to enhance a window area and add some personality to a room. There are numerous window treatment options that include curtains or revolve around curtains. Curtains are rather versatile in that they can be made from any fabric and in any style that suits individual preferences. Apart from decorative purposes, curtains are also used to provide a sense of privacy. With many houses and flats nearly back to back these days, curtains are an important addition to a spring cleaning shopping list or a mover's what-to-buy notes.
Curtains can be found in department stores, specialty shops, furniture shops, and even linen shops. In addition to offline vendors, there are many websites that sell them, including retail sites like eBay. When curtain shopping, the very first thing to do is make sure the curtains are the correct size for the windows. In order to successfully buy the most appropriate curtains in the correct size, the buyer must know how to measure windows for curtains, whether to buy custom or ready-made curtains, and what curtain styles are available.
Measuring for Curtains
Establishing measurements is the first step to acquiring the most ideal curtains in the correct size. There are many designs of windows and many styles of curtain installations, so measuring accurately is important if the buyer wants to successfully install curtains that are the correct length or have the look he or she is trying to attain.
Measuring Width
Buyers should not measure the window itself; instead, they should measure the curtain track or the curtain pole from end to end or else the curtain panels may not have enough material. The curtain poles or tracks extend past the actual window, which ensures that the curtains block light properly when closed and generously let in sunlight and fresh air when opened.
Some curtains are mounted on rails with centre overlaps. For curtains to be installed on this type of track, the entire rail has to be measured first. The overlap is then measured, and the two measurements are added together.
Measuring Length/Drop
Length is an important measurement for different kinds of windows, as there are a number of windows and walls that look better in certain lengths.
Sill Length
Curtain length can be one of several measurements, the first being level with the window sill or a couple of centimetres above it. This short length is recommended when the window has a deep sill or if there are obstructions below the window, such as a table or an appliance. Short curtains have a laid back look that is excellent for rooms that are intended to relax people.
Below Sill Length
The second length measurement falls from several centimetres below the sill to a height that is still well off the floor. These curtains can be used for windows above radiators as long as they fall to a centimetre or two above the radiator.
Floor Length
Floor length curtains refers to curtains that fall to a centimetre or two above the floor or longer. This length is a good choice for picture windows or bay windows, as the curtains help frame the scenery. Floor length curtains can be long enough to touch the floor or even longer to create a puddling effect under the window. The longer lengths are acceptable for rooms that are rarely disturbed but are probably not for rooms where pets or children prefer to play.
Cafe Curtains
Cafe curtains generally have two poles. The top pole holds the valance, and the second pole is positioned halfway down the window. Each pole holds a pair of curtain panels. Cafe curtains are a good choice for kitchen windows or windows where people want a modicum of privacy while not forfeiting adequate amounts of sunlight or fresh air. For cafe curtains, buyers should measure from the lower pole to the bottom of the window and then take the width in the manner mentioned above and multiply it by two. It is important to remember that there are two pairs of curtains and not one, as with ordinary windows.
Curtain Details
A curtain can be hung in at least a dozen different ways. There are many styles and fashions, many of which need a specific length of curtain or fabric in order to pull off a look that enhances both the room and the window.
Gather
A curtain without gather is basically just a piece of fabric stretched across a window. It has none of the pleated or ruffled effects that are generally seen at the top of most curtains. To achieve those effects, the width of the curtain fabric has to be wider than the track pole. The amount of gather depends on the shopper's preference, but, as a general rule, the width of the curtain should be twice the length of the curtain pole, or "two times gather".
Heading Styles
Curtain headings are the parts of curtains that attach to the poles. They come in several popular styles. Some of the more common styles are outlined in the following sections.
Pencil Pleats
Pencil pleated curtains are self explanatory. The top edge of the curtain is pleated tightly into thin, bunched fabric that looks like a row of pencils side by side. The pleats can be used to conceal the track. Because of the bunching of the fabric, larger widths of fabric are recommended. At a minimum, the fabric should be at least twice the length of the pole.
Eyelets
Curtains with eyelets are a chic, contemporary style where the top edge of the curtain has openings, or eyelets, for threading the curtain pole. The consistent concertina-style pleats formed by this arrangement are appealing for people who like a more ordered gather when the curtains are drawn. It also makes them an attractive choice for door curtains.
Tab Tops
Curtain headings with the tab top style consist of a number of evenly spaced loops of fabric, or tabs, that are attached to the tops of curtains to hold the curtain poles. They tend to look best with contemporary design decor, although their popularity has waned since the introduction of eyelet curtains.
Custom vs. Ready-Made Curtains
Ready-made curtains can be purchased in numerous places, from highstreet shops, like Next, to linen shops to online retailers. There are also shops that offer custom services to customers. Buyers can purchase ready-made curtains for immediate acquisition, or they can order custom curtains for a more personalised look.
Factors to Consider

Custom vs. Ready-Made

Price

Custom-made curtains are generally more expensive

Combining certain measurements, styles, and fabrics may reduce the price difference

Time Frame for Delivery

Ready-made curtains are immediately available when purchased in person and usually arrive very quickly when purchased online

Custom-made curtains generally take at least a week for delivery

Hand-sewn curtains may take a significant amount of time

Heading Styles

Most heading styles are available in ready-made options

May be difficult to find more than one heading style for a particular curtain design

Fabrics

More fabrics are available for custom-made curtains

Ready-made fabrics are typically adaptable to many window treatment layouts

Beneficial to choose custom designs in order to have curtains in a favourite fabric

Accessories

Custom-made curtains can include every potential accessory desired, including tiebacks, valances, and cushion covers

Ready-made curtains may only offer a limited number of matching accessories

Quality

Many ready-made curtains are mass produced and quality generally varies

Quality of custom-made curtains depends solely on the selections made by the buyer
When it comes to measuring for uniquely shaped windows, custom curtains become even more appealing, although it may be possible to use ready-made curtains if the shopper does not want to wait a couple of weeks for the curtains.
Finding Correct Size Curtains on eBay
Many online shops specialise in curtains and other window accessories, but large online retailers like eBay are among the better places to get an idea of the options that are available to you. Finding the curtain styles and sizes you want is easy on eBay. All you have to do is navigate to the eBay homepage, and the search bar is right at your fingertips. Simply type the keywords you want to look for into the search bar to be presented with options that could number in the thousands. Getting specific with your keywords, such as adding curtain styles, heading styles, colours, or lengths to your search, can give you more relevant results.
Remember to purchase your curtains from reputable sellers, and read the descriptions of the products carefully before you buy. Confirming shipping charges and couriers also helps ensure that the product you have acquired is exactly what you want for your home.
Conclusion
Buying curtains is not as easy as walking down to the shopping mall and buying the first package of blue curtains on the shelf. Window measurements have to be confirmed before looking for a good place to acquire what is needed. Correctly sized curtains look better and function better than ones that are too small or too wide or too long. A curtain measurement is not the size of the window. In fact, for most styles it should be twice that. Curtains are available in both custom and ready-made options, and a shopper can be sure to find what he or she is looking for with the variety of curtains and curtain sizes that are available.
Curtains can be made from an assortment of materials, from canvas to polyester to nylon fibre. They can be purchased from a diverse array of sources, including vintage shops and online sites. With a broad array of options available, websites like eBay make it possible to quickly and easily acquire unique curtains that fit different kinds of windows perfectly.