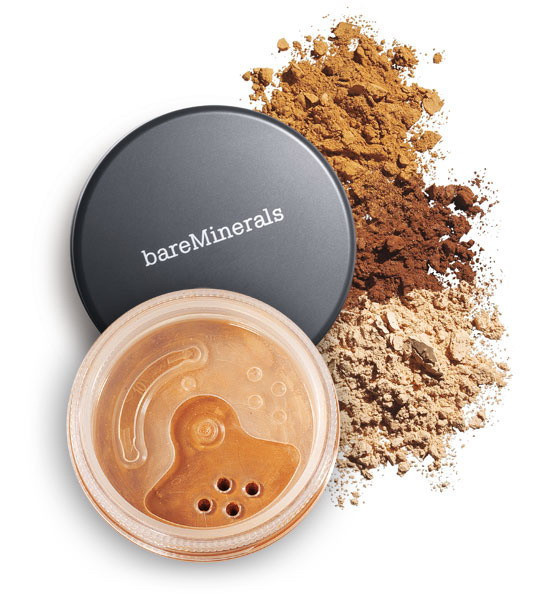 Mineral makeup has become very popular in recent years, and many women shopping for it have heard the brand bareMinerals. However, some people want a better understanding of what mineral makeup is and how it differs from other makeup. Shopping for the perfect bareMinerals shade, especially online, can be a challenge, so this guide is meant to aid consumers in selecting and purchasing the perfect color of bareMinerals foundation for them. With the right amount of research, shoppers are sure to find a shade of bareMinerals foundation that they'll love.

Mineral Makeup Benefits
While mineral makeup generally uses the same minerals as those found in conventional makeup, the difference is that mineral makeup has fewer preservatives and artificial ingredients. So users benefit by applying cosmetics that are not only more natural, but free from harsh fragrances that can cause irritation and breakouts.

What to Consider When Buying bareMinerals Foundation
Before purchasing any foundation, a woman needs to consider a number of factors, including her skin tone and color, the coverage she desires, how the product is applied, and any products that should be purchased with the foundation to achieve the best results. bareMinerals foundation is unique in that it allows the consumer many options she would not otherwise have with liquid foundation, and even with other brands of mineral foundation. bareMinerals has also positioned themselves in the marketplace as an expert in tone, creating foundations that fit everyone, regardless of skin tone.
Tone and Color
Choosing the correct tone and color of foundation is essential. Wearing makeup that is too light often comes across as comically pale, and a foundation that is too dark, leaves lines along the jawbone and appear as though the woman is wearing a mask. Liquid foundation is hard to blend, and incredibly hard to match at times, making it almost impossible to purchase online. However, bareMinerals makeup makes selecting the correct tone effortless. Most women find that they can wear up to three shades of bareMinerals cream foundation individually and all looks great. This is because mineral makeup has the wonderful qualities of being easily blended and of having more dimensions in tone than liquid makeup. The "Guide to bareMineral Foundation Colors" chart below lays out a comprehensive guide to bareMinerals shades.
Desired Coverage
The level of coverage a woman desires is unique to each individual. Liquid foundation ranges from barely there to stage-ready heavy, and while mineral makeup rarely ever feels heavy, it also allows for different coverage levels. With mineral makeup, however, the coverage depends more on the brush than the makeup itself. The following description of bareMinerals brushes aids consumers in purchasing the correct brush for the desired coverage.
Best bareMinerals Brushes to Use
There are several types of brushes for mineral foundation. The type of brush that a woman should choose correlates directly to how much coverage she wishes to have. Here are some helpful tips on which brush would be most appropriate.

Kabuki Brush - A kabuki brush is a short, flat, large surface brush that provides dense coverage. This is best for women who wish to cover blemishes, rosacea, sunspots, dark marks, and the like. Women who prefer all-over coverage should choose this type of brush to apply bareMinerals foundation.

Flawless Face Brush, Retractable Face Brush - This brush is similar to a blush brush and provides a good amount of coverage, but less coverage than a Kabuki brush. If a woman wants a good amount of coverage but doesn't have any major blemishes or imperfections to cover, this would be the appropriate brush choice.

Heavenly Face Brush - This brush provides extremely sheer coverage and is best for women who have almost no blemishes to cover up, or who wish to apply only a slight layer of foundation. Originally, the Heavenly Face Brush was not designed as a foundation applicator, but because is incredibly soft, it has become very popular with those who have sensitive skin.

Soft Focus Retractable Face Brush - This brush is basically a retractable version of the Heavenly Face Brush. It provided very sheer coverage and is not appropriate for those who desire heavier coverage.
Other Products to Use with bareMinerals Foundation
bareMinerals also makes products that could be used in collaboration with foundation. One of these products is Mineral Veil loose powder. While the Mineral Veil is not required, it is a highly recommended product even for everyday use. It provides a clean "finished" look and ensures that the makeup stays on your face over the course of the day. The original Mineral Veil is translucent and has no tone; it merely acts as a finishing touch on top of the foundation.

Tinted Mineral Veils are also available. For those with darker skin tones, tinted Mineral Veils appear much like the translucent Mineral Veil as no noticeable difference in tone exists. However, for those with lighter skin tones, the Tinted Mineral Veil offers a "just out of the sun" look. Mineral Veils are a great way to set the foundation. This product is recommended as an add-on to the regular foundation.
Guide to bareMinerals Foundation Colors
Picking the right color of foundation is essential, and as every woman knows, it can seem impossible to pick the right color when in the store, let alone online. One of the beautiful things about bareEscentuals line of mineral foundations is that the shades are very forgiving, and most women can wear up to three different shades. As previously mentioned, with mineral makeup the consumer has the option of mixing shades for the ideal look, so she even can pick out two colors if she feels she is between colors. Because bareMinerals does such a wonderful job of matching tone, shopping for foundation color is very user-friendly. The chart below should guide the consumer to the most appropriate bareMinerals foundation shade.
| Foundation Name | Best For This Kind Of Skin Tone | Description |
| --- | --- | --- |
| Fair 1.0 | Snow White | This color is best for the lightest skin tones, those who are very pale, or those who have skin usually described as "porcelain." |
| Fairly Light 1.2 | Fair Complexion | This color is good for those who aren't "snow white" in tone, but who have very light skin tone. Additionally, this color's golden undertone makes it perfect for concealing redness. |
| Light 2.0 | Light tone to medium tone | This color works well for light to medium skin tones, and also contains a golden undertone that can minimize the appearance of redness. |
| Medium Beige 2.3 | Light tone to medium tone | This color also has a golden undertone. Medium Beige 2.3 is a good choice for consumers who have a slightly beige complexion, with sandy undertones. |
| Medium 3.0 | Light tone to medium tone | This is also a medium color, however, it has pink undertones. This is perfect for people with light to medium skin tones. |
| Tan 4.53 | Deeper, golden skin tones | For consumers who want to even out or brighten up a "sallow" skin tone, Tan 4.53 is your choice. It has a deeper, sun-kissed tone to it and is also a good option for those who would normally be a Medium, but tend to tan during the summer months. |
| Warm Tan | Honey and amber skin tones | For consumers with a honey or amber tone to their skin and who prefer a neutral undertone, Warm Tan is the ideal solution. |
| Dark 5.0 | Medium and golden skin tones | Dark 5.0 is suitable for people with medium and golden skin tones. If you are naturally dark and tend to get darker in the summer months, this is an appropriate option. |
| Medium Tan 5.2 | Medium and golden skin tones | Medium Tan 5.2 has a golden undertone to it, but less of a golden undertone than Light. For consumers who normally wear Light or Medium Beige, this color is likely the best choice for summer, especially if fun in the sun in on the agenda. This color also works well as a mix-in to deepen other colors. |
| Deep 8.0 | Medium to dark skin tones | This tone is mostly used as a mix-in shade to deepen the shade of a customer's chosen foundation color. Many consumers use this shade as a summer mix-in to help blend in with suntans. It can also be used by itself. |
| Warm Deep | Caramel and brown skin tones | For those with caramel and warm brown skin tones, this makeup shade is a great choice. This also works as a mix-in to deepen other shades. |
| Deepest Deep | Rich, espresso-type skin tones | For those with deep, rich, espresso skin tones, this color option is the best. Again, this color works well as a mix-in to deepen other shades. |

For individuals who are concerned about picking the wrong tone, it is recommended to purchase one of the options in the middle of the chart, or one that best describes your overall complexion.
Finishing Touches
bareMinerals also has three types of foundations that are formulated to provide a fresh and finished look.

Natural Finish: The newest addition to the bareMinerals collection is the READY SPF 20 Foundation. The natural finish foundation is guaranteed to last up to 12 hours and it is sold in a compact-style container. This type of finish is perfect for consumers who wish to appear as though there is no makeup on their face at all. Women who seek an earthy, natural look appreciate this finish.

Naturally Luminous Finish: For women looking for a natural look with a little bit of an added glow, Naturally Luminous Finish is your choice. bareMineral's Original SPF 15 Foundation features the Naturally Luminous Finish. The foundation is guaranteed for up to 8 hours of wear.

Natural Matte Finish: For women who prefer a natural but "photo finish" appearance, the natural matte finish is the correct choice. The Matte SPF 15 foundation is sold in a jar-like container and is guaranteed for up to 8 hours of wear.
Conclusion
For many users, make-up is a crucial component of their sense of style and fashion. bareEssentuals offers truly effortless beauty through use of its bareMinerals collection of natural-looking foundation creams, loose powders, and other cosmetic essentials for all skin tones.

Knowledge is power, and when it comes to purchasing foundation that rule certainly holds true. By knowing the specific products, consumers can make smart decisions when shopping for foundation and are far more satisfied with the results than those who purchase blindly. Understanding the factors to consider and options that are available when choosing makeup leads the consumer to purchase the product that is best for her the first time around.