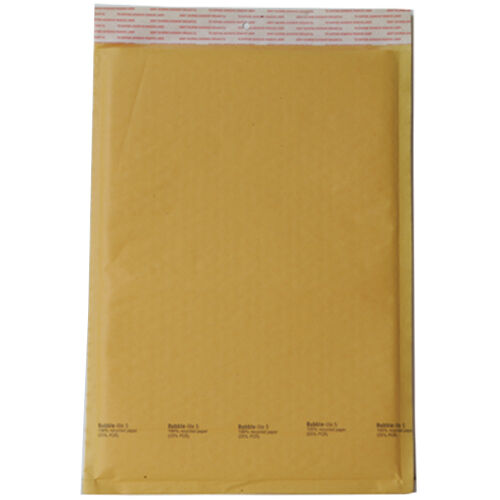 Using padded envelopes is a great way to send items through the mail that need to be protected from damage. Items like CDs, DVDs, brochures, and photographs are ideally posted using padded envelopes. Sturdy and secure, padded envelopes can be sent via a range of postage options.
Available from post shops, stationers, and office supply stores, consumers can find the right sized envelope to fit their parcel. Many consumers choose to purchase padded envelopes online, especially if they are buying in bulk. eBay offers consumers a wide selection of various padded envelopes of different sizes, quantities, and types.
To ensure consumers purchase the right padded envelopes to suit their specific needs, they may like to find out about the different types of envelopes available, consider whether they want to buy a single envelope or a large pack, and the standard postage categories for different sized and weighted envelopes. This knowledge helps consumers get great value for money.
Why Use Padded Envelopes
Many times, people want to post an item in the mail that requires a little more protection than a simple plain paper envelope. If the item is relatively flat, a padded envelope may be the ideal option. Available in a range of sizes, padded envelopes may have a paper or plastic covered outer layer and feature a bubble wrap layer on the inside of the envelope.
What Can Be Posted in Padded Envelopes
Padded envelopes are usually used for posting items like photographs, CD or DVD cases, promotional material, small books and brochures, and small gifts. Many consumers even choose to send important paper documents in padded envelopes, as they are less likely to get damaged from bending or from water. Deep, bulky items are not ideal for posting in a padded envelope. Neither are fragile or breakable items, such as glass, ceramic figurines, or porcelain. These fragile items should be sent in padded boxed packages.
Different Types of Padded Envelopes
Padded envelopes are available in various types, ranging in size, style, colour, and material used. These different types range in how much they cost, so buyers should carefully consider what type of padded envelope they require before making any final purchase.
Choose the Appropriate Sized Padded Envelope
The size envelope required depends on the size of the package being posted. When choosing an appropriate size, it pays to place the item in different sized envelopes to find out which size offers the best fit. The envelope should be large enough for the item to slip easily into, not too large that the item slips around inside the envelope or too small that the item has to be squished into the envelope. Padded envelopes come in a selection of standard sizes. The following table provides a list of these sizes and their corresponding measurements in millimetres.
| Internal Envelope Size (mm) | Suggested Use |
| --- | --- |
| | A7 size; ideal for posting jewellery and other small objects |
| 140 x 195 | Ideal for sending CDs |
| 170 x 245 | A5 size; ideal for posting DVDs |
| 205 x 245 | Useful for sending small gifts |
| 220 x 320 | Ideal for posting small items with some depth to them; desk diaries |
| 240 x 340 | A4 size; useful for sending A4 papers and brochures |
| 260 x 345 | Ideal for posting books |
| 290 x 445 | Use to post clothing |
| 345 x 445 | A3 size; for large books or brochures |
If consumers are unable to measure the item in the envelope to find the right size, they can always measure the width, length, and depth of the item being posted and calculate the best padded envelope size this way. Consumers should also go a size up rather than down to ensure a nice fit without the risk of ripping the envelope.
Choose the Style of Padded Envelope
Consumers can choose different styles of padded envelopes. These styles differ in how the envelope is sealed. Many consumers prefer the peel and seal envelope. This is the more common style available and simply requires the user to peel off a paper strip to reveal a self-adhesive sticking strip beneath. The envelope is then closed by folding the top tab down onto this sticking strip. This style is also known as self-sealing.
Another less common style of padded envelope used today is the gummed envelope closure. This style requires the user to dampen the gum, then press the closure tap onto the gum strip. Gummed envelopes are not as popular as peel and seal envelopes as they have a tendency for the seal to come apart, especially if the envelope has been sitting on the shelf for a while or in direct sunlight.
Choose a Padded Envelope Colour
The commonly used padded envelope colours used include white, brown, or yellow. The choice comes down to personal preference and price. White padded envelopes tend to be slightly more expensive than brown or yellow envelopes. Brown padded envelopes are often made from recycled paper. Yellow padded envelopes tend to be the least expensive colour to purchase and are used for everyday postage items.
Choose Paper or Plastic Padded Envelopes
The majority of padded envelopes come with a paper outer layer. This is reinforced to give extra protection to the contents inside. Some people prefer to post their items in plastic padded envelopes. These offer greater protection than paper envelopes as they are stronger, less likely to puncture or tear, and protect the contents from any water damage during transit.
Decide How Many Padded Envelopes Are Required
Padded envelopes can be quite expensive to purchase if one needs to send many different items. For consumers who need a large number of envelopes it can be a good idea to buy them in bulk. For home use, buyers may like to buy a pack of 11 to 25. Those looking to buy padded envelopes in bulk for the office may like to buy them in packs of 51 to 100, or even 200 plus. Naturally, the larger the quantity purchased at one time, the less expensive the envelope is likely to cost per item.
Posting the Padded Envelope Package
Once a consumer has identified the size and type of padded envelope to use, they then need to correctly label the front to the appropriate addressee. Some padded envelopes have a pre-printed address label already on the front of the envelope. A return address should be written on the back of the envelope somewhere.
The size and weight of the packed envelope determines how much the package costs to post. Consumers have the option of posting their package via a number of different methods. Small enveloped that fall within the category of letters may be sent by First Class or Second Class. Larger envelopes that fall within the parcel or package category may be sent via Standard Parcel rates, Express Parcel rates, or Recorded Delivery. Each postage method varies in price, time of expected delivery, and tracing of the item. The more expensive the method of postage the more secure the method. The following table provides a guide of average envelope size categories, with each category's corresponding measurements and weight.
| Type of Parcel | Max Length (mm) | Max Width (mm) | Max Thickness (mm) | Max Weight (g) |
| --- | --- | --- | --- | --- |
| | 240 | 165 | 5 | 100 |
| Large Letter | 353 | 250 | 25 | 750 |
| Packet | 610 | 460 | 460 | 1,000 |
Be sure to consider the most appropriate method of postage. Expensive or important items should be posted by special delivery, where they can be tracked or where the recipient needs to sign for it. If using stamps and posting without the help of a postal worker, consumers should be sure they have enough stamps to cover the full cost of postage.
Buying Padded Envelopes on eBay
To find envelopes for sale on eBay, simply type "padded envelopes" into the search bar on eBay's home page. Once here, you are presented with a long list of items for sale. To refine this search to one more specific to your needs, you can use the search category options available. These allow you to search for padded envelopes based on the quantity you want, envelope size, type, or style. You can even search for padded envelopes based on your particular price range. Alternatively, you can search for a specific type of padded envelope, such as 200 plus A4 padded envelopes or A3 peel and seal padded envelopes; you would just type the relevant keywords into the search bar.
To make eBay even more user-friendly, you can download eBay's Mobile applications. Available for iPhone, iPad, Android, Windows Phone, and Blackberry users, the eBay mobile application allows you to have instant access to your eBay account anytime, anywhere. Receive alerts, respond to messages, make a bit, and even pay for your item all from your mobile device. Applications are fast, simple, and free to download.
Conclusion
When an item needs more protection than what a simple paper envelope can provide, a padded envelope may be the ideal option. Inexpensive to purchase and relatively inexpensive to send, padded envelopes feature an inner bubble wrap layer that protects items from damage during the postage process. Consumers can choose from various sized envelopes with different styles of seals.
Padded envelopes are also available in a selection of colours, including white, brown, and yellow, and in both paper and plastic materials. Consumers who need to send just one or two items may prefer to purchase single envelopes. For those looking to send many items or are purchasing padded envelopes for their office supply may be better off purchasing envelopes in bulk.
Buying padded envelopes on eBay is simple and cost effective. With easy search methods, secure payment options, reputable sellers, and useful buying tools, consumers can take the time to search for the right type of envelopes to meet their needs and their budget.