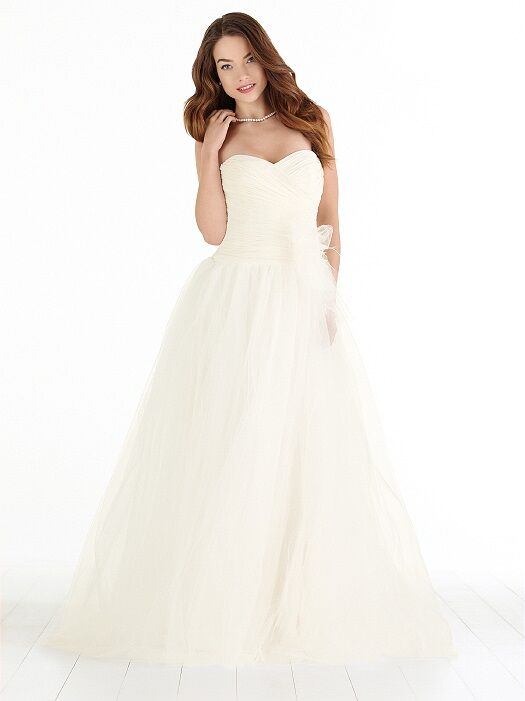 Preserving your wedding dress is a wonderful way to keep the memories of your special day alive. Keeping the gown looking as good as it did on the day that you wore it allows you to pass it on to future generations and create your own family heirloom. Many a bride simply hangs her dress on a hanger after her wedding day, thinking that her gown looks clean and will stay in good shape in her wardrobe. However, this is seldom the case. Delicate fabrics are prone to fading and discolouration and gowns can become mouldy if stored incorrectly. Dresses that are not cleaned properly before being stored are at risk of staining from perspiration, food, and oil marks that are invisible to the naked eye.
Several factors should be considered when preserving a wedding dress. The gown should be cleaned soon after being worn. While some specialist wedding dress cleaners offer a preservation service, this can be done at home with the right equipment and knowledge. Learn how to avoid fabric degradation and discolouration by storing your wedding dress properly. Storage materials are available from wedding dress cleaners, specialist stores, and online sources, such as eBay.
Why a Wedding Dress Should be Cleaned Before Storage
Spills and dirt can cause the fabric of your dress to discolour over time as a result of oxidisation. These marks are not always visible to the naked eye and include contamination from the natural oils in your skin, perspiration, white wine and other colourless drinks, and sugar. Some of these contaminants can cause the fabric to become brittle and tear, especially under the arms where the fabric was in contact with deodorant or perspiration. The longer cleaning is put off, the more time the contaminants have to cause damage and leave permanent marks. Have the dress cleaned as soon as possible after the wedding. If you do wait, try not to leave it longer than six months and, in the meantime, store the dress in an acid-free cotton garment bag to allow it to breathe.
Look for an Expert Wedding Dress Cleaner
While you can clean the dress yourself, dry cleaners who specialise in cleaning wedding dresses know how to treat the fabric to make it last. Normal dry cleaning chemicals are too harsh to use on delicate fabrics, but gentler petroleum-based cleaners can actually nourish certain fabrics. Some cleaners use a wet cleaning method that involves washing the gown by hand with a gentle cleanser. Point out obvious stains and identify them if you know what they are. Tell the cleaner which embellishments are sewn on and which are glued on as some chemicals may weaken the bond of the glue and cause the embellishments to fall off. Once the dress is clean, wear cotton gloves when handling it or be sure to wash your hands thoroughly before touching it. The oils on your fingers can transfer to the fabric of the dress, causing discolouration over time.
How to Store Your Wedding Dress
The storage method used when preserving a wedding dress is immensely important, as the dress must be protected from contaminants without damaging it. Common storage methods include keeping dresses in plastic garment bags or vacuum packing them, but the best method is to pack them away in acid-free boxes.
Storage Conditions Needed to Preserve Your Wedding Dress
To preserve fabric it is best to keep it in the dark, in an area where the temperature and humidity is more or less constant, it is neither too hot nor too cold, and the air is free from pollutants. Direct light causes fabric to fade, while temperature fluctuations affect the amount of moisture in the air and could speed up fabric deterioration. Pollutants, such as cigarette smoke or steam from the kitchen, not only infuse the dress with bad odours, but also put it at risk of discolouration from airborne dirt particles. In addition, the dress should not be folded in such a way that the fabric shows sharp creases.
Using Plastic Bags and Vacuum Packing to Store Your Wedding Dress
Experts warn against keeping wedding dresses in plastic garment bags as the bags give off fumes from the chemicals used to keep the plastic flexible. If the dress is placed in a plastic bag, fumes cannot dissipate and the fabric is exposed to concentrated levels of this chemical, accelerating the discolouration process. These bags also seal in moisture, putting the dress at risk of mould and mildew. Similarly, vacuum packing traps the fumes given off by the plastic shrouding the dress. Although vacuum packing is done to prevent oxidisation, having the dress cleaned thoroughly before storage should be adequate: the fabric should be allowed to breathe.
Using an Acid-Free Box to Store Your Wedding Dress
Store the dress in tissue paper or muslin cloth in a box in a wardrobe or under the bed. Avoid areas that become very hot or very cold, such as attics, basements, or outside storage rooms. The acid used in the manufacture of normal cardboard boxes damages fabric and these boxes should be avoided. Instead, choose a special archiving box or a wedding gown storage box that is acid-free or pH neutral (neither alkaline nor acidic in nature). These are readily available online and, while they tend to cost a little bit more than normal storage boxes, are designed to keep tissue paper and fabric away from damaging acids. Where tissue paper is used, make sure that it is also acid-free. If you decide on muslin cloth, choose undyed, untreated cloth and wash it without washing powder or fabric softener to remove all traces of contaminants. The box should not have a window as this lets light in that could damage the dress.
Using Insect Repellents When Storing Your Wedding Dress
Do not store the dress with mothballs or other insect repellent crystals. These give off chemical fumes and can come into contact with the fabric, causing discolouration.
Packing Your Wedding Dress
Your wedding dress can be protected with either tissue paper or muslin cloth. Place a cotton box liner in the bottom of a wedding dress storage box. Place the bottom of the dress in the box and add a layer of tissue paper. If there are big folds in the fabric, support these with balls of tissue paper to avoid the formation of permanent creases. Fold the dress over the tissue paper and add more paper to the next layer. Repeat the folding and tissue paper cycle until the dress is safely in the box. Stuff the sleeves and bodice with more tissue paper to help the dress to retain its shape. Close the box, but do not seal it, so that the fabric can breathe. Do not hesitate to take the dress out and admire it from time to time. However, handle it while wearing gloves or wash your hands thoroughly before touching it. Repack it carefully.
Packing Your Wedding Accessories
Some experts feel that shoes and accessories can be stored with the dress without fear of contamination, provided all items have been cleaned and properly wrapped. To be safe, have these items cleaned, but keep them in a separate box to avoid damage to your dress.
Finding Wedding Dress Preservation Accessories on eBay
Finding the accessories that you need to preserve your wedding dress on eBay is easy. Simply type a keyword or key phrase, such as "wedding dress storage box", in the search bar that can be found on every page. Choose the most appropriate category to narrow your search results. Use the advanced search function for more control over the search.
Before You Buy on eBay
Before you buy on eBay, learn all that you can about the item and the seller. eBay features simplify this process by displaying all the information that you need in one place. Click on an individual listing to see the item listing page. Here you will find information like the product description, the seller's accepted payment methods, bidding and buying options, and the seller's feedback information. If you have any questions about a listing, contact the seller by clicking on the "Ask a question" link.
The seller feedback feature lets you see what other eBay buyers have to say about a specific seller's products and customer service. Detailed seller ratings include information about the seller's communication, whether the postage and package costs were reasonable, how long the seller took to post the item, and whether the item description was accurate on the listing page.
Conclusion
Preserving your wedding dress allows you to keep a special reminder of your big day or to create your own family heirloom. To keep the dress looking as good as the day that you wore it, have it cleaned to remove visible or invisible stains that could cause discolouration through oxidisation. Obvious stains, such as mud or red wine, should be cleaned as soon as possible. It is best to have the dress cleaned shortly after wearing it, but you should not wait more than six months before having it attended to. You can find a cleaner who specialises in cleaning wedding gowns for preservation purposes for the best results.
Avoid keeping your wedding dress in a plastic cover for extended periods. Fabric is best preserved when stored in a dark space without large variations in temperature or humidity, and away from pollutants. Carefully fold the dress into a special dress storage box that is made from cardboard that is acid-free or pH neutral. Place tissue paper between each fold and under creases to keep the fabric in good condition, and remember to choose tissue paper that is also acid-free. Do not add mothballs or insect repellent crystals to the box as these may cause discolouration. Have accessories and shoes cleaned and store them in a separate box. eBay sellers offer a range of specialist gown preservation accessories and materials designed to help you to keep your wedding dress looking beautiful for years to come.