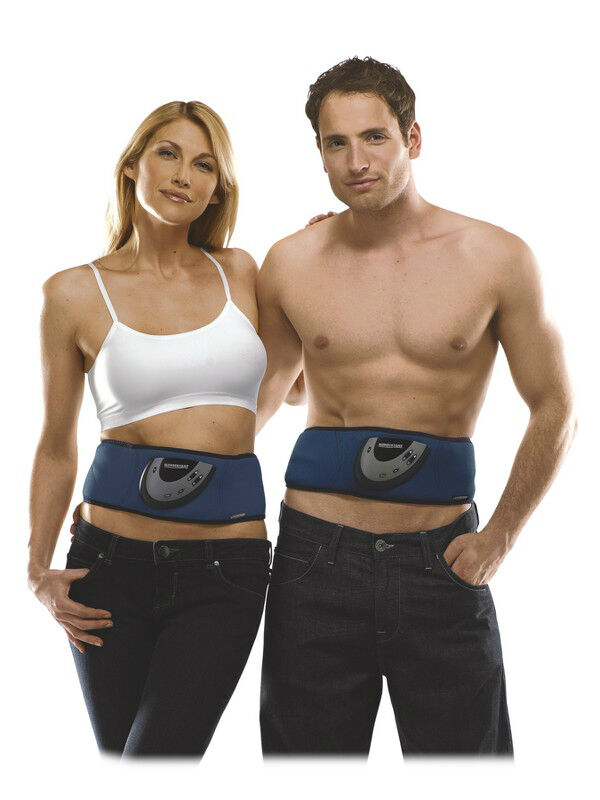 Muscle toning belts are brilliant for getting the most out of your exercise and healthy eating plans. They also help to obtain the much sought after washboards abdominals. Toning belts are great in conjunction with regular exercise and can be worn and used anywhere around the house, at work or walking to the shops.
They help tone, strengthen and develop power in the muscles by pulsing small shocks of electricity using small pads on the belt. There is a huge range of muscle toning belts available in the Exercise and Fitness category on eBay to browse, bid for and buy now.
What Is a Muscle Toning Belt?
Muscle toning belts are designed like a conventional belt and are intended to be wrapped around the stomach/abdomen area. They are designed to be in direct contact with the skin and can be tightened and loosened at the back for comfort and ease of use. They look very similar to the wrestling belts you see on TV, but are made with synthetic materials that are light and comfortable.
When using a muscle toning belt, the small pads inside the belt that are attached to the skin send electric impulses to the abdominal muscles and make them contract naturally. This is done repeatedly to help mimic a crunch workout, therefore helping to tone and form perfect looking abdominal muscles.
Most muscle toning belts will come with two or three electric pads placed around the stomach area. These pads will generally need to be replaced after around thirty uses as they can lose their efficiency and not work as well as when brand new. Every muscle toning belt is pre-programmed with different settings of intensity to help people of all fitness levels use the belt.
All muscle toning belts will come with controllers so the intensity can be increased or decreased according to the user's needs and preferences. Muscle toning belts are generally battery operated and can last for around four hours before they need to be replaced.
Now you know what a muscle toning belt is, it is important to know how they work, what they can do for your body and how they can maximise your results.
How Do Muscle Toning Belts Work?
Toning belts use Electronic Muscle Stimulation technology to create deep and strong contractions within the muscles of the abdominal area. The contraction of these muscles is designed to emulate our body's natural muscle movements during exercise.
Muscle toning belts come equipped with electric pads through which electric signals are passed. This engages the nerves that control the abdominal muscles and allows them to contract naturally. Electronic Muscle Stimulation technology has been used in physiotherapy for decades to help strengthen and rehabilitate people with weakened or injured muscles.
When exercising properly, it is difficult to target all of the muscles that are desired. Muscle toning belts are made in such a way as to target the difficult-to-reach muscles as well as the ones that are easily accessible.
The electric impulses sent to the muscles by the muscle toning belt stimulate the rectus abdominis in the abdominal region as well as the obliques on the side of the body which helps to shape the waist, and the muscles deep within the abdomen: the transversus abdominis. These muscles are responsible for stabilising the lower back and are extremely difficult to reach in an ordinary workout regime.
Muscle toning belts are a fantastic way to really tone the muscles around the abdomen and polish the hard work you have been putting in at the gym while also sticking to a healthy, balanced diet. It is easy to find a large range of muscle toning belts in the Exercise and Fitness section on eBay.
Safety and Effectiveness of a Muscle Toning Belt
Muscle toning belts are designed for use in the home and use Electronic Muscle Stimulation technology. This technology was invented and approved by skilled physiotherapists and doctors, and is now widely available to the public after being used in hospitals and rehabilitation centres for years.
Muscle toning belts have been medically proven to be effective and allow the user to get a fully toned stomach. However, they are not a one-size-fits-all quick fix. It is of the utmost importance that muscle toning belts are used in conjunction with regular exercise and a healthy diet. Using a muscle toning belt with exercise will help to achieve the sought after washboard abs look that so many people want.
Muscle toning belts should only be used for a maximum of thirty minutes a day and it is possible to see brilliant results in the space of one or two months. As with normal exercise, it is important to let the muscles rest so please give the abdominal muscles a couple of rest days every week in order to let them recover and relax.
It is important to change the electric pads after every thirty uses or so as they can lose their capacity to conduct electricity properly and thus would be less effective at making the muscles contract at the appropriate level. Take a look at muscle toning belts in the Sporting Goods section on eBay.
Benefits of Using a Muscle Toning Belt
Exercising and eating healthily is undoubtedly the most effective way to lose weight and tone muscles. However, working out can take a lot of time out of your day, and might not be flexible enough to fit in with your daily schedule. It can also be expensive if paying for the gym.
Muscle Toning Belts are great as they can help you to get the feeling of a workout whilst doing the following daily tasks in or around the home, and help you quickly to achieve that washboard stomach look:
Watching TV on the sofa.
Cooking in the kitchen.
Walking around the supermarket and doing a daily or weekly shop.
Working around the office and at your desk.
Muscle toning belts can be discreetly hidden under clothes to avoid any possible embarrassment. They are extremely compact and can literally be used anywhere.
Muscle Toning Belts are not just restricted to the stomach area. There are also muscle toning belts available for the arms and legs. The toning belts for arms usually target the triceps, can come in different styles and formats for men and women, and can work both of the arms at the same times. These belts are great for developing strength and power in the arms.
Muscle toning belts for the thighs can come in the form of cycling shorts and use exactly the same technology as the belts for the abdominal muscles. The shorts are made of stretchy, breathable fabric and come in a variety of sizes. They can really help to tone and strengthen the upper legs.
With all of these great variations of muscle toning belts, it should be easy to find the right one to help you get the body you want. Visit eBay and take a look at the belts that are available from brand such as Slendertone.
How to Buy a Muscle Toning Belt on eBay
There are hundreds of muscle toning belts available on eBay. To find the belts, click on 'All Categories' in the top left hand corner of any eBay page and select Sporting Goods. Within the Sporting Goods category, scroll down until you get to the sub category 'Exercise and Fitness'.
Once in this area, it is possible to search for 'muscle toning belts' in the search bar at the top of the page. The results that come up can then be filtered by type, condition, price and size.
There are two possible ways to buy on eBay, which are:
Buy It Now: To save time, find the muscle toning belt you want and buy it at a 'Buy It Now' price. Searches can be filtered by auction and 'Buy it Now' posts in the search results page on the left hand side of the page.
Bidding:Just like buying in an auction, bid for muscle toning belts with your best offer. It is easy to increase all offers at any time until the listing has finished. The bidder with the highest bid will then be the owner of the muscle toning belt after they have paid for the item.
It is a good idea, when one has found the toning belt for them, to purchase their item through PayPal, as the transaction will be done in a safe and secure manner. This is due it being covered by eBay's Buyer Protection Programme.
Conclusion
Muscle toning belts are a brilliant way to tone and strengthen muscles by doing very little in terms of physical exercise. There is a large range of muscle toning belts available for various parts of the body including the abdomen, arms and thighs and it is important to consider what part of the body you want toned.
Using the items correctly will help you to get toned and make your core strength and physique so much better. All of the items shown in this guide can be found in the Exercise and Fitness category on eBay.