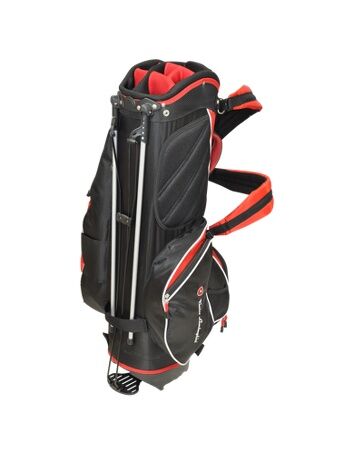 Choosing the right golf bag can be a time consuming process to find the right one, so it is important to take care of the bag around the golf course. Golf can be a battle against the elements as well as the course and it is extremely important to look after all equipment in the most adverse of conditions. With the weather being widely unpredictable it is vital to be prepared for rain and protect all the equipment including the golf bag.
There are a wide variety of ways to look after a golf bag, from specific accessories to everyday items that are around the house. This guide will show the best ways to protect a golf bag against the elements. A huge range of golf bags and protective equipment can be found in the Sporting Goods category on eBay.
Types of Golf Bag
There are a few types of golf bags variations that are available for varying levels and size of golfers. eBay has a great range golf bags in all the different types below:
Carry Bag
The most common type of golf bag, carry bags are simple golf bags and can be very light and easy to carry. They can come with a double or single strap for easy carrying. Carry bags are well priced and are good value for money. They are made with water resistant material, and are the most basic type of golf bag.
Pencil Bag
Pencil bags are very light and thin golf bags and are perfect for golfers of a smaller frame or for a quick 9 holes. They hold a full set of clubs and are usually made of very thin and lightweight material. These bags aren't particularly good for holding up well in bad weather conditions as they are made of very thin materials that don't offer a large range of protection.
Stand Bag
Stand bags are pretty much the same as carry bags but have a built in stand attached so clubs don't have to put on the floor before every shot. These are perfect for keeping the bag clean, as the bag is always upright and not on the potentially muddy course. Stand bags will come with a pedal at the bottom of the bag that allows the two prongs to spring out when pressure is applied to the bottom of the bag.
Cart Bag
Cart bags are designed to be carried on a golf cart meaning they are very heavy and are made of materials that aren't designed to be used in adverse rain conditions as they are generally under cover on a buggy.
Tour Bag
Tour Bags are very large bags that are used by tour professionals and can be very heavy. These provide big spacious pockets and are good for keeping accessories and waterproofs in.
All of these golf bags will have some sort of weather protective material on them, but there is a range of accessories to help protect the bag further against the elements. Lots of these golf bag protection accessories can be found in the Sporting Goods category on eBay.
Ways of Protecting Your Bag
Protecting the golf bag during a rain affected round of golf can be quite difficult when constantly having to leave the bag in the bad weather. Luckily, there are a few ways of protecting the golf bag, and a range of these accessories is available in the eBay store.
Golf Umbrella
Umbrellas are a perfect way to cover your bag and clubs around the course in adverse weather. Many golf bags will come with a special umbrella holder, or they can be found on eBay. However, if you don't have this luxury, the umbrella can still be put into the bag covering it when it rains heavily meaning the golf clubs and golf bag will not get wet when taking a shot.
Golf Towels
A golf towel should be an ever present in any golf bag during all weather conditions. Towels are great for wiping down wet clubs and wiping rain and mud off of the golf bag. Golf towels are easy to store as they don't take up too much space and come in all shapes and sizes to suit your needs. Many come with a clip attached so the towel can easily be clipped to the outside of the bag.
Golf Bag Rain Cover
Golf bag rain covers are fantastic at keeping the rain away from the bag and clubs. These water resistant products fit over the whole golf bag and are designed to replace the existing golf bag hood and give great protection to the golf bag. These bags are generally a clear material, self-fastening and highly water resistant. Lots of golf bag rain covers can be found on eBay.
Golf Bag Hood
Golf bag hoods are designed to attach to the top of the golf bag and provide water resistance to the clubs and top of the bag. These are good for these purposes, but may not be adequate to protect the whole bag. These come as standard with most bags, because you can buy golf bag hood on eBay.
Wet Wipes
Wet wipes are a small but very useful item to have in the golf bag. They are perfect for wiping away grass and mud stains from a bag, as well as drying small areas of dampness. These are relatively cheap, and easy to store in the golf bag pockets.
These are some great ways to protect the golf bag and these items can be found on eBay.
Below is a comprehensive list of all of the golf bag brands available on eBay:
| | | | |
| --- | --- | --- | --- |
| Acuity | Fila | Nicklaus | Skymax |
| Adams | Footjoy | Nike | Slazenger |
| Aldila | Founders Club | Northwestern | Snake Eyes |
| Alien | Fusion | Oakley | Srixon |
| Asbri Golf | Golden Bear | Odyssey | St. Andrews |
| Bay Hill | Golf Confidence | Ogio | Sun Mountain |
| Ben Hogan | Hippo | Orlimar | Taylor Made |
| Bennington | Honma | Palmer | Texan |
| Benross | Icon | Penn | Titleist |
| Ben Sayers | Izzo | PGA | Tommy Armour |
| Bridgestone Precept | Jaxx | Ping | Top Flite |
| Callaway | John Letters | PowaKaddy | Tour Edge |
How to Buy Golf Bags and Golf Bag Protection On eBay
There is a massive range of Golf bag and golf bag protection accessories available on eBay. Type in 'golf bag protector' into the search bar at the top of any eBay page and a large selection of golf bag accessories will come up on the search page. It is then easy to buy these items in the following ways:
Bidding- just like buying at a real life auction, you can bid for items with your best offer. It is possible to increase offers at any time until the listing has finished. The customer with the highest bid will then be the winner of the auction and will thus need to pay for the item.
'Buy it Now'- to save a lot of time, find the perfect golf bag or golf bag accessory and buy it at a set price. Searches can be filtered by 'Buy It Now' as well as auction items.
Using the advanced search page can narrow all listings down. Results can be narrowed down by 'All of these words', 'Any of these words' or 'Exact phrase'. It is possible to make a search by using 'All Categories' to open up a search. If it is proving difficult to find the product you are searching for, take a look on the eBay stores or create a 'Want It Now' post to tell all sellers on eBay what product you really want. It is also very easy to save a search and then an email will be sent as soon as a relevant listing becomes available on eBay.
When buying golf bags and golf bag accessories on eBay, make sure to research the seller and find out all of the information of the item that is being bought before actually buying the product. eBay and PayPal protect customers and you can find details of their guarantees here. A few key points to find out about the seller are:
Does the seller have a good feedback rating?
Have previous customers submitted positive comments about this sellers overall service?
Has the seller completed lot of transactions?
Many eBay sellers work in a similar way to the way a bricks and mortar store does and have return policies for all customers. Can you find terms and conditions?
Conclusion
Protecting your golf bag is important to make sure it lasts and can be used for many years. Simple accessories such as golf towels, golf umbrellas and golf bag covers are a great way for protecting and improving the longevity of a golf bag so it can be used for a number of years. When buying golf bag protection and accessories, be sure to look at the specifications of the item to make sure that it is suitable for the bag in question, so you won't need to return it. All sorts of designs and types of golf bag protecting accessories can be found in the Sporting Good section on eBay.