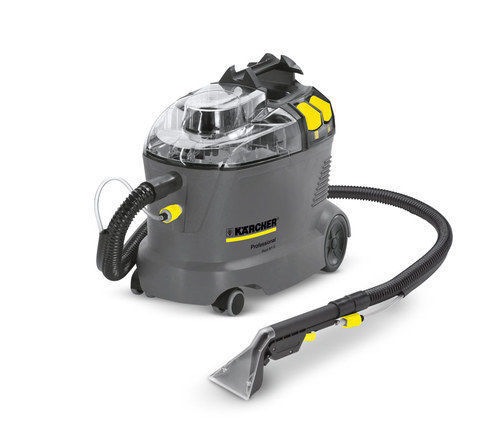 Red wine, ground-in dirt, gooey food crumbs, ink stains, all of these can spell ruin for household or office carpets. Thankfully, there is Kärcher to the rescue. Since the 1930s, Kärcher has led the industry in carpet cleaners that use industrial submersible heating elements. Today, these immersion heaters continue to set the brand apart from its competitors, making it a go-to name when carpet cleaning is the game. With four heavy-duty carpet cleaner models from which to choose from including the BRC 30/15 C, BRC 45/45 C, BRC 50/70 W Bp, and BRS 43/500 C with FM 768, users are sure to find the one just right for their cleaning spaces. Following a quick overview of how to use Kärcher carpet cleaners,, buyers can visit eBay to find everything they need, from the cleaning units to supplies and replacement parts.
Why to Choose a Kärcher Carpet Cleaner
When it comes to cleaning products, Kärcher is at the top of everyone's list. The brand has a decades-long history of putting quality cleaning machines in the hands and budgets of home and business owners, with well-earned rave reviews as a result. The initial investment soon pays for itself, as the cost of regular professional carpet cleaning adds up quickly. Also worth noting is the positive impact Kärcher cleaners have on the environment. With no harsh chemicals entering either carpet or waterway, Kärcher makes the world a slightly better place. In addition, with a Kärcher on staff, offices, restaurants, and hotels can have cleaner carpets on whatever schedule suits them best.
How to Choose a Kärcher Carpet Cleaner
Next to the brand's outstanding reputation and quality, Kärcher offers a range of carpet cleaners,, ready to tackle messes small, large, and super-sized. Kärcher's three commercial offerings are the BRC 30/15 C, BRC 45/45 C, and BRC 50/70 W Bp. On the low end, the more compact size of the upright BRS 43/500 C with RM 768 is perfect for home cleaning. The appliance delivers the same exceptional quality of larger Kärcher cleaners. Each of the four models utilises encapsulation technology, which delivers a thorough cleaning coupled with a fast dry: Carpets are ready for traffic in as soon as 20 minutes. The BRS 43/500 C unit has both forward and backward operation, making it easy to manoeuvre.
How to Use a Kärcher Carpet Cleaner
Before putting a Kärcher carpet cleaner into use, first make sure all parts are clean and dry. Next, mix the Kärcher cleaning detergent with water according to package instructions or, if using the brand's liquid universal cleane detergent ,, add to water as indicated. Check the water level in the Kärcher carpet cleaner, adjusting if necessary. It is also important to remove the dirty water reservoir and ensure the intake filter is clean and in place. Then replace the reservoir and turn to the wand and head attachments. Performance area, spray pressure, water tank size, brush working width, and unit weights all vary based on the model.
| | | | | |
| --- | --- | --- | --- | --- |
| | BRC 50/70 W Bp | BRC 45/45 C | BRC 30/15 C | BRS 43/500 C |
| Performance area | 300 m2/h | 150 m2/h | 350-1000 m2/h | 450-1250 m2/h |
| Spray pressure – deep cleaning | – | 3.5 l/min. | 7 l/min. | 7 l/min. |
| Water tank size | 7.5 l | 15/17 l | 45/38 l | 74/66 l |
| Brush width | 430 mm | 270 mm | 410 mm | 508 mm |
| Unit weight | 25 kg | 36 kg | 48 kg | 295 kg |
Kärcher carpet cleaners may have two or more brush heads: standard sizes for normal use, and smaller sizes for spot or upholstery cleaning. Attach whichever head suits the project at hand and ensure the wand and hose are securely fastened. Kärcher carpet cleaners have an easy-grip handle, which adjusts to the appropriate height level. Use a small hex wrench to position the handle as needed, and then tighten to secure its position. For a standard shampoo, place the cleaner head flat against the carpeting, much as a vacuum would sit; turn on the machine and apply firm, even, level strokes forward and backward. This releases water and shampoo into the carpet.. Next, the Kärcher carpet cleaner's counter-rotating brushes massage detergent deep into the fibres to capture all traces of dirt and stain. After 20 minutes, use the carpet cleaner to vacuum the carpet, removing all dirt and water from the nap; empty the intake reservoir as needed. It is best to work in manageable sections to ensure universal coverage. To change out cleaner heads, simply engage the quick-release button on the side of the wand.
How to Buy a Kärcher Carpet Cleaner
Buying a Kärcher carpet cleaner says that you are serious about keeping your carpets spotless; buying one on eBay says you are smart about money, too. On eBay, you can find not only Kärcher carpet cleaners, but also official parts and accessories, including liquid universal cleaner detergent and detergent powder, nozzles and hand tools, and replacement motors. The site lets you narrow your search for carpet cleaners by the categories, or perform a broad keyword search and review thousands of results on a single page. eBay makes it easy for browsers, as you can add products to a watch list or basket; that way, you can finish traipsing the electronic aisles, and then compare your findings side by side.