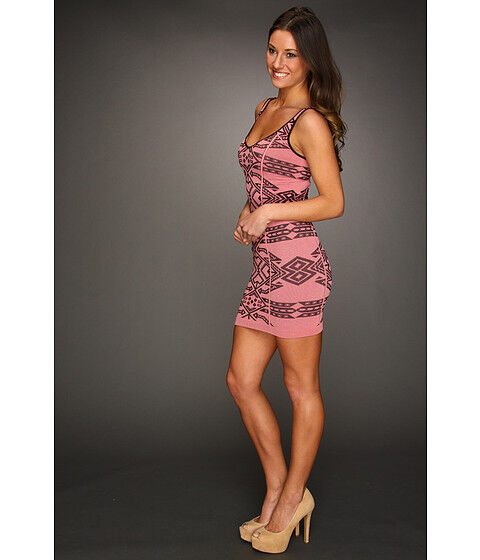 Wearing a bodycon dress is a bold statement of self-esteem and body confidence. The name of the dress comes from a contraction of the phrase body conscious. Made from lycra composites, this dress clings tightly to the body, showcasing the figure, and leaving little to the imagination. Bodycon dresses must be accessorised correctly to avoid an unmitigated disaster. That means, choosing the right shoes or boots, tights, belt, jacket, and jewellery. The tight fitting nature of the dress means that it is even more important than usual to wear the right underwear. Bodycon dresses can be accessorised for both day and evening wear.
For women who need some extra body confidence before donning a bodycon dress, shapewear is available to reduce cellulite and slightly reduce the body size. As the dress is extremely close fitting, avoiding visible panty lines is crucial. Bodycon dresses and accessories can be found at designer shops, high street clothing shops, and department stores. eBay also has a huge range of bodycon dresses, as well as every imaginable accessory, to allow buyers to create the look that they want.
What is a Bodycon Dress?
A bodycon dress is a one-piece figure hugging garment that clings tightly to the body from the bust to the lower hem. It typically has three lengths: upper thigh, mid thigh or knee. Bodycon dresses are usually made of a lycra and polyester blend, to give them enough elasticity to hug the figure smoothly. These tight fitting dresses are popular as evening wear, but are increasingly worn as day wear when correctly and creatively accessorised. Bodycon dresses have evolved from a simple style and now can appear in various guises. Some bodycon dresses are strapless, while others have wide straps or sleeves. The neckline is typically low, showing a considerable amount of cleavage. Many bodycon dresses have cut away sections and peepholes running down the sides of the dresses, and others are backless.
Who Should Wear a Bodycon Dress?
Bodycon dresses cling to every curve and bump of the body, so it takes a confident woman to successfully carry the look off. The form-fitting nature of the dress emphasises the silhouette and lends itself most successfully to slim and curvaceous women.
Hourglass Figure
The hourglass shaped woman has equally generously proportioned hips and chest, and a well defined waist. These luscious curves work well with a bodycon dress and the dress can be tremendously flattering.
Pear Shaped Figure
Pear shaped women have small chests, but broad hips. This figure is generally not suited to bodycon dresses. The clinging material emphasises the hips, and makes the body look unbalanced or ill-proportioned.
Apple Shaped Figure
Apple shaped women have broad stomachs, broad hips, and no waist definition. On this figure, a bodycon dress gives the appearance of roundness and lack of shape in the body.
Inverted Triangle Figure
Women with inverted triangle, or heart shaped figures have a large bust, narrow hips, and no waist definition. This figure is not suited to bodycon dresses as it emphasises the triangular shape of the silhouette and gives the illusion of an extra broad upper body.
Accessories for Bodycon Dresses
Correctly accessorising a bodycon dress is the key to a successful outfit. Traditionally, bodycon dresses are worn as evening wear, with elegant or glamorous accessories. It is becoming increasingly popular to combine shorter bodycon dresses with other garments or accessories to create a suitable everyday outfit, without the wearer looking out of place. Buyers should choose their accessories carefully to create a daring, but stunning look.
Shoes and Boots for Bodycon Dresses
High heeled shoes and boots, with a stiletto heel are very popular when paired with a bodycon dress, especially for evening wear. Thigh high boots are daring, and can create a sexy, sensual look. Add a stiletto heel to these boots and the bodycon dress tells every observer that the wearer is a confident woman: very comfortable in her own skin. Flat shoes of a matching colour or theme to the dress are a good choice when dressing down a bodycon dress for daywear. Sandals are also an option in warmer weather.
Tights for Bodycon Dresses
In cooler weather, thick tights worn under a bodycon dress help to keep the wearer warm. They can also be used to add colour to a plain outfit. Brightly coloured tights look great, coupled with a dark coloured bodycon dress. If colour and texture are unwanted for an otherwise plain outfit, patterned tights can break up a large block colour. If the wearer is not dressing for warmth, then thin, sheer tights are more appropriate for the evening, especially if the tights have a lustrous sheen. When choosing tights make sure that they have a thin waistband that will not create an line when worn under the bodycon dress.
Belts for Bodycon Dresses
Belts are very useful accessories to wear with a bodycon dress, especially to break up the monotony of a block coloured dress. The belt should be chosen to either contrast with or match the colour of the dress. Either a wide or narrow belt can be worn. Narrow belts emphasise the definition of the waist and create the illusion of greater curves. If the bodycon dress is to be worn as day wear, a large, loose chunky belt can be worn to create an air of informality and make the dress less eye-catching.
Jackets and Cardigans for Bodycon Dresses
Jackets and cardigans can be worn to accessorise a bodycon dress for a variety of settings. A bolero jacket works well for both casual and formal outfits. As the bottom of the jacket falls above the hips, it emphasises the waist definition and highlights the bust. For formal evening wear, a light, cashmere cardigan, or shawl can be worn across the shoulders. If the bodycon dress is being worn for casual daywear, a long knitted cardigan, the length of the dress can be worn, especially in autumn and winter. This allows the front of the dress to be seen, while creating a simple, less risque look.
Jewellery for Bodycon Dresses
Jewellery can be a useful accessory for a bodycon dress, but is also good to be aware of when to go without jewellery, in the case of a dress that is stunning by itself. Many bodycon dresses have low cut, plunging necklines, or leave the shoulders bare, so a large, long necklace, made from beads, or a chain with a large metalwork pendant is a good choice, especially for a block coloured dress. It creates a focal point within the outfit. For women wearing dresses with bare shoulders and swept back hair, long, dangly earrings with a splash of glitter or delicate, sparkling studs, help to draw the eye upward. For day wear, beaded necklaces, either in simple materials, like wood, or in vibrant colours, can reduce the amount of bare skin showing at the top of dress.
Underwear for Bodycon Dresses
Wearing the right underwear is crucial when wearing a bodycon dress. Visible panty lines are disastrous, as they draw attention away from the smooth lines of the dress and can making the wearer, and observers, feel uncomfortable.
Knickers for Bodycon Dresses
Some women find thong knickers are an excellent solution. They offer good frontal coverage, while the thin waistband sits high on the hips. The back of the knickers becomes a thin string, which sits between the buttocks. This means that there are no visible panty lines.
Bras for Bodycon Dresses
The right bra is another vital choice when considering underwear for a bodycon dress. Backless dresses require a backless bra and strapless dresses require a strapless one. For bodycon dresses with a very low cut or revealing neckline, a supportive bra that offers intense shaping is often favoured to present the cleavage well. A push up bra, such as a Wonderbra is popular choice with bodycon dresses. The bra lifts the breasts and creates enhanced cleavage. When pairing a bra with a bodycon dress, try to find a seamless bra to avoid any unsightly lines under the dress.
Shapewear for Bodycon Dresses
In order to have the confidence to wear a bodycon dress, some women need a little bit of extra help. This help comes in the form of body shaping underwear, or shapewear. Shapewear helps to slim the parts of the body that it covers, and can be used to hide cellulite. Full body shapers fit from the bust to the thighs. Waist cinchers are available which flatten the stomach, and give additional definition to the waist. Thigh and stomach shapers slim the thighs, buttocks, and stomach, without creating visible panty lines. Control knickers shape the stomach and buttocks to create a flatter tummy and a perkier bottom.
Size Chart for Bodycon Dresses
The chart below shows both standard UK dress sizes and dual sizes. Dual sizes are favoured for some clothing lines, but can be confusing to women who typically use the standard sizes.
| UK Size | Dual Size |
| --- | --- |
| 4 | X Small |
| 6 | X Small/Small |
| 8 | Small |
| 10 | Medium |
| 12 | Medium |
| 14 | Large |
| 16 | Large/X Large |
| 18 | X Large/XX Large |
| 20 | XX Large |
The chart above allows women to buy the correct size dress in either a standard UK size, or dual size. Notice how dual sizes can correspond to multiple standard sizes. For example a large could be a size 14 or a size 16. If possible, both sizes should be tried on to choose the best fit. If this is not possible, then the buyer should measure her bust, waist and hips and compare these to the measurements of the dress.
Buying a Bodycon Dress on eBay
eBay has a range of both new and used bodycon dresses available for purchase. These dresses can be found by searching from the eBay homepage. Buyers are then able to narrow down the results by choosing the appropriate category. If a buyer knows the colour and size of bodycon dress that they want, then they can use the filters to narrow the options further.
Before buying a bodycon dress on eBay, shoppers should check the feedback for the seller. Feedback is a great way of determining whether the transaction will be smooth and straightforward. Feedback is left for a seller once transaction have been completed by other buyers. The buyer can look at previous feedback and decide whether the seller is reputable. Buyers should also check the refund policy of the seller before making a purchase. Most sellers allow refunds, as long as the item is returned in the same condition that it was sent, but the details for a given seller must be checked. The buyer may be responsible for postage when returning an item. If any of this information is not available on the item description page, then contact the seller using the "Ask a question" link.
Conclusion
Bodycon dresses are not for the feint of heart: they are worn by body confident women. Those with hourglass figures are best suited to this style of tight, figure-hugging dress. Once the right fit has been determined, how a woman wears a bodycon dress is largely about getting her accessories right. Although bodycon dresses were originally seen only as evening wear, they can be skillfully accessorised for casual daywear. Understanding the key accessories that should be worn with a bodycon dress, including shoes or boots, tights, belts, jackets, cardigans, and jewellery helps a woman to create a look that enhances the dress rather than distract from it. Importantly, the underwear chosen must not create visible lines, so thongs, and backless or strapless bras are a useful items to have in the underwear drawer. If further help is needed, shapewear can be used to boost body confidence. Bodycon dresses and all the necessary accessories can be found on eBay.