The majority of the New shipping containers are built in China. This is due to the low cost of Chinese labour rates and materials costs.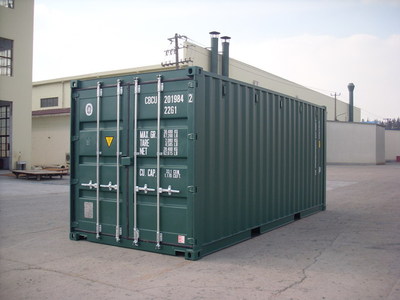 Billie Box
containers are built for shipping purposes. This means that they will be clean, dry, watertight and secure. We bring in these containers with one cargo into the UK from China, this can take anything up 3 months from production time to arrival in the UK.
Shipping containers are fitted with a CSC plate (passport for a container), this ensures they are 'Cargoworthy' and are suitable for a shipment. The Maximum gross weight of a 20ft container is 30T with a tare weight of 2.2T and a 40ft container is 32T with a tare weight of 3.7T. This means the cargo can weigh up to 27.8T in a 20ft and 28.3T for a 40ft. Of course this cargo must be evenly distributed to ensure the container build can cope.
The shipping lines and leasing companies use new shipping containers for shipping for around 10-15 years and then they sell them off as a used (second hand) shipping container for one more shipment or for static storage.
In the factory we ask to have a lock box or cowls fitted to the double doors for extra security. With the lock box you will need a padlock that fits inside. The Shipping lines or Leasing companies don't actually need this, as they fit seals to the double doors to avoiding someone tampering with the cargo.
Self-storage companies particularly like the new (once used) containers as their customers prefer the cleanliness and the look of them.
With all of the above taken into account,
New does not mean New
, we also refer to them as 'Once used' or a 'One way shipper'.
So what you need to look out for is a New,once used or one way shipper container:
The new shipping containers are transported from China, and handled by loaders and unloaders, docks/ports, ships, trains and roads before they reach your site.
So here is what you should look out for on a new shipping container:
1. There will/may be some minor dents and minor scratches.
2. There will/may be some floor markings.
3. They should be structurally sound, watertight and look tidy
4. Check the transport costs
5. Ask for accessory costs
We ensure our depots check the containers prior to leaving our yard, to ensure we meet our customers requirements.
Please note that whenever you see a new container for sale on Ebay, then you might want to check for VAT. Often the prices quoted are PLUS VAT. We always include VAT as per Ebay's rules.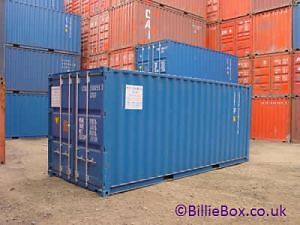 For more information, please call
Billie Box
on 0800 121 7388 or 01473 557409