Your paint code can be found on the chassis plate of your vehicle. Th chassis plate will usually be located inside the drivers or passengers side door strut as shown below: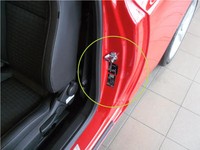 On new vehicles it may be located on the Passengers side strut and on older ones it can be found under the bonnet.
Once you have found the chassis plate it's time to determine the paint code. It will be a 2-4 digit number which may also contain a letter at the beginning or the end. The paint code on Vauxhall's and Opel's may also be preceded by a 'Z' or 'L'. Please see the illustration below: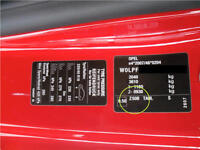 If you have a vehicle with is branded as an Opel, Saturn or Holden then the paint code should remain the same across brands. However the name of the colour may vary e.g. Vauxhall's Glacier White is also known as Casablanca White under Opel branding. As always, if in doubt, pop us a message with your registration number and we'll help.